Founded at Howard University in 1908, Alpha Kappa Alpha is the oldest Greek-lettered organization established by African-American college-educated women and the first sorority of any type at MIT.
When MIT was founded in 1861, most students lived locally and commuted from home. As the Institute's reputation and enrollment increased, however, more students from outside Massachusetts matriculated, thus heightening the demand for housing…The role played by…sororities and other independent living groups would prove critical in the 20th century…[MIT Assistant Dean of Student Affairs Mary Hope] believed that black women on campus would benefit from the strong support network provided by this national service and learning sorority.

Countless Connecting Threads: MIT's History Revealed through Its Most Evocative Objects by Deborah G. Douglas and Ariel Weinberg (MIT Press, 2013)
Alpha Kappa Alpha Sorority
Confined to what she called "a small circumscribed life" in the segregated and male-dominated milieu that characterized the early 1900s, Howard University co-ed Ethel Hedgeman dreamed of creating a support network for women with like minds coming together for mutual uplift, and coalescing their talents and strengths for the benefit of others. In 1908, her vision crystallized as Alpha Kappa Alpha, the first Negro Greek-letter sorority. Five years later (1913), lead incorporator Nellie Quander ensured Alpha Kappa Alpha's perpetuity through incorporation in the District of Columbia.

Together with eight other coeds at the mecca for Negro education, Hedgeman crafted a design that not only fostered interaction, stimulation, and ethical growth among members; but also provided hope for the masses. From the core group of nine at Howard, AKA has grown into a force of more than 290,000 collegiate members and alumnae, constituting 997 chapters in 42 states, the District of Columbia, the US Virgin Islands, the Bahamas, Germany, Liberia, South Korea, Japan, Canada, South Africa and the Middle East.

Because they believed that Negro college women represented "the highest—more education, more enlightenment, and more of almost everything that the great mass of Negroes never had" — Hedgeman and her cohorts worked to honor what she called "an everlasting debt to raise them (Negroes) up and to make them better." For more than a century, the Alpha Kappa Alpha Sisterhood has fulfilled that obligation by becoming an indomitable force for good in their communities, state, nation, and the world.
Educator Margaret Flagg Holmes, one of the 16 original founders, helped write Alpha Kappa Alpha's first constitution and bylaws: "It is through her recorded recollections about the personalities of the other original founders that the character sketches of those pioneering young women now exist for future generations of members" (AKA). She was the aunt of MIT alum and Tuskegee Airman Victor L. Ransom '48.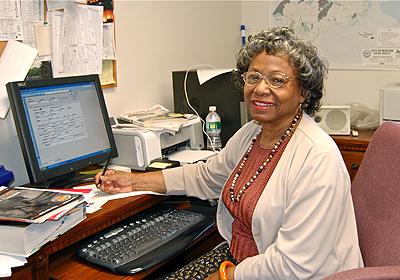 Sylvia Ann McDowell, a librarian for MIT in the 1970s, served as Psi Omega Chapter president from 1963 to 1965. She was also a founding member of the Boston Women's Heritage Trail, In 2010, Mayor Thomas M. Menino proclaimed March 6 to be Sylvia Ann McDowell Day in the City of Boston. That year, McDowell was posthumously acknowledged as one of 100 Unsung Heroines of Massachusetts by the Massachusetts Commission on the Status of Women.
Photo: Sandra Larson | Bay State Banner
Patricia Garrison-Corbin
The Exquisite Epsilon Zeta Chapter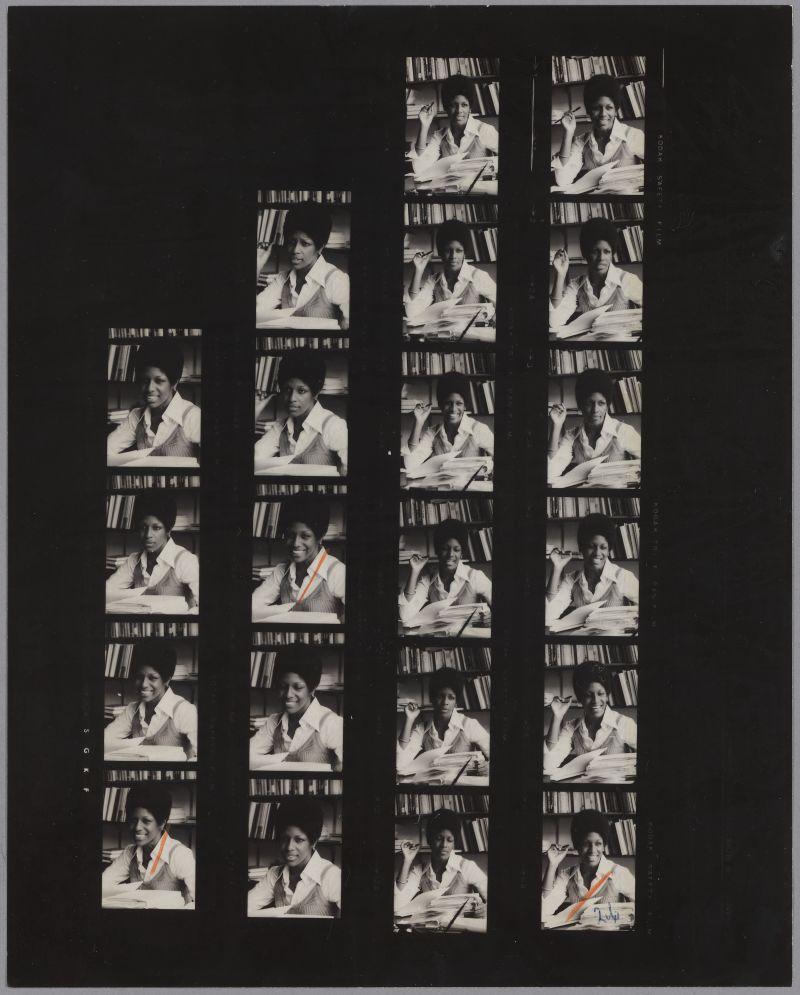 Patricia Garrison-Corbin (née Garrison) MBA '71 was the first African American female Sloan Fellow at MIT. Prior to Sloan, she earned a bachelor's degree in sociology from Western Kentucky University (WKU), where she chartered and was president of Alpha Kappa Alpha Sorority, the first black Greek-letter organization on the WKU campus. The Exquisite Epsilon Zeta Chapter was founded on November 24, 1968.
Image: Patricia Garrison, 1973. Courtesy of MIT Museum
Onyx Charter Line
Precursor to the MIT AKA Chapter
The Onyx Charter Line, the precursor to the AKA Lambda Upsilon Chapter at the Institute, was inspired by Mary Hope, then MIT Assistant Dean of Student Affairs. Hope felt that an effective group was needed through which Black women on predominantly White campuses could communicate and help each other.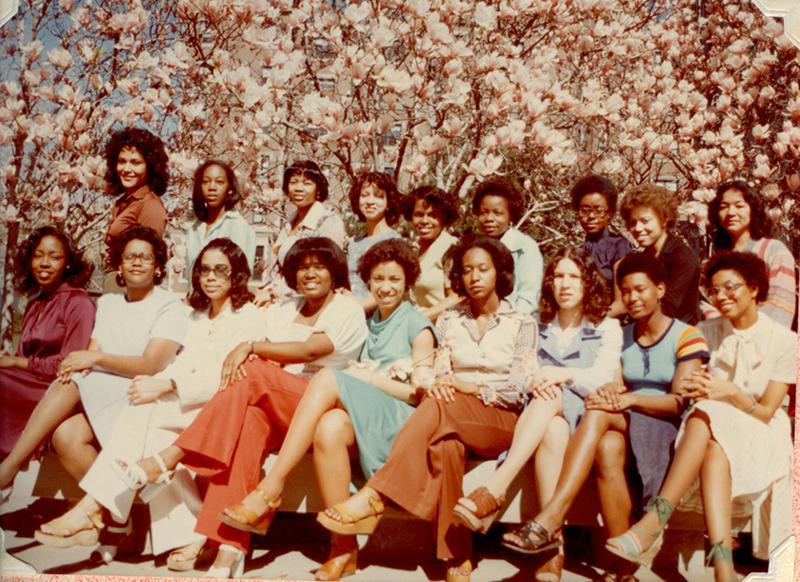 The Lambda Upsilon Chapter of AKA was chartered on October 8, 1977 and was the first sorority on MIT's campus of any type. Lambda Upsilon's membership consists of the college campuses of MIT, Harvard University, and Wellesley College.
Through the years, Lambda Upsilon has been committed to sisterhood and service to all mankind. It has participated in community service in the Greater Boston and Cambridge community and has implemented programs on each of the national platforms. Lambda Upsilon carries a rich tradition of excellence and vows to continue blazing a trailer for others to follow.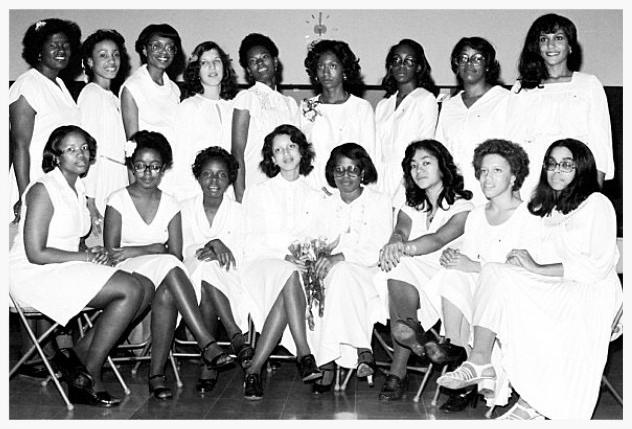 Soror Testimonies
BAMIT Newsletter | February 2013
When I recall my experiences at MIT it is synonymous with Lambda Upsilon, perhaps because it was part of my college life for the entire four years. I can remember those monthly bake sales in the Great Hall, retreats sponsored by Dean Hope, rush teas in the Green and Brown living rooms in McCormick Hall, our Holiday Soiree in the Student Center and parties in Walker Memorial. I am not sure if I realized that when I became soror of Alpha Kappa Alpha it was a lifetime gift enabling me to always find connections with women like me and securing us a small space in the MIT history book.

My most treasured memory is the day we finally 'went over'. We put so much effort into that day, from making sure we had coordinated outfits that would look appropriate on all of us to putting on a show for our MIT black community. We must have changed clothes 4 or 5 times that day. We left quite a legacy for other women to follow.

Connie Nathan '80
Chartering the chapter was a personally rewarding experience – the opportunity to bond and establish long-term friendships with like-minded African-American women (committed to STEM, public service, and having fun) is something I'll always treasure about my MIT experience. And certainly being able to charter the first sorority on MIT's campus (black or white) is just outstanding!

Leslye Fraser '78, SM '80
It was the promise of sisterhood that first piqued my interest in AKA. The sorority's clear demonstration that its pledge of service was more than just lip service cemented my commitment. Most MIT students come from a background of achievement; we are accustomed to having excelled in the high-school environments. Coming to a premier academic institution, where every other person had the same or similar credentials and accomplishments, was discomfiting at best. The fact that so few of my classmates looked like me increased my feelings of isolation. To find an organization of women that, almost by definition, not only instantly understood my circumstance but empathized with me and in most instances shared the same experience. That shared experience was the foundation for the currency we used, and continue to use, for all of our interactions. It facilitated, providing support, comfort, direction, assistance, consolation, protection and anything else another soror needed. And the sisterhood ensured the same would be there for you when you need it, and always will be. I am no less certain of this than anything in life: If I reach out in need to one of my sorors today, they will, without question, be there.

Doris Armour '80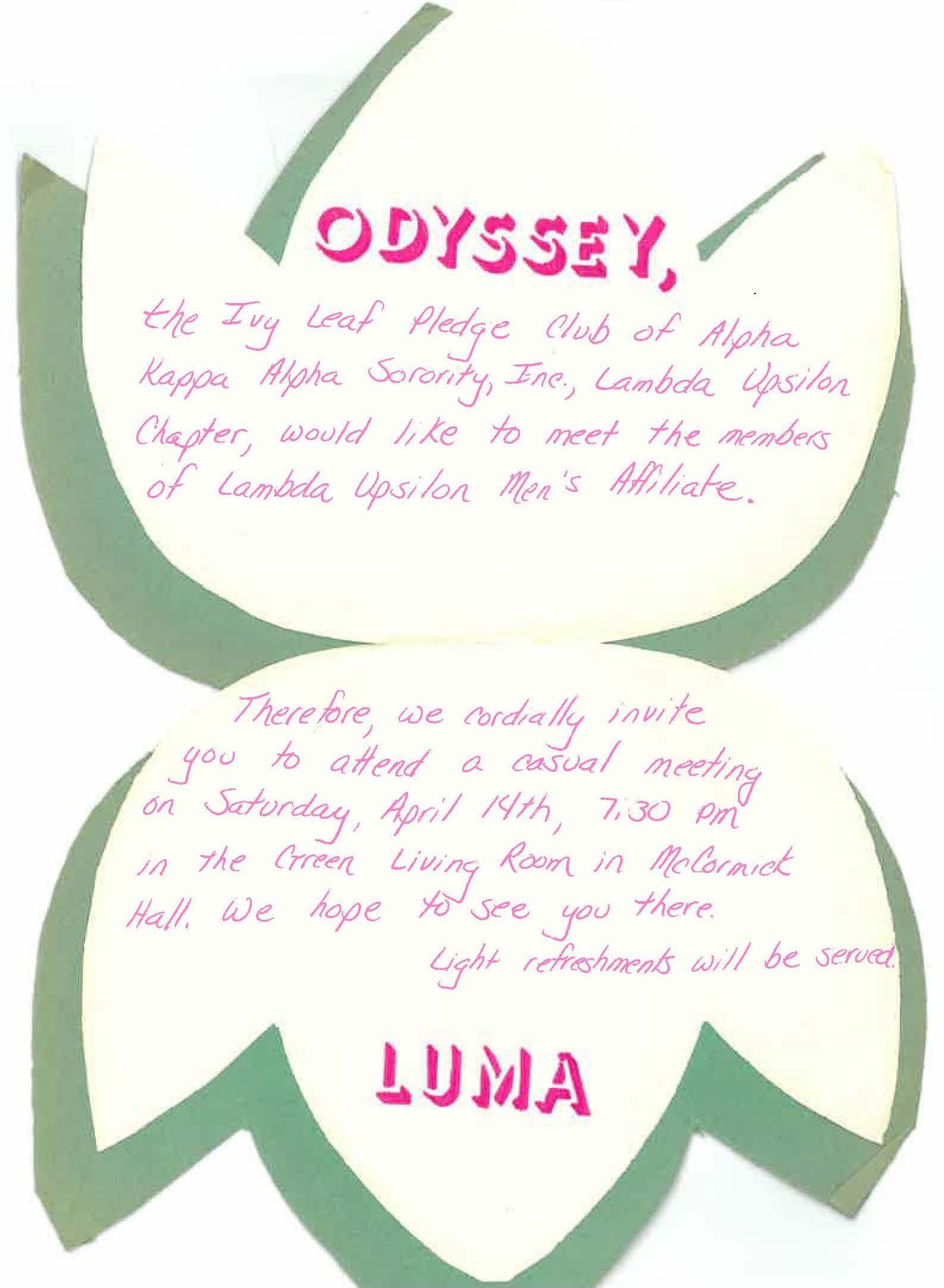 Handwritten meeting invitation from the Ivy League Pledge Club of the AKA Lambda Upsilon Chapter to a member of the Lambda Upsilon Men's Affiliate, ca. mid-late 1970s.

Source: Emerson Yearwood '80