Sylvia Ann McDowell, 2009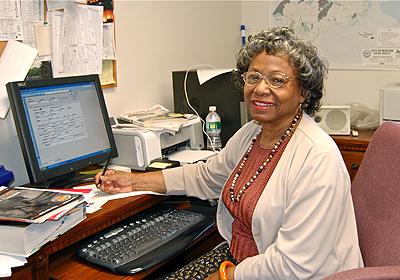 Sylvia Ann McDowell was a scholar of the history of women and African Americans. After her first professional job as a medical librarian at Boston University, she worked as a librarian and researcher at MIT in the 1970s, at Middlesex Community College, and at Harvard's Schlesinger Library.
McDowell was a founding member of the Boston Women's Heritage Trail, served many years as its president and vice president, and co-authored Boston Women's Heritage Trail (Applewood Books, 2006). An Alpha Kappa Alpha soror committed to social activism, she held undergraduate and graduate degrees from Simmons College, where she was honored with the Crystal Staircase Award, the African American Alumnae Association Award, and the Alumnae Association's Golden Shark Award. McDowell was a member of the Massachusetts Black Librarians Network, the American Library Association, the Association for the Study of African American Life and History, the Association of Black Women Historians, and of the foundation board of Roxbury Community College. At MIT, her service included membership on the Project Interphase Planning Committee for 1972, the Women's Forum, and serving as Freshman Advisor.
Among McDowell's last projects was "Finding Voices in the Silence," which she launched as a scholar-in-residence at the Forest Hills Educational Trust in 2009. The project to recover and document the stories of African Americans buried at Forest Hills Cemetery over its 160-year history aimed to expand and better reflect the history of Boston's Black community. In 2010, Mayor Thomas M. Menino proclaimed March 6 to be Sylvia Ann McDowell Day in the City of Boston. McDowell died of pancreatic cancer five days later and was posthumously acknowledged as one of 100 Unsung Heroines of Massachusetts in 2010 by the Massachusetts Commission on the Status of Women.
[McDowell] held on to her friends. She met Joan Doucette at MIT's library in the 1970s. They traveled to France in 2008 and "fulfilled Sylvia's dream to visit Monet's garden.'' In 2009, they visited the mansions along the Hudson River. In December, Ms. McDowell canceled a chemotherapy session to travel with Doucette to New York to see a young friend dance on a Broadway stage.

"Sylvia A. McDowell, librarian, activist" by Gloria Negri, The Boston Globe, 22 April 2010