Contact sheet of Patricia Garrison, 1973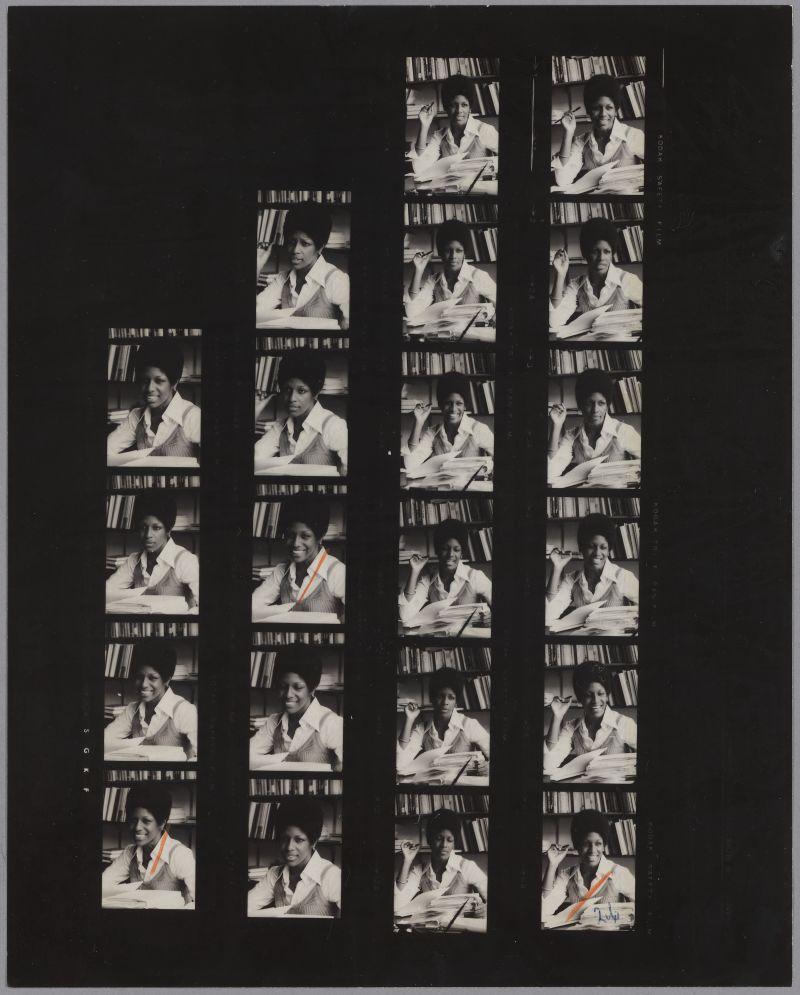 Born in Louisville, KY, Patricia Garrison-Corbin (née Garrison) MBA '71 was the first African American female Sloan Fellow at MIT. Prior to Sloan, she earned a master's degree in urban studies from the University of Louisville and a bachelor's degree in sociology from Western Kentucky University (WKU), where she chartered and was president of Alpha Kappa Alpha Sorority, the first black Greek-letter organization on the WKU campus.
In 1982, Garrison-Corbin became the first African American female officer in public finance at Drexel Burnham Lambert, and in 1985, she served on Pennsylvania's Tax Reform commission. A year later, President Ronald Reagan appointed her to the advisory panel to the Secretary of Housing and Urban Development, in 1986. Garrison-Corbin was the founder, chair and chief executive officer of P.G. Corbin & Company, the first African American female-owned Wall Street financial-services corporation; the company ranked number three nationally in 1993 in the financial services industry. In 1994, she was appointed by President Bill Clinton to the Environmental Protection Agency.
Her numerous awards included the 1995 Revlon Business Woman of the Year. Garrison-Corbin was a charter board member of the Pennsylvania Coalition of 100 Black Women and a member of the Philadelphia Chapter of Links Inc.
She died of breast cancer in 2009. According to her obituary in The Philadelphia Inquirer, Garrison-Corbin said that when she graduated from MIT, she "wanted to be with people who needed things."
[Being at Sloan] was not your traditional student experience, but nonetheless probably equally painful and joyful because, at that point, we were interfacing with people who were believed to be future market makers and movers of the corporate world. It was the competition, the fear of failure, and the factor of intimidation that probably were orders of magnitude more intense in this program. The physical environment in which you are forced to learn can be a threatening one. You find yourself sitting in a room competing with people who are all on different levels with varied experiences that either puts them far ahead of you or puts them in other ways in a more competitive position. I'm sure that minority students often feel this way...The most difficult thing was getting people to accept that what you had to say was important—that as a team member, the value of your input was one that was as weighty as the next guy's, no matter that he was VP at a major corporation.

Patricia Garrison-Corbin in Technology and the Dream (2003) by Clarence G. Williams