Inez Hazel at the SWE National Convention, 1956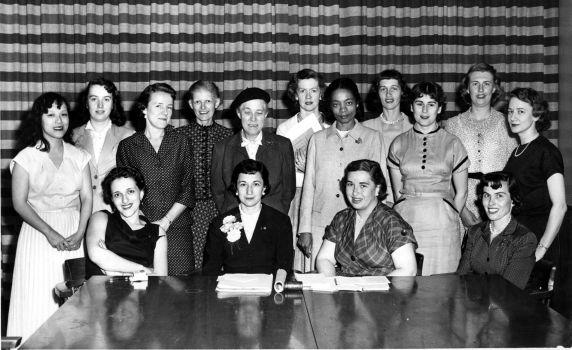 Inez "Bambi" Bellamy Hazel had a long and distinguished career as a computer programmer and systems analyst at MIT, where she retired at age 70. She held senior positions at Lincoln Lab where she worked on Whirlwind, the first electronic computer; at MITRE on the Sage Air Defense System; at the Harvard Computing Center for 15 years; and then at MIT where she retired at age 70.
Hazel graduated from Hunter College with a major in Mathematics and minor in Physics. She was an early member of the Society of Women Engineers (SWE), which she joined in 1952 as a junior engineer at Raytheon. Her SWE service included: Boston Treasurer (1954), Planning Committee for the 1956 SWE Eastern Seaboard Conference, and Boston Section Director (1957-58).
In 1964 the women engineering students at MIT hosted a Symposium on American Women in Science and Engineering, an informational 2-day outreach event for high school girls from 150 schools. Hazel and others held an informal evening chat to answer the students' questions about the field.
Sources: