MIT's first black graduate, nation's first accredited African-American architect, designer of Tuskegee Institute campus buildings prior to 1932, great-grandfather of Valerie Jarrett, and more...
In September 1888, a young African American traveled from Wilmington, North Carolina to Boston, Massachusetts to sit the examination for entrance to MIT. Robert Robinson Taylor was brimming with enthusiasm, despite skepticism on the part of friends and relatives back home.
When it was known that I was to leave my home to study at the [MIT], many of the home people asked, 'What is the use?' And a question of similar nature was asked by many in other places. "After graduation, what? Where is the field?"

Robert R. Taylor, "The Scientific Development of the Negro," 50th Anniversary of the Charter of MIT, 10 April 1911
Born on June 8, 1868 in Wilmington, North Carolina, Robert Taylor came from a relatively privileged family background. His father, Henry Taylor, was the son of a white slave owner and a black mother, and as such had been allowed enough freedom before the Civil War to go into business for himself. He moved to Wilmington, NC in 1850, where he worked as a carpenter.
Henry Taylor developed a prosperous career as a contractor and builder, constructing cargo ships that plied trade routes between the United States and South America via the Caribbean. Also active in building construction, he erected a number of commercial and residential edifices in the Wilmington area and elsewhere. According to family tradition, Taylor the elder worked on the Bellamy Mansion Museum and other antebellum buildings. He also operated a grocery story and was active in many of the civic and religious affairs of the city. Taylor the elder was a member of Giblem Masonic Lodge, and a founding member of the local Republican Party.
Taylor's early schooling took place in Wilmington at the Williston School and later at the Gregory Normal Institute, a school for blacks operated and maintained by the American Missionary Association. After graduating, he worked in his father's business and learned the rudiments of the building trade.
Both father and son soon agreed that the younger Taylor should formalize his technical training. Though as a boy Taylor had hoped to attend the elite Lincoln University near Philadelphia (which would grant him an honorary doctorate in later years), they set their sights on MIT, arguably the institution with the best program in architecture available. Founded in 1865, MIT's School of Architecture offered the first formal architectural curriculum in the United States, and the first architecture program in the world, operating within the establishment of a University.
Academic Performance
The class of 1892 was the largest on record since the Institute's founding 328 registered for the fall semester of 1888. Having worked in his father's business for a period, Taylor entered MIT a couple of years older than the average freshman coming straight out of high school. Also, he was one of a mere handful of students from the South; most MIT students at the time were New Englanders, with a smattering from other parts of the country and from overseas.
In fact, there was a prejudice of sorts against Southerners, even against those white and black--whose families hailed originally from the South. An 1887 article in the student newspaper The Tech, for example, referred to a region of southern Ohio as "the lazy belt," so named because of "certain characteristics of its inhabitants" who" in past time have wandered westward from the 'Old Dominion'."
Taylor nevertheless appears to have adjusted quite well to his new environment, at least academically. His record at MIT during the four years he attended, 1888-1892, was above the class average. He earned honors in trigonometry, architectural history, differential calculus, and applied mechanics, never failing a course. Taylor held a Loring Scholarship for two consecutive academic years and may have been the first recipient. The Loring Scholarship was one of the several stipends available to MIT students who had proven their potential through hard work and superior performance.
Thesis Work
In addition to his overall academic record, Taylor's "promise of future usefulness" was evident in the subject he chose as a final project for his major in architecture (Course IV). The project, entitled "Design for a Soldiers' Home," involved creating plans for a nursing or convalescent home for aged, infirm Civil War veterans.
This segment of the population had been rapidly increasing in number and was still the source of considerable social concern almost thirty years after the end of the war. The federal government had already begun to tackle the problem of long-term care for veterans facilities, a development Taylor's thesis introduction addresses. Taylor would use many of the ideas developed in his thesis to professional advantage later in his career.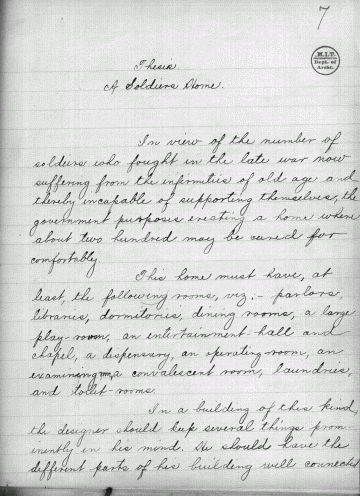 First page of Robert R. Taylor's senior thesis, "A Soldiers Home," which includes eight handwritten pages and two architectural drawings, 1892. Courtesy Institute Archives/MIT Libraries

Taylor's architectural drawing (front view) for "A Soldiers Home," 1892. Courtesy MIT Museum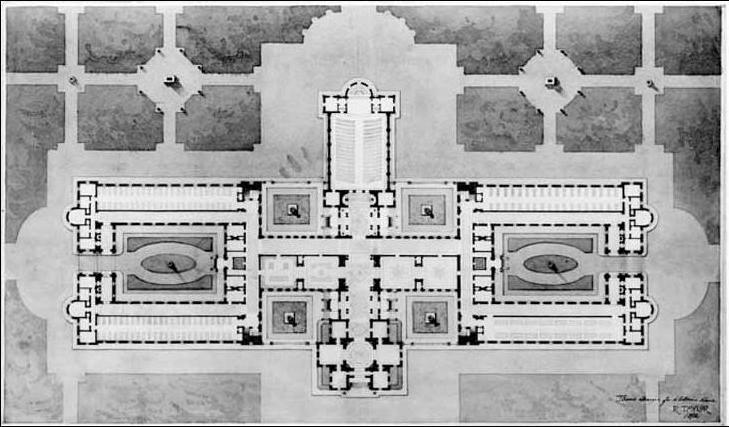 Taylor's architectural drawing (top view) for "A Soldiers Home," 1892. Courtesy MIT Museum
In view of the number of soldiers who fought in the late war now suffering from the infirmities of old age and thereby incapable of supporting themselves, the government purposes erecting a home where about two hundred may be cared for comfortably.

This home must have, at least, the following rooms, viz, parlors, libraries, dormitories, dining rooms, a large play-room, an entertainment hall and chapel, a dispensary, an operating room, an examining room, a convalescent room, laundries, and toilet-rooms.

In a building of this kind, the designer should keep several things prominently in his mind. He should have the different parts of his building well connected in order to allow free circulation; still, he ought not connect too intimately the hospital with parts of the building designed for other uses. Then, as the inmates of the home are infirm, he should use the greatest allowable area and as few stories as possible in order to avoid climbing several flights of stairs. For whatever purpose intended, he should have his rooms large, well lighted, and well ventilated.

Robert R. Taylor, "A Soldiers' Home," 1892
Taylor's was an ambitious plan, undoubtedly more elaborate than anything the federal government would have been willing to adopt for this purpose. The overall scheme reflected both the style of large French institutions and the problems studied and taught at the Ecole des Beaux Arts in Paris, where many members of the architecture faculty at MIT had been trained.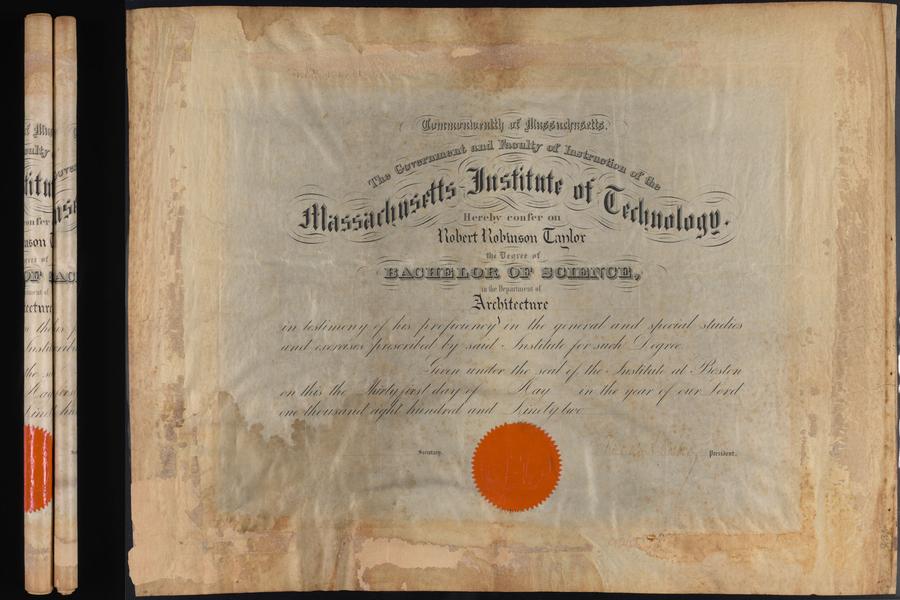 Now restored by MIT preservation experts, Robert Robinson Taylor's diploma is on display at the new MIT Museum, which opened to the public on October 2, 2022 in Kendall Square, Cambridge, MA.
Source: Wunsch Conservation Laboratory, Distinctive Collections, MIT Libraries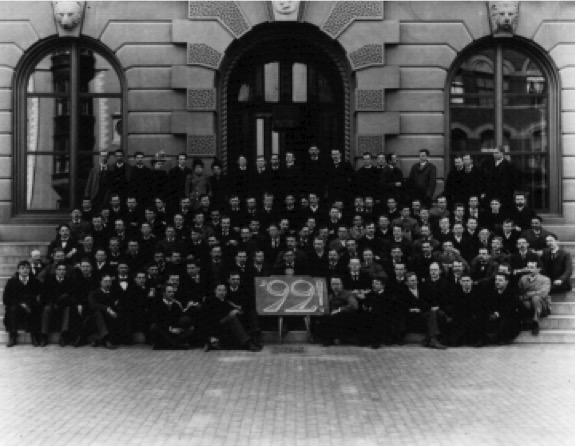 Tuskegee Recruitment
Booker T. Washington and His Educational Vision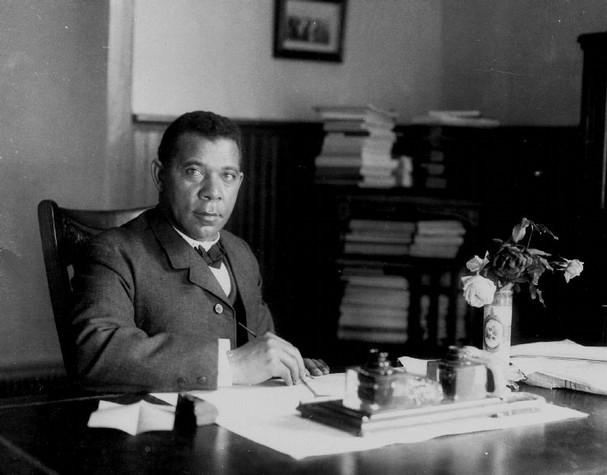 Booker T. Washington and Tuskegee Institute
During Taylor's course of study at MIT, he had talked in person on more than one occasion with Booker T. Washington, the prominent black educator and race leader from Tuskegee, Alabama. In 1881, about a decade earlier, Washington had founded Tuskegee Institute--a black school that had started as a normal (teacher-training) school with a few ramshackle buildings and a small grant from the state of Alabama.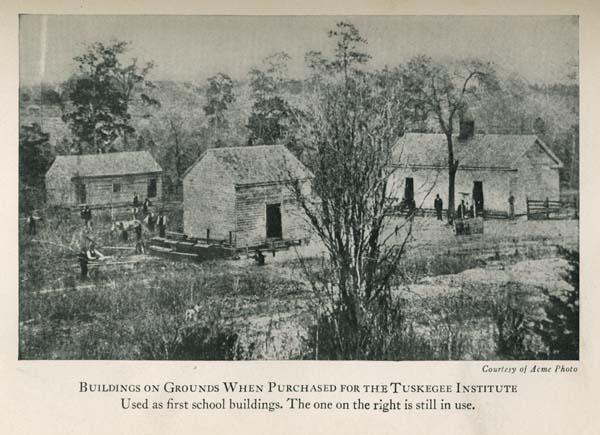 Postcard depicting the structures on the grounds when the site for the Tuskegee Institute was purchased and which served as the first school buildings. Photo: Acme Photo, reproduced from Up From Slavery: An Autobiography by Booker T. Washington (Doubleday & Company, Inc., 1901)
Within a couple of decades, Tuskegee became one of the best-known African-American schools in the nation, with substantial funding from Northern philanthropists, industrialists, and businessmen such as Andrew Carnegie and Julius Rosenwald.
In contrast with the emphasis placed on intellectual pursuits by W. E. B. Du Bois and some other contemporary black leaders, the curriculum at Tuskegee stressed manual training, industrial education, and useful crafts that would prepare students for jobs. Washington advocated a gradualist rather than a radical approach to improving conditions for blacks in the post-Emancipation period, with hard work and self-help as the primary channels to economic and social advancement. This philosophy found ready acceptance among whites, both north and south, and among many blacks.
It is not certain exactly how or when Washington got wind of Taylor's excellent record at MIT, but he was often on the lookout for qualified black students to recruit for leadership roles at Tuskegee. He had made a fundraising tour through New England as early as 1882 and quickly developed contacts within a number of organizations interested in educational work in the South. Among them were the Woman's Home Missionary Association in Boston and the Women's New England Club. His trips were intended, in part, to establish a close relationship with wealthy, influential Bostonians who might contribute to the Tuskegee cause.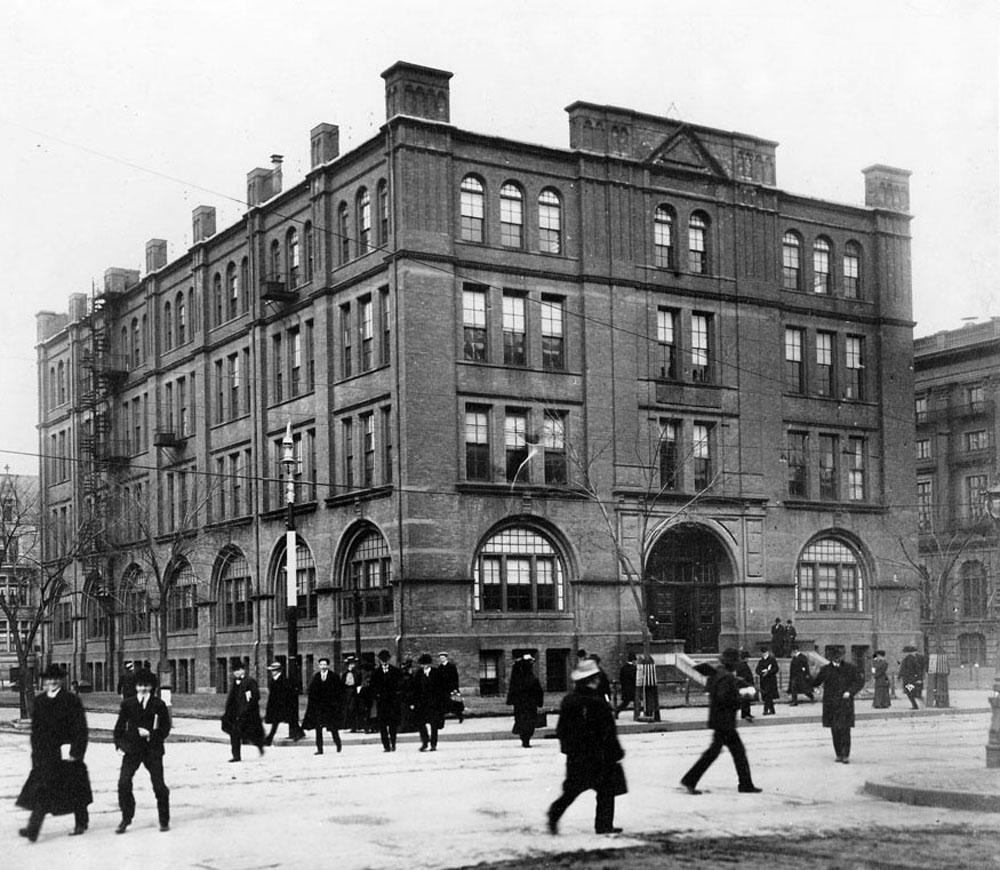 The MIT campus was originally located on Boylston and Clarendon Streets in Boston's Back Bay and was moved across the Charles River to Cambridge in 1916. Courtesy MIT Museum
While in Boston, Washington lodged near the old MIT campus at Boylston, Clarendon, and Exeter Streets. It was during one or more of these excursions that he and Taylor discussed the possibility of a role for Taylor at Tuskegee. What Washington had in mind was for Taylor to develop the nascent industrial program at Tuskegee and to plan and direct the construction of new buildings for the campus.
Taylor seemed like an ideal recruit for several reasons: he was black, a Southerner, bright, a hard worker, and Iast but not least--the recipient of a sound education at the premier technical institute in the country. The emphasis placed at MIT on applied, practical aspects of science and engineering was more in line with the Tuskegee mission than, say, the focus on a classical, liberal arts education at Harvard. Ironically, W.E.B DuBois was beginning his doctoral studies in history at Harvard around the time that Washington and Taylor were discussing Taylor's possible move to Tuskegee.
Recruitment
Taylor did not head directly to Tuskegee immediately after graduation. He may have worked during the summer of 1892 for an architectural firm in Cleveland, Ohio. By his own testimony, he "took up the practice of architecture and designed several private and public buildings." The encounters with Booker T. Washington in Boston, however, had inspired an interest in somehow combining architecture with a career in the field of education. Taylor had also received offers from four other schools to organize and direct industrial programs. But Taylor had "some hesitancy". He was more interested in going into business for himself than in teaching. Finally, after a visit to the campus in Alabama, Taylor accepted the Tuskegee offer.
To develop a sound curriculum at Tuskegee, both Washington and Taylor would look to MIT as a model. In 1894, Washington sought the advice of Ellen Swallow Richards '73 on the matter of staff recruitment. Richards was MIT's first woman graduate (Class of 1873), who became a member of the MIT faculty in 1878 and created the first sanitary engineering laboratory in the United States.
Just as in Massachusetts they have the Institute of Technology and the Simmons Industrial School, so in the South there should be the Atlanta University, the Tuskegee Institute and others. There is a place for all these institutions to do their work. I do not believe in placing any limitation upon the mental development of the black man.

Booker T. Washington to journalist Oswald G. Villard, 1904
Near 1888, Richards joined other women (including the wife of a Harvard professor and Stella Houghton Scott Gilman, a pioneer in women's education at Harvard) in urging Washington to establish at Tuskegee a department for the training of domestic servants.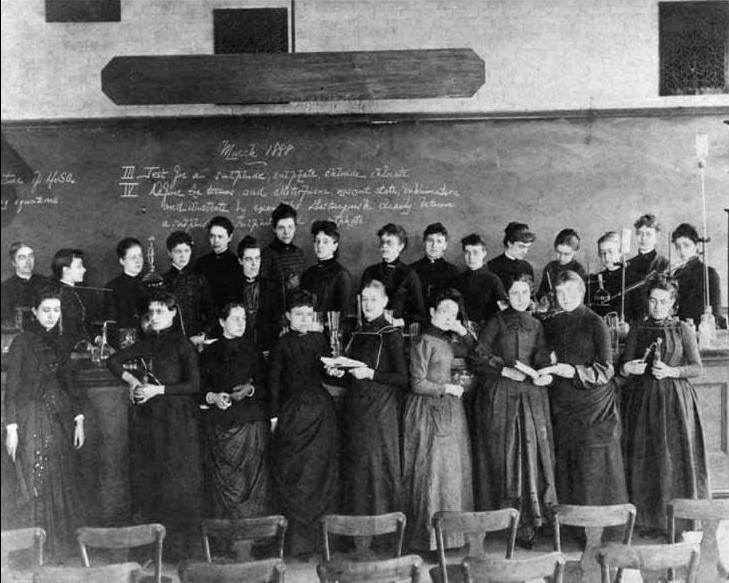 Women students in the lab of Ellen Swallow Richards (far left, rear) holding scientific instruments, 1888. Courtesy MIT Museum

Taylor's own admiration for MIT as a model for Tuskegee's development would later be conveyed in a speech he would deliver at MIT in 1911 to celebrate the Institute's 50th birthday.
The Institute has steadily advanced in power and influence...Its educational policy has served as a model for numerous similar institutions in this country and abroad...
- Robert R. Taylor, "The Scientific Development of the Negro", 10 April 1911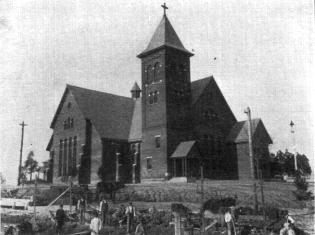 And I remember the chapel with its sweeping eaves, long and low as though risen bloody from the earth like the rising moon; vine-covered and earth-colored as though more earth-sprung than man-sprung.
- Ralph Ellison, Invisible Man, 1952
Robert Taylor was the architect who "earth-sprung" many of Tuskegee Institute's campus buildings before 1930, including The Chapel so vividly described by Tuskegee alum Ralph Ellison in Invisible Man. Both The Chapel and the literary work it inspired would be considered masterpieces of their respective creators.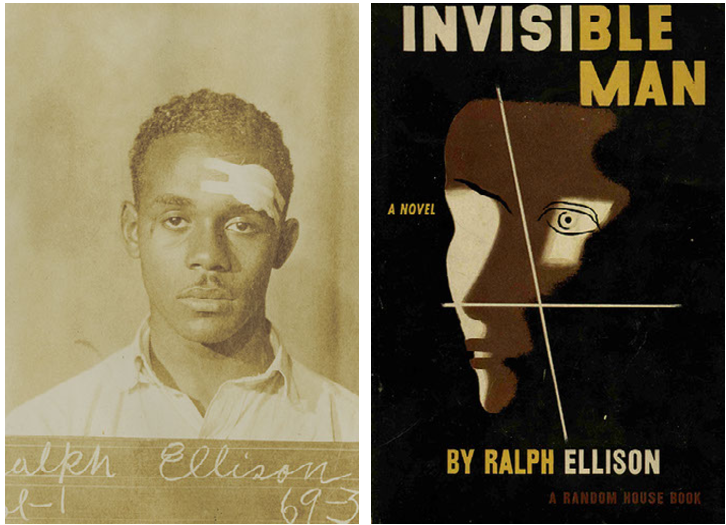 After a brilliant 40-year career as a professor and architect at Tuskegee, Taylor would collapse in the very Chapel he designed and built, later to pass away in the hospital he also designed and built. By then he would be known as a hard, productive worker and devoted advocate of Booker T. Washington's educational and social vision. Taylor's reputation as the individual primarily responsible for Tuskegee's architectural beauty and coherence long survived him; his "blending of art and science," according to Frederick D. Patterson (Tuskegee president, 1935-1953), was recognized in the eventual designation of the campus as a National Historic Site.
Arrival to Tuskegee
Taylor arrived at the Tuskegee Institute in the fall or winter of 1892. He would serve as an instructor in architectural drawing and architect until 1899. His entire career would be spent at Tuskegee--with the exception of a brief leave of absence from 1899 to 1902.
When he first took up his position as architect and instructor in architectural and mechanical drawing at Tuskegee, Taylor found that
the mechanical work was largely in the hands of men trained in the old way, who did their work usually without definite plans or drawings. Introducing plans, blue-prints and specifications as a part of every mechanical job, however small, and instructing the students in making and using drawings, led to changes which inevitably follow newer and better ways of doing things.

Robert R. Taylor, The Scientific Development of the Negro, 1911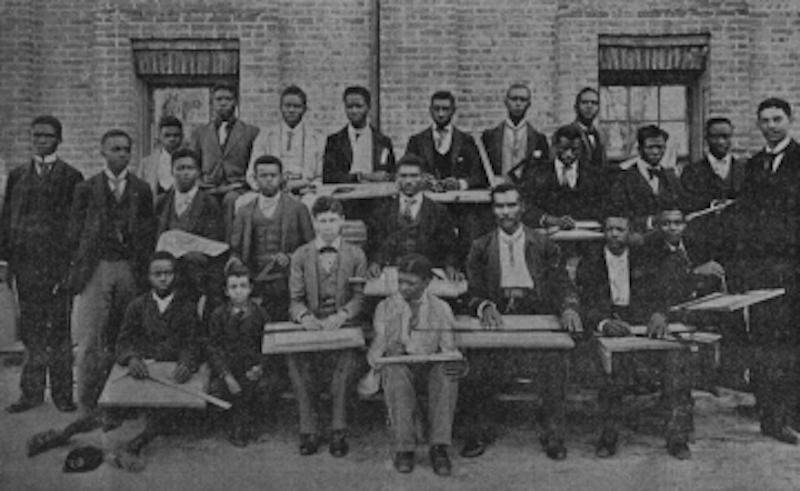 Other notable hires at Tuskegee after Taylor included scientist and inventor George Washington Carver, who joined the faculty to head of the agricultural department in 1896 after earning bachelor's and master's degrees at Iowa State College of Agriculture and Mechanic Arts.
I remember my father telling me about this great man George Washington Carver and taking me to the Institute to his laboratory...[he had] a model, miniature house that children could play in...I have some sense of "there are such people in this world"...Tuskegee was a very important kind of anchor for me.

MIT political science professor Willard R. Johnson in Technology and the Dream, 1996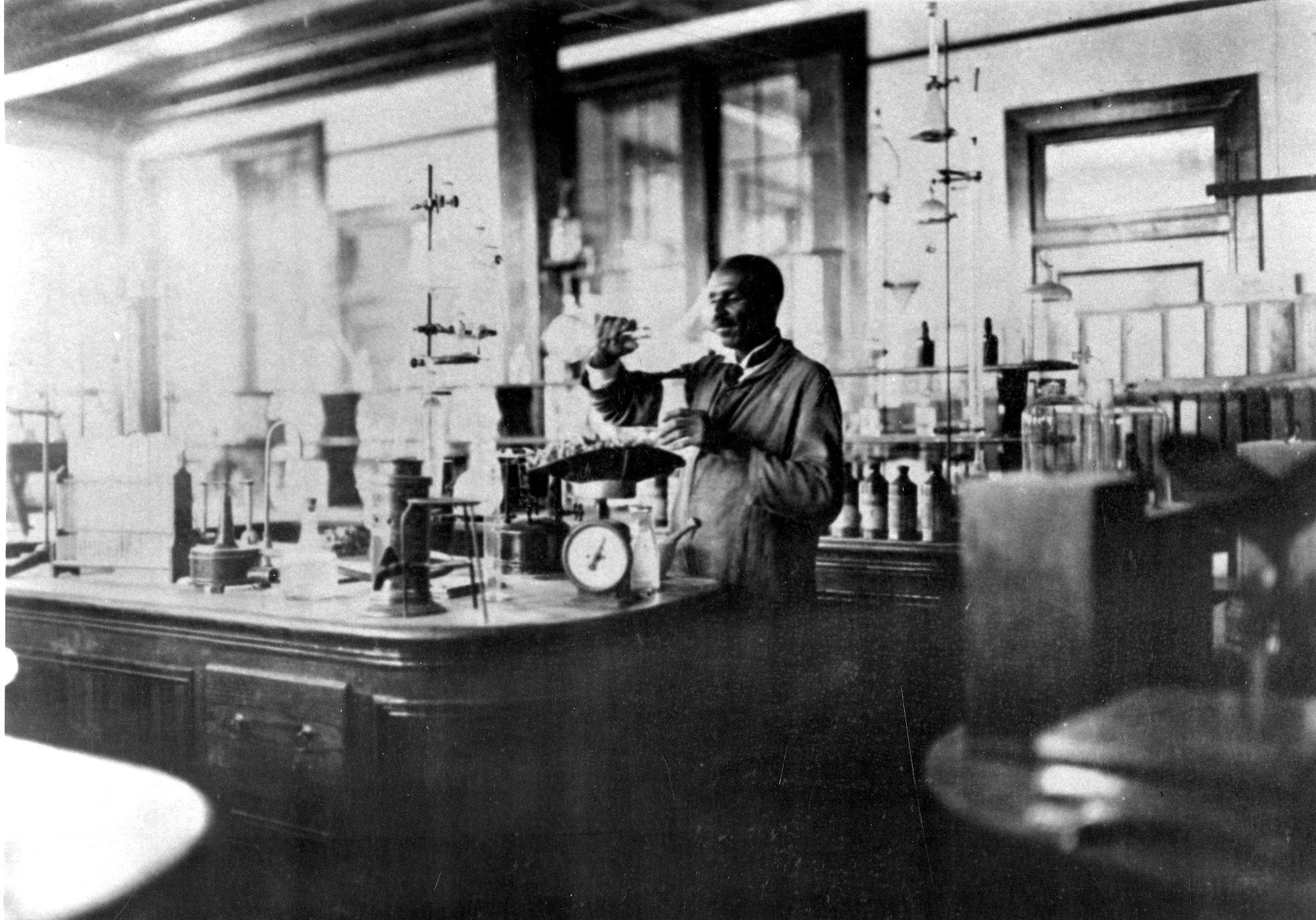 George Washington Carver at work in his laboratory, located at Tuskegee Institute's Milbank Agriculture Building, designed by Robert R. Taylor. Photo: Erick Butler, AP Photo/Courtesy Tuskegee University
Taylor's value to Tuskegee would go beyond diligence and selfless devotion to Washington's cause. He managed to exert a healthy influence over Washington himself, demonstrating by personal example the danger of focusing on "manual arts" at the expense of all else.
In 1907, for example, when Washington remarked that "We must not only have carpenters but architects; we must not only have persons who can do the work with the hand but persons at the same time who can plan the work with the brain," he was expressing an outlook that was less rigid, more expansive than it had been a decade earlier.
This outlook was certainly modified, at least in part, by his relationship with Taylor. Taylor's outlook, in turn, had been shaped to a considerable extent by his experience at MIT, whose motto mens et manus (mind and hand) captured the very duality that Taylor--and, under his influence, Washington--came to espouse at Tuskegee.
Taylor's buildings [at Tuskegee] created an institutional presence by giving a sense of place and ownership for African Americans who had too little of everything.
- Biographer Ellen Weiss, Tulane University, 2012
Science Hall / Thrasher Hall (1893)
Taylor's first building on campus was completed in 1893. Science Hall housed science classrooms and laboratories. The proportions and parts of the design hearkened back to Taylor's MIT thesis, completed just a year earlier.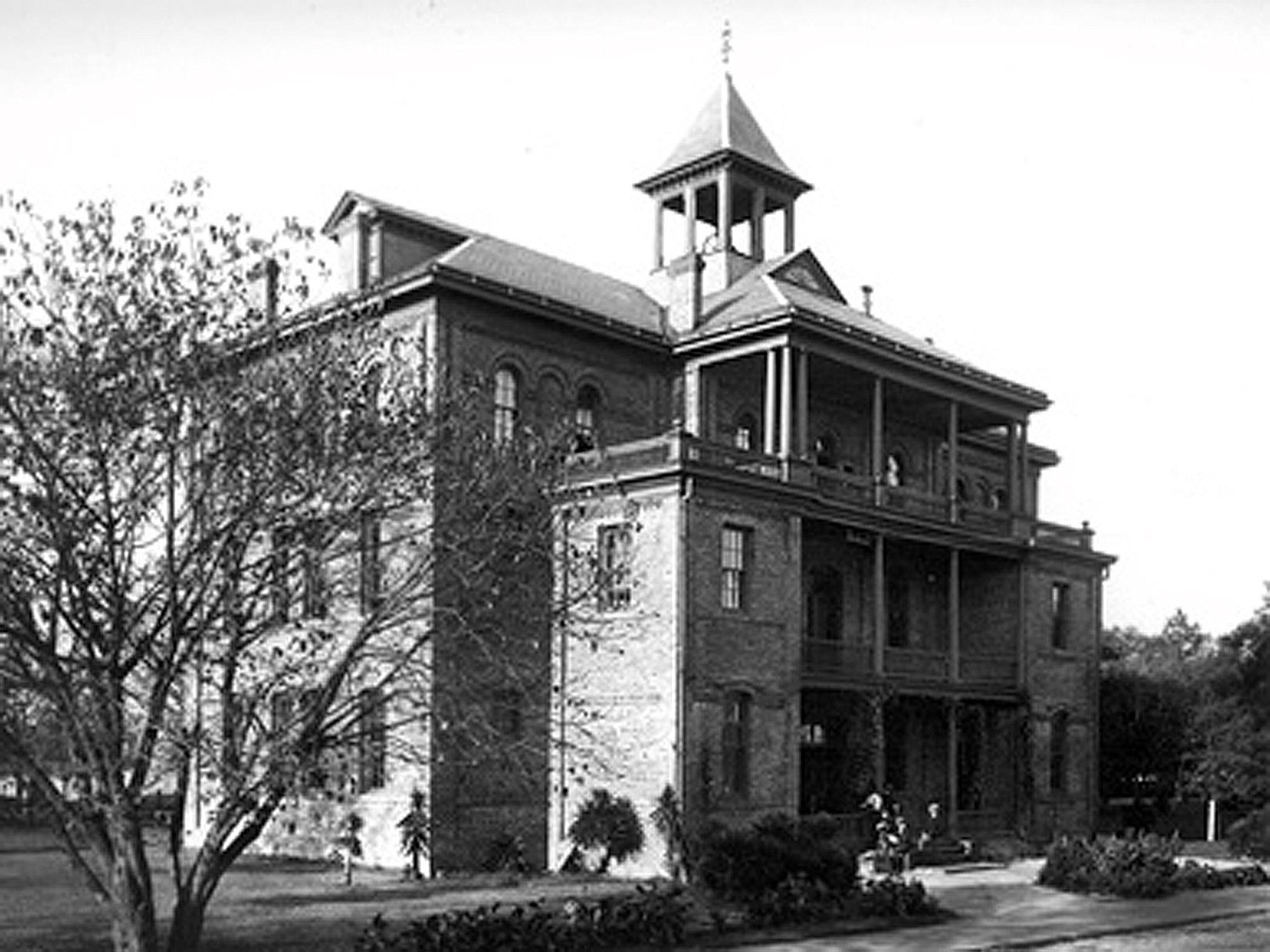 Science Hall was constructed entirely by students, using bricks made also by students under Taylor's supervision. The project epitomized Washington's philosophy of instilling in Tuskegee students, the descendants of former slaves, the value and dignity of physical labor. Their efforts provided an example to the world--and especially to potential donors--of the capabilities of blacks in the building trades, underscoring the larger potential of the manual training curricula being developed at Tuskegee.
In 1903, Science Hall was renamed Thrasher Hall in honor of Max Bennett Thrasher, who authored Tuskegee: Its Story and Its Work (Boston, Small, Maynard & Company, 1900), with an introduction by Washington. A number of other campus buildings followed. Not all were completed by Taylor, who was away from Tuskegee (except for short visits) from 1899 to 1902.
The Chapel (1898)
Erected between 1895 and 1898, The Butler Chapel featured a 105-foot tower, dual entrances for boys and girls, seating capacity for 2,400--and the high-arched hammer-beam trusses that ultimately made their way into one of the 100 best English-language novels of the 20th century.
Booker T. Washington referred to the Chapel as the "most imposing building" at Tuskegee. Funded by the Phelps Stokes Family (New York philanthropists), the Chapel was a graceful, round-arch structure and the first electrified building in Macon County, Alabama. The interior electrical lights were installed by the instructor and students of the school's electrical division.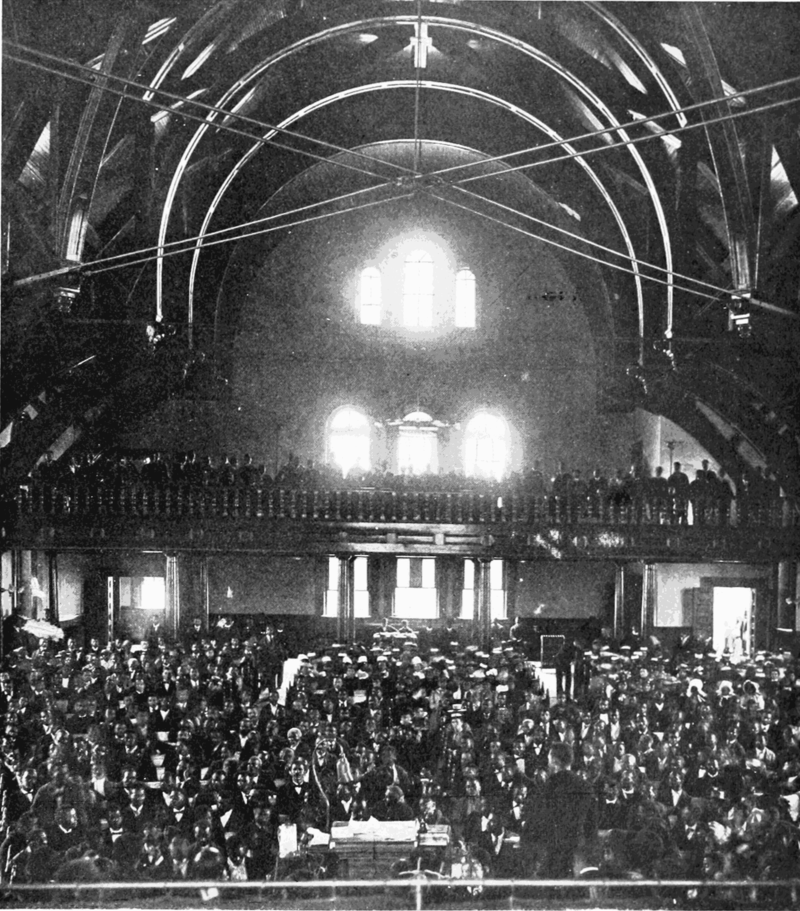 Interior of The Chapel, shown during a conference in session. Source: Thrasher, M.B. "Tuskegee Institute and Its President." Popular Science Monthly, Vol. 55 (September 1899).
At the Chapel's dedication, black journalist Timothy Thomas Fortune wrote a piece in the New York Sun (3 April 1898) urging every southerner to make at least one pilgrimage to view this "cathedral in the Black Belt". Such a pilgrimage would unfortunately not be possible after the night of January 23, 1957, when The Chapel was destroyed by a fire. Another chapel was completed on the same site in 1969, with funding from alumni.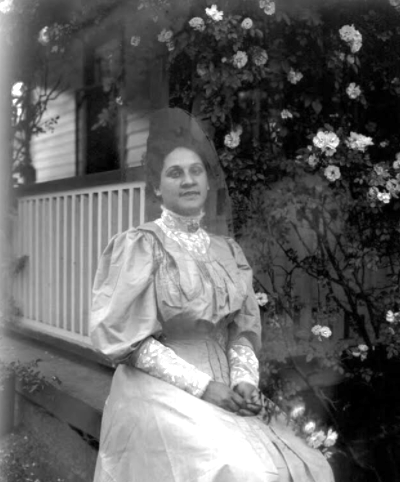 Beatrice Rochon Taylor, first wife of Robert R. Taylor, 1906. Photo: Frances B. Johnston, Courtesy Library of Congress (Frances Benjamin Johnston Collection)

In 1898, Taylor married Tuskegee English schoolteacher Beatrice Rochon Taylor in Louisiana. They would have four children: Helen, Robert Rochon, Helen, Edward, and Beatrice.
The Oaks (1899)
The Oaks is a handsome brick president's house. While living there, Washington dispensed "a generous hospitality to the school's guests and to the teachers of the Institute". The building is a contributing property to the Tuskegee Institute National Historic Site and National Landmark.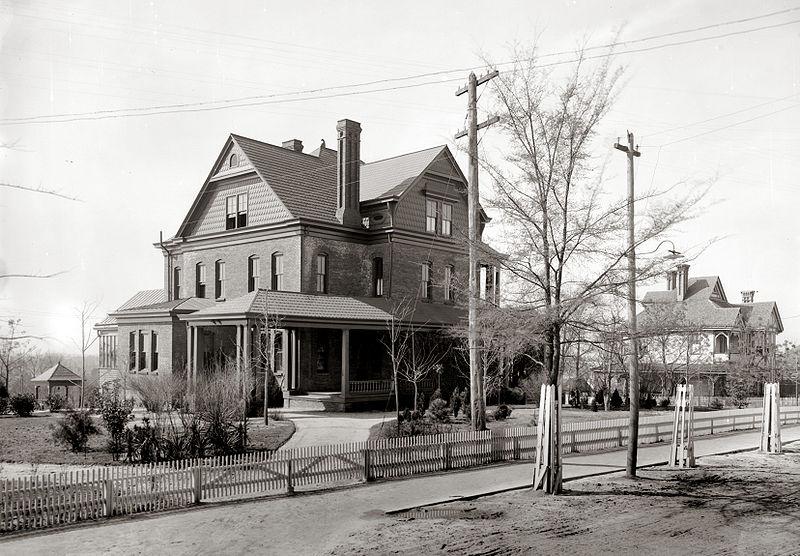 Huntington Hall (1899)
Collis P. Huntington, "one of Tuskegee's stanchest supporters," had made his fortune in the railroad business and was the president of the Cheasapeake and Ohio Railroad. Completed in 1899 with funds donated by Huntington's widow, Huntington Hall served as a women's dormitory. The building would later be used as the residence of staff members and also house classrooms and faculty offices.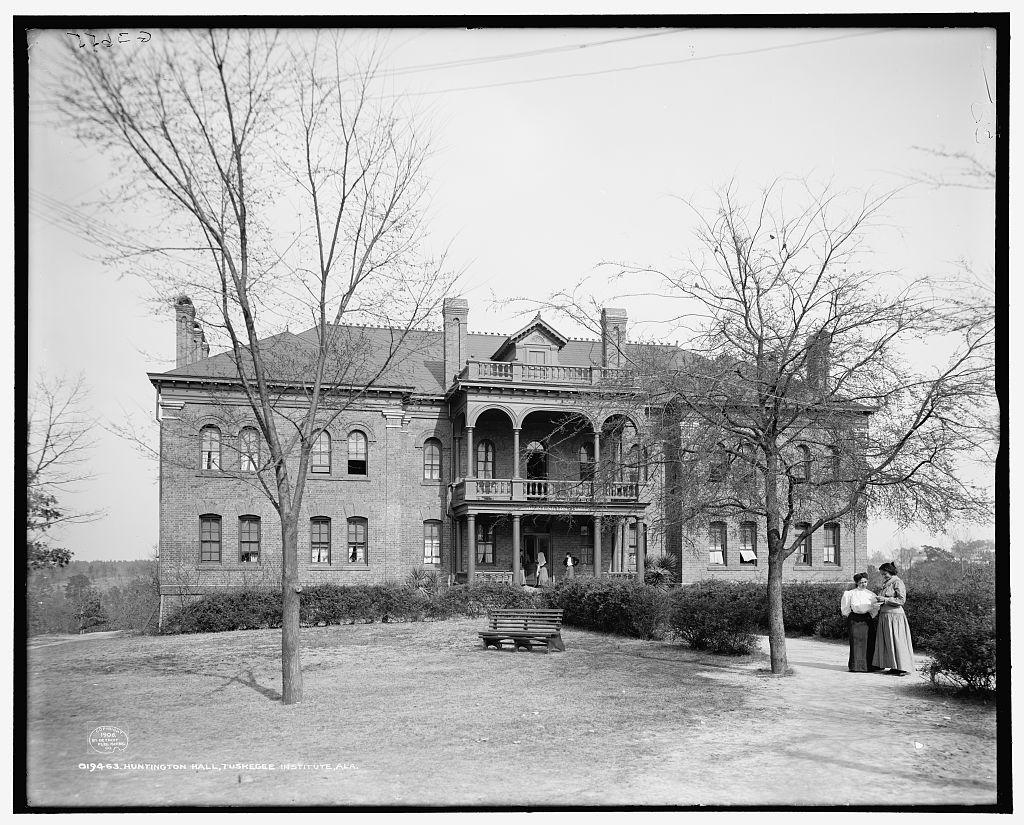 Tired of teaching and wanting to learn new methods of building, Taylor took a leave of absence from 1899 to 1902. He returned to Cleveland, Ohio, where he had been employed the summer of 1892 after graduating from MIT--in the days when he nearly rejected the Tuskegee offer in favor of private practice. As if impelled by a seven-year itch after his time at Tuskegee, Taylor now looked forward to pursuing personal projects and to work as a draughtsman for the Charles W. Hopkinson architectural firm.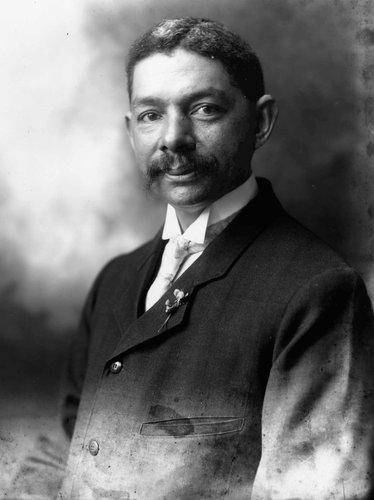 Robert R. Taylor, shown four years after his return to Tuskegee Institute, 1906. Courtesy Library of Congress

Robert R. Taylor to Booker T. Washington, July 1900: "It is not an easy matter to leave off suddenly the effect of seven years continuous work in any line..."


Despite his workload in Cleveland, Taylor's mind remained in Alabama, dreaming up student curricula and keeping track of campus projects. In fact, he continued to work in absentia on various Tuskegee projects, designing and sending down drawings of new campus structures. In Cleveland, Taylor continued to work with the Hopkinson firm and on his independent practice. He and his family lived in a more ethnically diverse neighborhood than they had in segregated Alabama.
Alta Settlement House
According to historic preservationist Eric Johannesen, Taylor likely contributed to the design of the Alta Settlement House, which was located in Cleveland's Little Italy neighborhood and served recent Italian immigrants. Completed in 1901, the landmark building was one of the oldest settlement houses in the city. Funding was provided by John D. Rockefeller Sr., who named the building for his daughter Alta Rockefeller Prentice.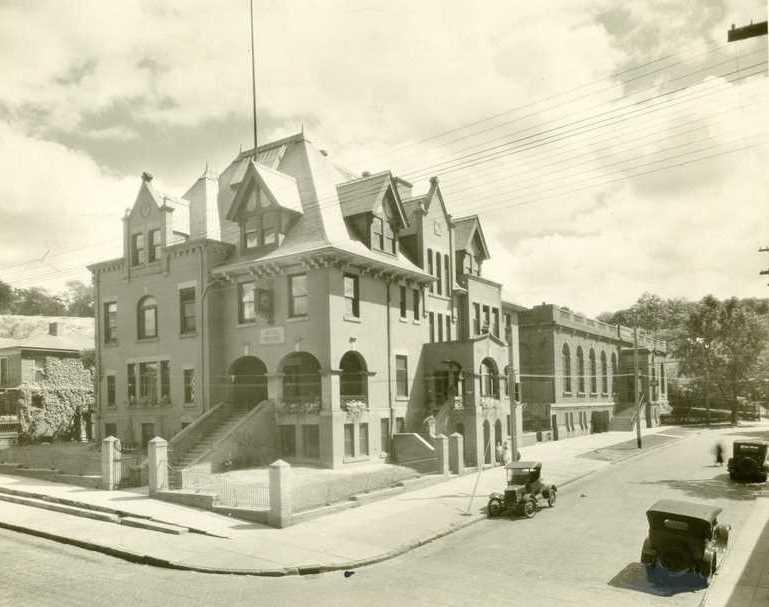 Slater-Armstrong Memorial Trades' Building (1900)
While still in Cleveland, Taylor sent down plans and specifications to Tuskegee for the Slater-Armstrong Memorial Trades Building. It was completed at a cost of $36,000 and was the largest building on the Institute grounds at the time.
The 27-room building housed the mechanical department. The structure was shaped like a double Greek cross that formed an inner courtyard so that each shop received natural light from two sides. "Better lighted rooms could scarcely be found in any building," wrote Washington in The Story of My Life (1901).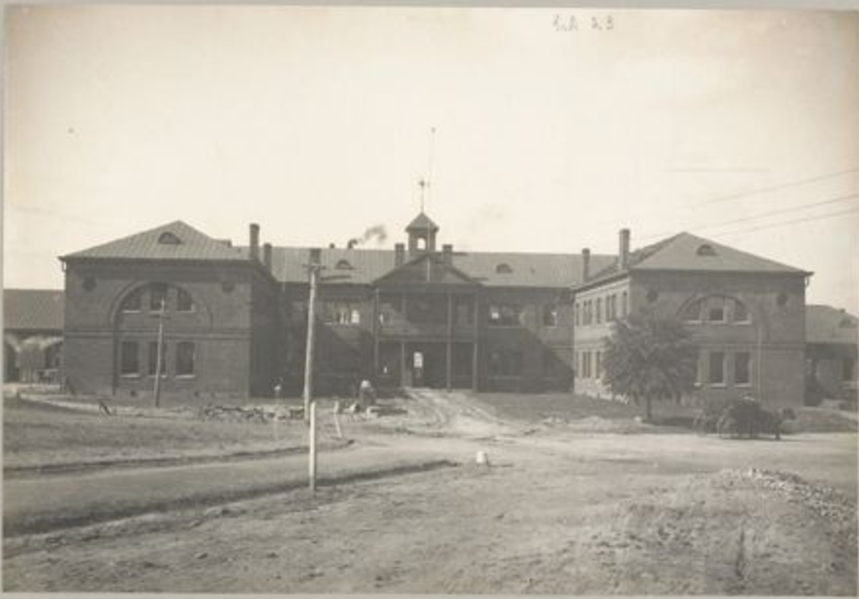 Dorothy Hall (1901)
Dorothy Hall was completed in 1901 and named in memory of Dorothy Lamb Woodridge of the Phelps-Stokes family, one of Tuskegee's earliest major contributors. The building served as the women's trades building, accommodating the Girls' Industrial Department. Classes held in the building included sewing, dressmaking, millinery, laundering, cooking, housekeeping, mattress-making, upholstering, broom-making, and basketry.
In 1938, faculty member George Washington Carver moved from Rockefeller Hall to reside in Dorothy Hall. Also known as the Kellogg Center, today the building serves as a hotel, restaurant, and conference center available for weddings and other events.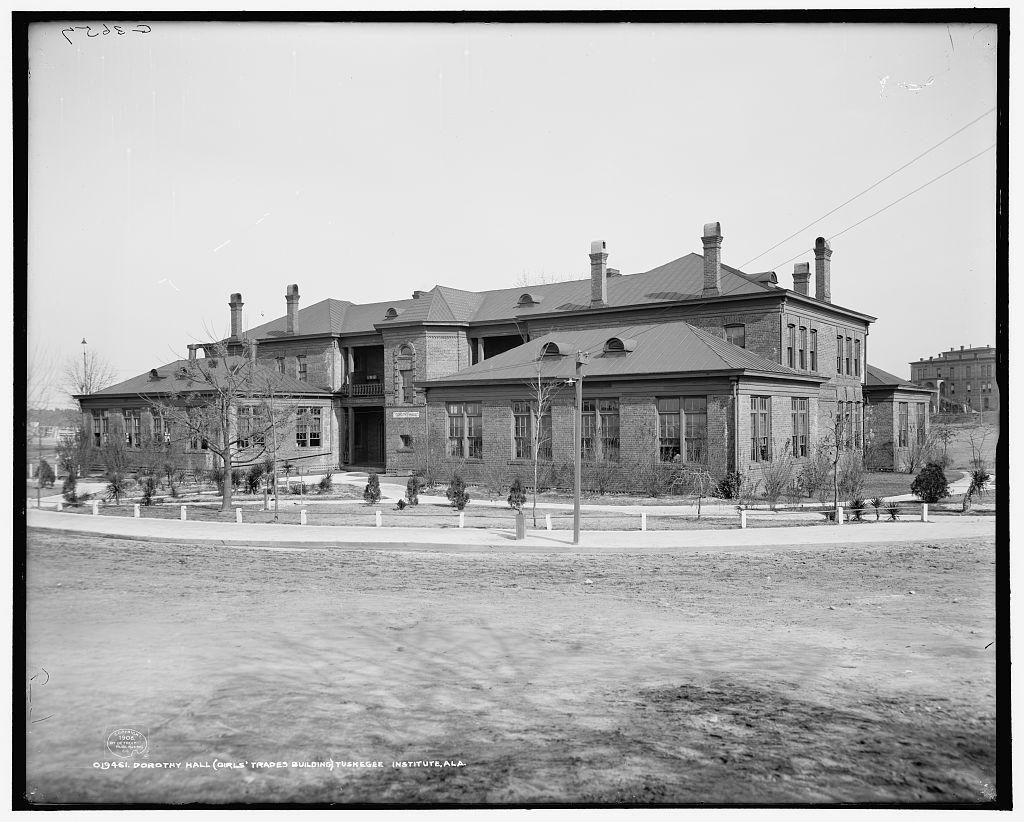 Carnegie Library Building (1901)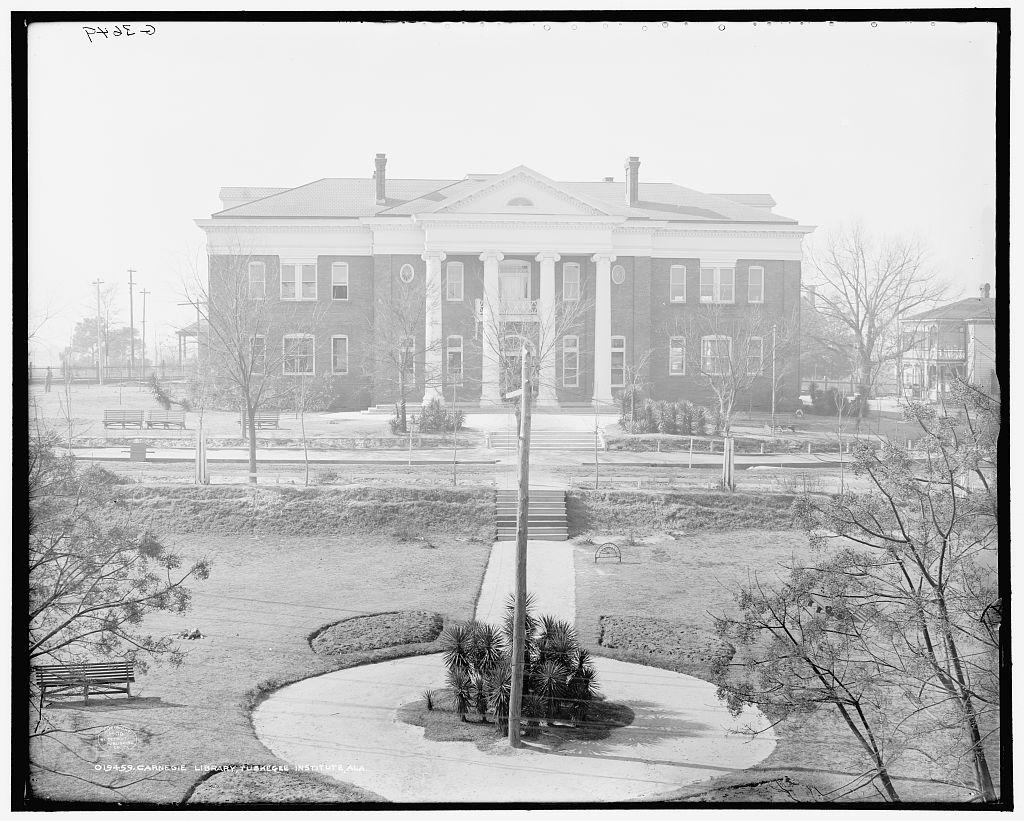 Scottish-American industrialist and philanthropist Andrew Carnegie was a major supporter of Tuskegee, as well as of the National Negro Business League, also founded by Washington. Carnegie donated $20,000 for the building and furnishings of the Carnegie Library, Tuskegee Institute's first library. Between 1883 and 1929, he contributed to the building of over two thousand other "Carnegie Libraries" worldwide, including some belonging to public and university library systems. Taylor himself would later design such Carnegie libraries at black colleges in Marshall, Texas and in Salisbury, North Carolina.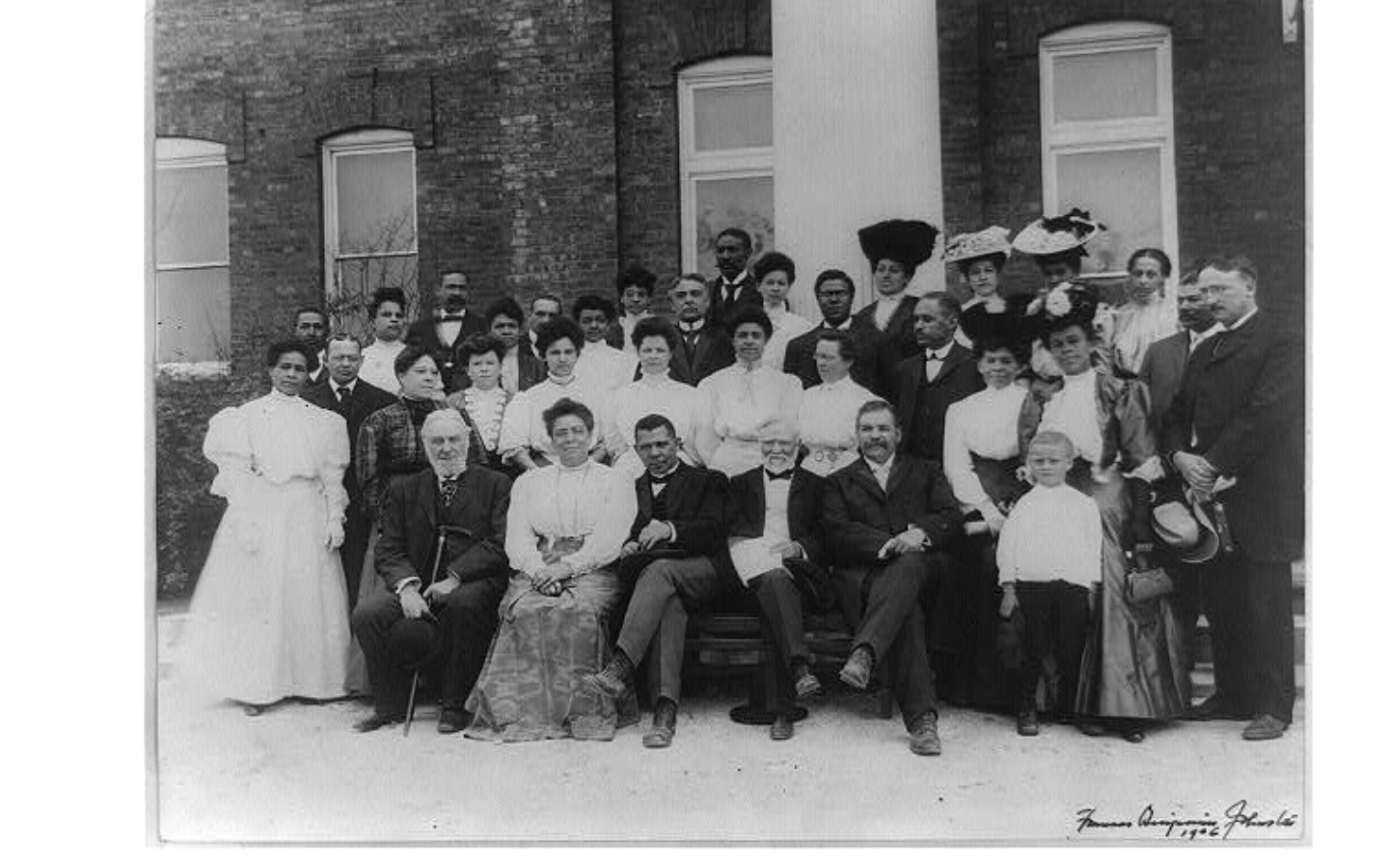 Taylor's Carnegie building at Tuskegee was a two-story, colonial-style building who facade boasts four Ionic columns. Besides the library and librarian offices, the building housed a large assembly-room, an historical room, and study-rooms. The library was intended to be a repository of information regarding African-American literature; black authors were asked to contribute their works and other papers to the collection.
Taylor's design earned praise from various parts of the country. He later designed Carnegie Libraries at two other black colleges: Livingstone College in Salisbury, North Carolina (1908) and Wiley University in Marshall, Texas (1910).
Carnegie Library would serve as the library until 1932, when the Hollis Burke Frissell Library was built. In 1931, the music department moved in, and the building was renamed Carnegie Music Hall. Today the building houses Financial Aid and other services.
Though Taylor had been traveling between Cleveland and Tuskegee, he finally returned to the Institute in 1903. This time he served as both architect and administrator, heading the Department of Mechanical Industries and overseeing buildings and grounds until his retirement in the mid-1930s.
Taylor's value to Tuskegee was such that Washington had made efforts to attract him back. For every professional offer that came Taylor's way thereafter, Washington made certain that Tuskegee would match or better it. In 1906, he wrote to Tuskegee board member Robert Curtis Ogden:
... in order to be absolutely sure of retaining Mr. Taylor's services, in my opinion I am sure we will have to add four or five hundred dollars to his present salary. The Oklahoma people are very insistent and very tempting in their offers. As I have told Mr. Peabody [George Foster Peabody, wealthy white banker and benefactor of Tuskegee], I should consider it a far-reaching calamity for us to lose Mr. Taylor at Tuskegee.

Booker T. Washington to Robert Curtis Ogden, 28 May 1906, Booker T. Washington Papers, vol. 9 (1906-08), pp. 13-14.
Even though later in his career he was offered a number of more lucrative positions, including a presidency at Langston University in Oklahoma, Tayor preferred to remain at Tuskegee believing that he "could be of more service to the race in helping to develop this institution in its industrial side than in other places" [Clement Richardson, National Cyclopedia of the Colored Race (Montgomery, Ala.: National Publishing Company, 1919), vol. 1, p. 494].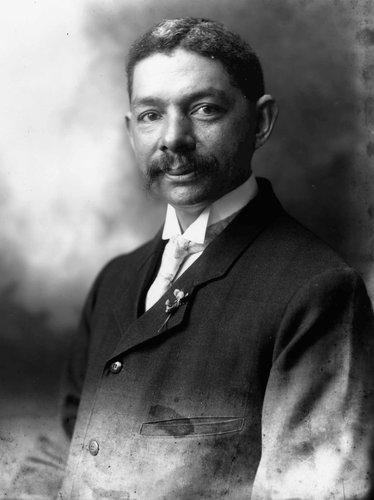 Robert R. Taylor, ca. 1906. Courtesy Tuskegee University
Administration / Office Building (1902-03)
Opened in 1902, the Administration or Office Building would serve as the main school office building for the next 75 years. The building also housed Tuskegee's first post office and bank.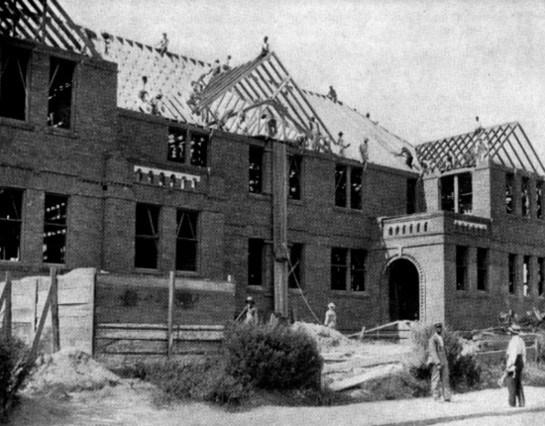 The Administration Building in the process of erection by student carpenters. Source: TUSKEGEE & ITS PEOPLE: Their Ideals and Achievements edited by Booker T. Washington (D. Appleton & Co., 1906)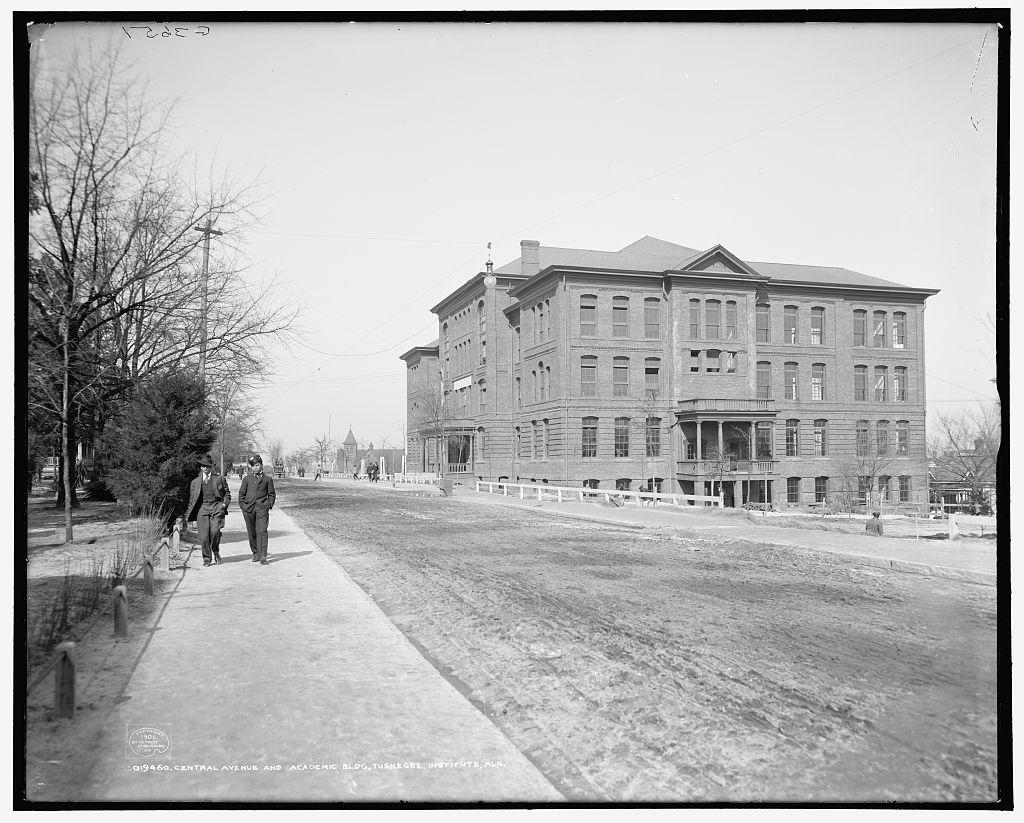 Rockefeller Hall (1903)
A gift from millionaire and philanthropist John D. Rockefeller helped to alleviate the school's ongoing struggle to provide students with adequate student housing. Completed in 1903, Rockefeller Hall served as the men's dormitory. The three-story brick building had accommodations for 150 students, and also housed a library and a museum.
In Taylor fashion, the design includes large windows that illuminate staircase landings. This dormitory is historically significant to the school, for the ground floor rooms served as the residence of faculty member George Washington Carver for thirty-five years, until his move to Dorothy Hall in 1938. Today the Rockefeller Hall dormitory is an "honors hall" reserved for upperclassmen whose GPAs are 3.2 or higher.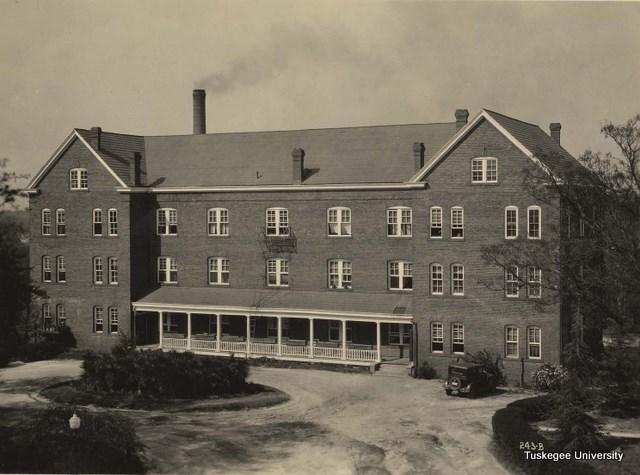 The Emerys (1903-1909)
Located near the main gate of Tuskegee's campus are the four Emery buildings, which served as men's dormitories. Three were gifts of wealthy American philanthropist Elizabeth Julia Emery, who moved to Europe after having spent the first 20 years of her life in Cincinnati, Ohio. Profoundly impacted by childhood memories of injustice towards blacks she decided at the age of 70 to contribute her wealth to African-American causes.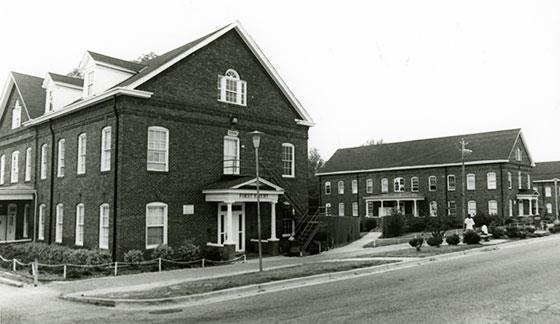 The Emery buildings were designed by Taylor and built by students between 1903 and 1909. All four of the two-story brick cottages featured a hall running through the middle and 40 ample rooms. Today Tuskegee University has embarked on a major renovation project to bring all of the Emery residence halls online.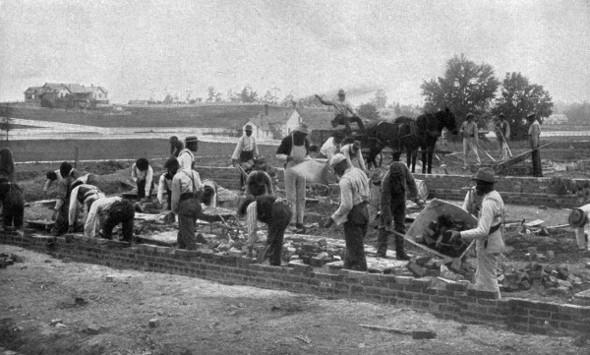 The Lincoln Gates (c. 1904)
In 1906, Frances Benjamin Johnston photographed the [Lincoln] gates from an angle so that the central piers framed Dorothy Hall's rear and the Chapel, nesting at least these three Stokes [family] donations...[The Stokes Sisters had] suggested the name "Lincoln" because he had opened opportunities for the race...

--Ellen Weiss, Robert R. Taylor and Tuskegee (NewSouth Books, 2012)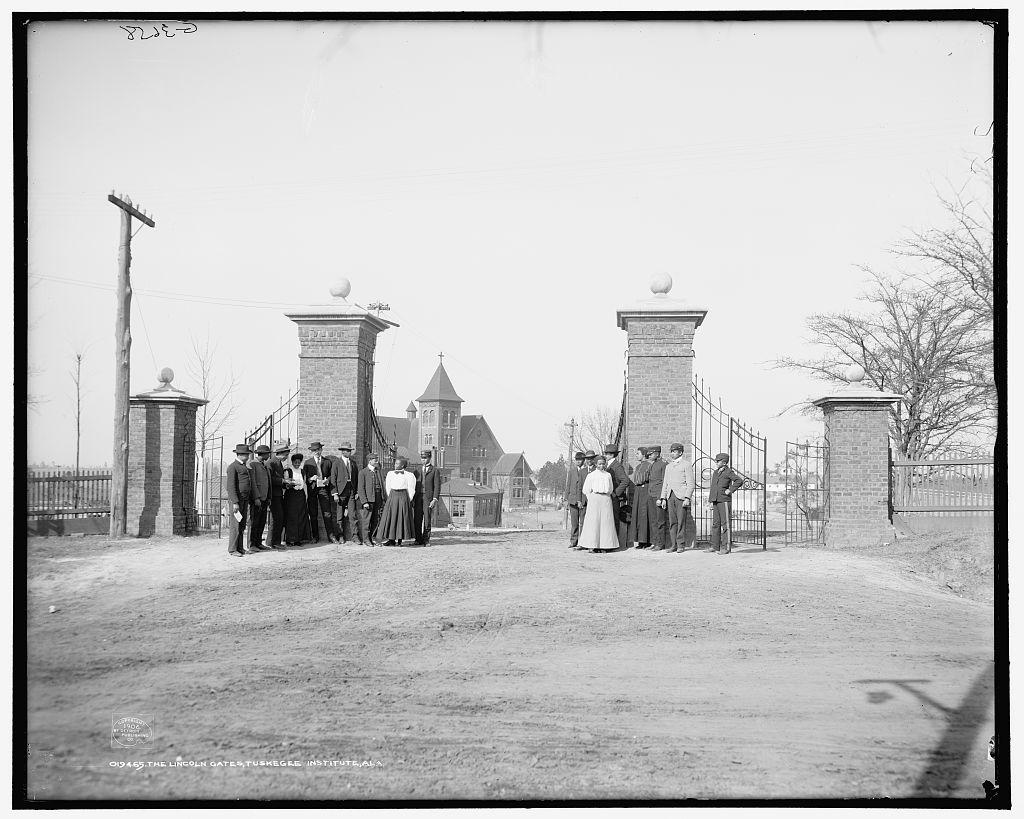 Douglass Hall (1904)
Completed in 1904, Douglass Hall was named after social reformer and statesman Frederick Douglass. The anonymous donor was later discovered to be Quaker-born William Jackson Palmer, a railroad baron and founder of Colorado Springs. The building served as a woman's dormitory, also housing a large auditorium, and was rebuilt after it burned down in 1934.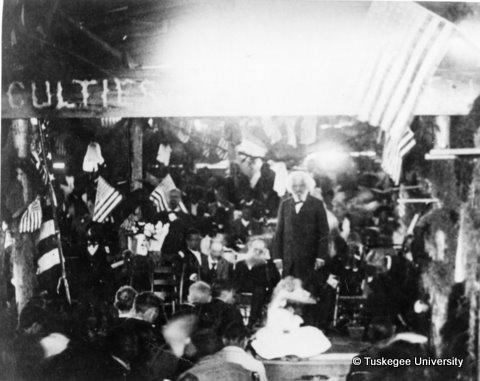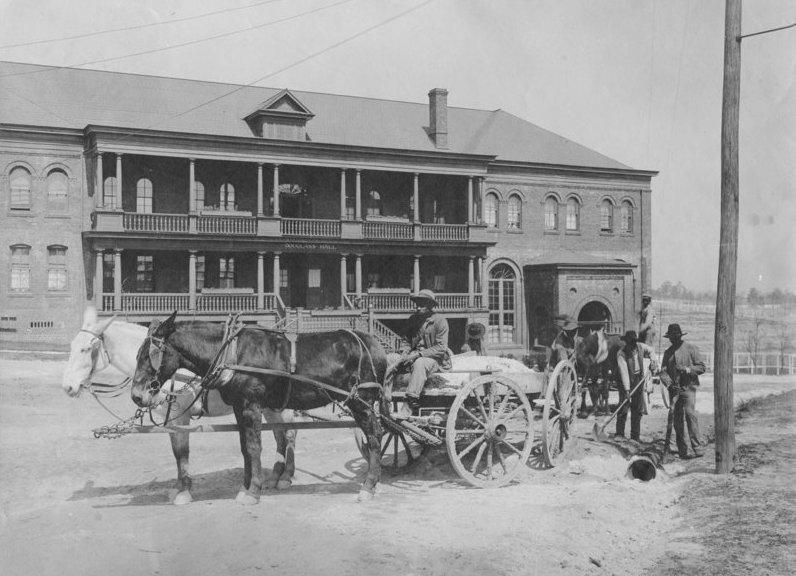 Collis P. Huntington Memorial Building (1906)
The Collis P. Huntington Memorial Building was a gift from Arabella W. Huntington in memory of her husband. Emmett J. Scott, a Tuskegee administrator, referred to Taylor's architectural contributions as epitomes of the institution's overall commitment to standards of excellence:
The most pretentious building owned by the Institute is the Collis P. Huntington Memorial Building, the new home of the Academic Department...There is everything about the exterior and interior that must awaken a sense of pride in every pupil who enters its portals. Its facilities are sensible and unostentatious, yet they meet every requirement of the department.

Emmett J. Scott, Tuskegee and Its People, 1906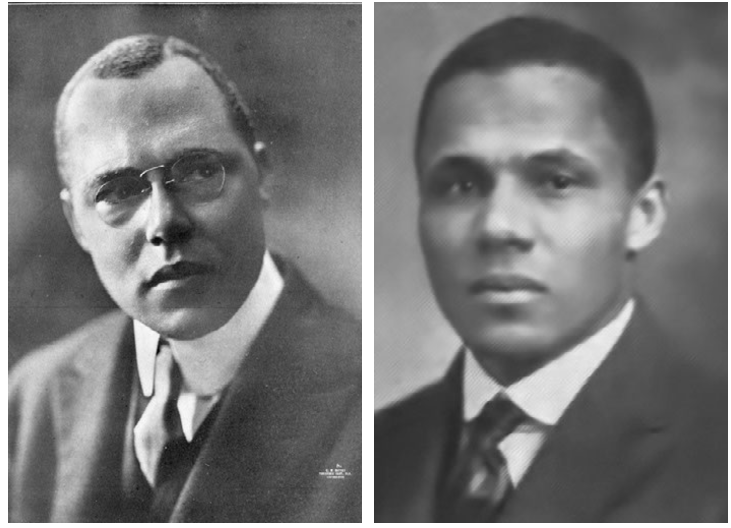 Scott also highlights the importance of students' direct involvement in the construction of this and other buildings on campus as a special source of pride at Tuskegee:
[T]he idea that only the best is worth having and striving for is emphasized as an object-lesson and principle with such insistence that it becomes an actual part of a student's training and life.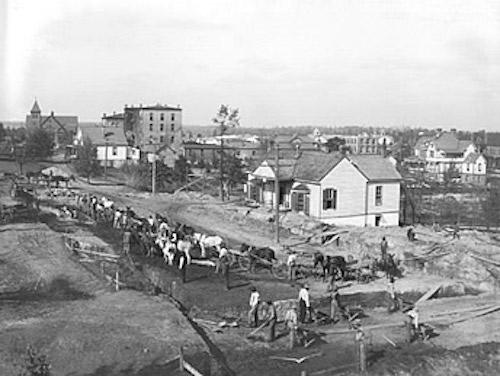 Students digging the foundations for the C.P. Huntington Building at Tuskegee Institute, ca. 1906. Courtesy Library of Congress
As Taylor's administrative responsibilities grew, he counted on the collaboration of local black architects Leo Persley and Sidney Pittman. Persley was originally from Macon, Georgia; Pittman, who married Washington's daughter Portia, had been a student of Taylor's at Tuskegee and his assistant beginning in 1906 or earlier. Taylor was active in a number of projects outside Tuskegee as well, including design and construction of:
schools and houses in North Carolina, Arkansas, Mississippi, Virginia, and Tennessee;
Carnegie Libraries at black colleges in Texas and North Carolina;
the "Negro Building" at the Alabama Agricultural Association Fair in Montgomery, 1906;
possibly four buildings at Voorhees College, a black school in Denmark, South Carolina;
in collaboration with Persley, the Masonic Lodge in Birmingham, Alabama, and the Dinkins Memorial Building at Selma University, both in the 1920s.
Death of Beatrice Rochon Taylor (1906)
In addition to the great pressures of duties as acting principal and acting Supervisor of Industries, as well as serving on Tuskegee's Executive Council, Taylor lost his wife Beatrice in 1906 (possibly due to complications after a miscarriage). He was now a single father of four children. In spite of his bereavement and with the help of his sister-in-law, Taylor went back to work within a week. Biographer Ellen Weiss offers a possible explanation for the reason Taylor's loss is barely mentioned in the Tuskegee Student and in his letters to Washington:
Even with habitual inattention to this quiet man's labors, the sparse coverage given his tragedy...surprises...[T]hese laconic snippets suggest a man not only willing to remain in the background but actively bent on doing so.

Ellen Weiss, Robert Taylor and Tuskegee (NewSouth Books, 2011)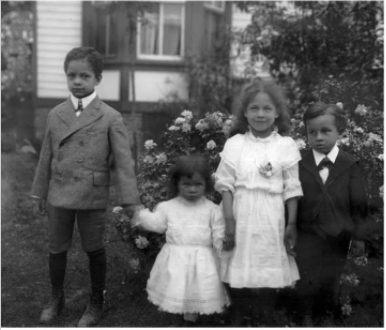 The Taylor Children near the time of their mother's death, 1906. Pictured left to right: Robert Rochon, Helen, Beatrice, and Edward Taylor

Photo: Frances B. Johnston, Courtesy Library of Congress (Frances Benjamin Johnston Collection)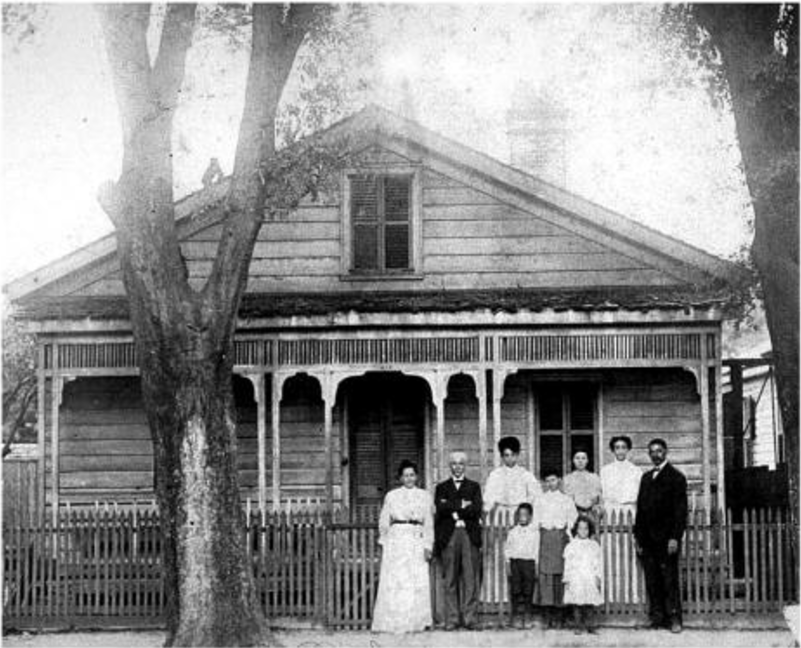 Tantum Hall (1907)
Built in 1907, Tantum Hall was used as the women's dormitory. It has also served as the residence for female faculty members, and as a guesthouse for student and faculty family and friends. Today the Tantum Hall dormitory is an "honors hall" reserved for upperclassmen whose GPAs are 3.2 or higher.
Milbank Agriculture Building (1909)
In addition to the Agricultural Department's classrooms, the Milbank Agriculture Building housed George Washington Carver's personal laboratory.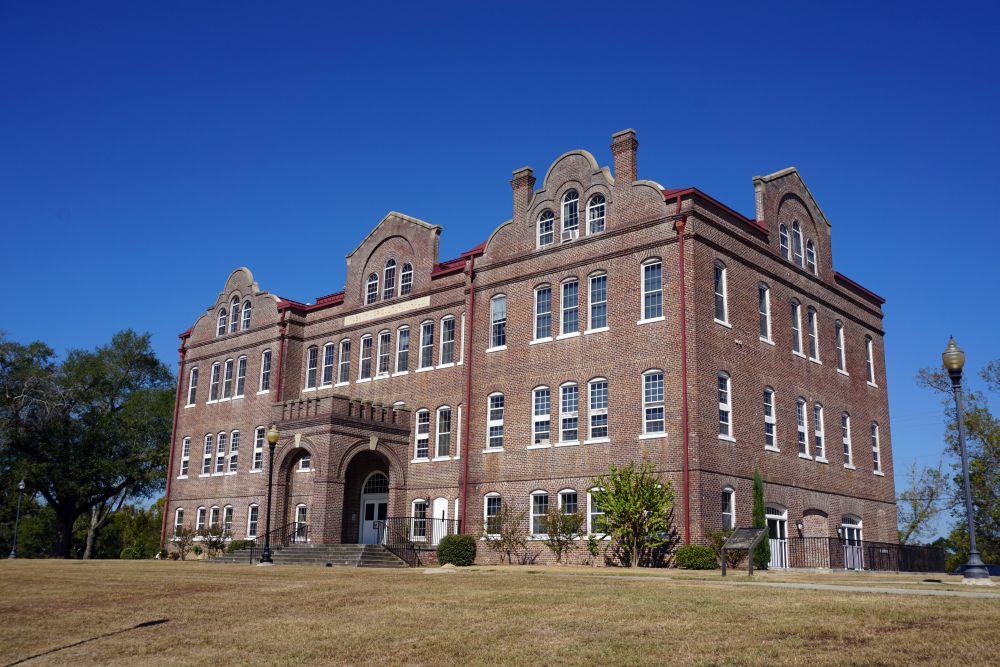 I remember my father telling me about this great man George Washington Carver and taking me to the Institute to his laboratory...[he had] a model, miniature house that children could play in...I have some sense of "there are such people in this world"...Tuskegee was a very important kind of anchor for me.

Willard R. Johnson, MIT Political Science Professor in Technology and the Dream, 1996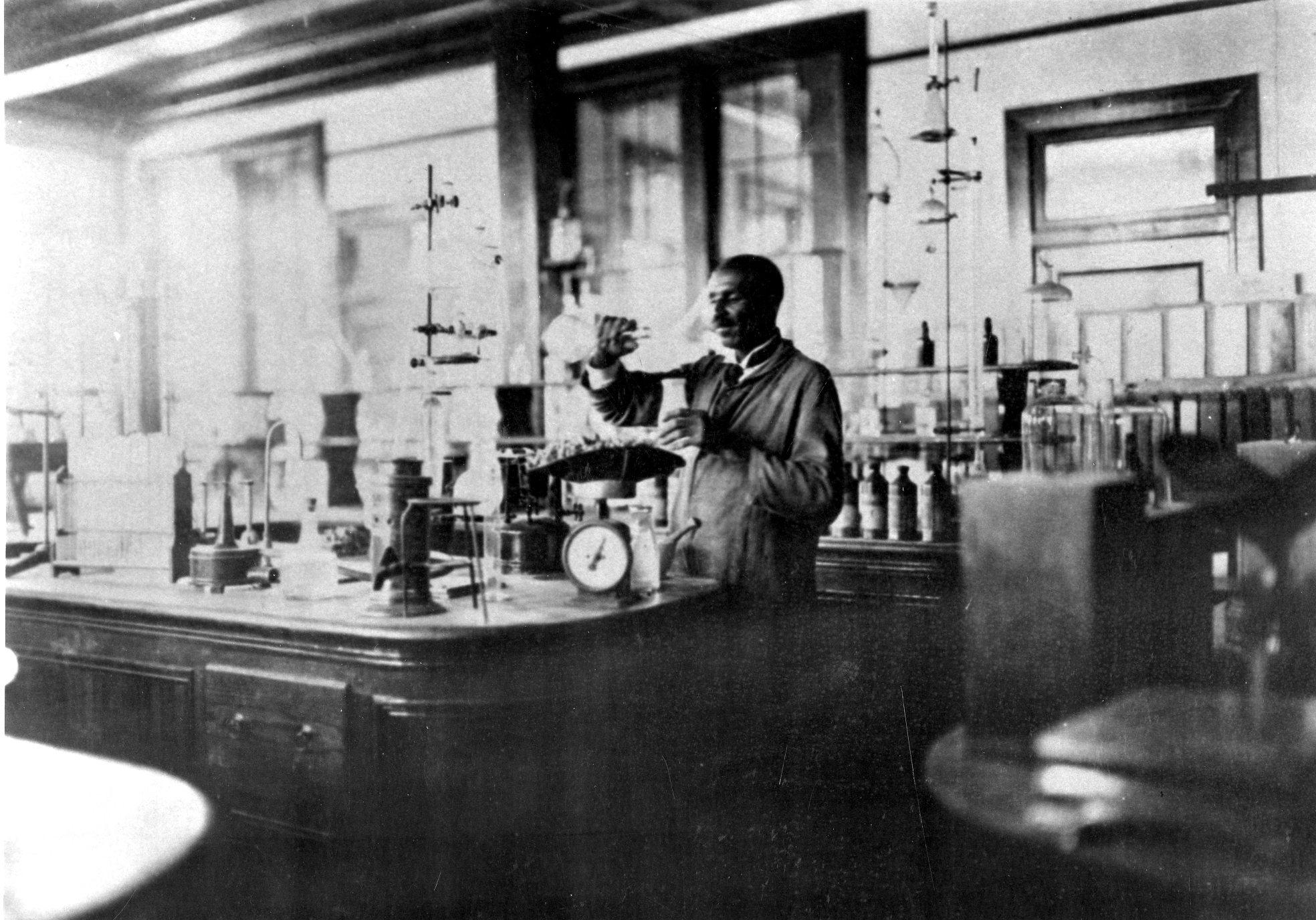 Tompkins Hall (1910)
Tompkins Hall was completed in 1910 as Tuskegee's main dining facility. Located on the ground floor was a 2,500-seat audience hall. The top level housed two dining halls, one for students (1,500 seating capacity) and the other for faculty (180 seating capacity).
At the dedication of Tompkins Hall, Tuskegee trustee Robert C. Ogden called Taylor up to the platform for a display of special appreciation for Taylor's other architectural achievements on campus.
Already serving as a central point on campus, the building was later transformed into the Student Union.
Mr. [Robert] Taylor occupies in the Negro Race in architecture the position which [Henry Ossawa] Tanner holds in painting and [Paul Laurence] Dunbar attained unto in poetry.
- "Real Builders of Tuskegee," Tuskegee Alumni Bulletin 2 (Jan.-March 1915)
White Hall (1910)
The children of Alexander Moss White--Harvard graduate, New York investment banker, and museum executive--donated funds for White Hall. Tuskegee students, faculty and staff completed the Taylor-designed building, which opened in 1909 and was dedicated in 1910. The stately clock tower was added three years later. It had a manual winding system, but was converted to electric in 1951 and still chimes today. The 104-room building continues to serve as the premiere female residence hall, housing students with a GPA of 3.2 or higher.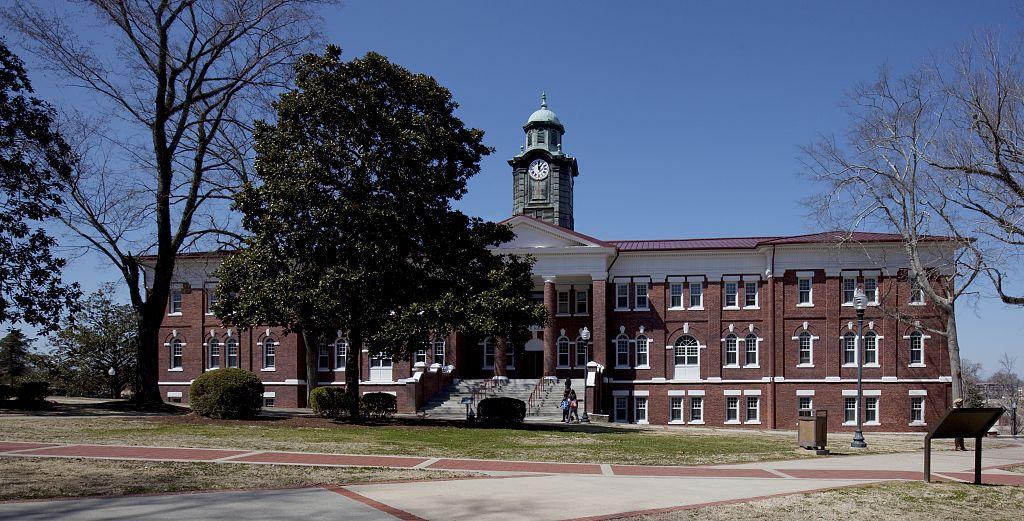 MIT Congress Anniversary Speech
The Scientific Development of the Negro, 1911
In 1911, MIT invited Taylor to speak at its 50th anniversary celebration. The Congress of Technology, as the occasion was billed, provided an opportunity to lay MIT's accomplishments before a gathering of MIT graduates, students, faculty, and friends.
Over two days, speakers reflected on the MIT experience and its relationship to a number of contemporary issues in science and technology. As one of the fifty invited alumni and faculty, Taylor was the lone black speaker at the Congress, delivering a paper entitled The Scientific Development of the Negro.
A lone female voice was also included: Ellen Swallow Richards had been scheduled to deliver a paper entitled "The Elevation of Applied Science to an Equal Rank with the So-Called Learned Professions." (The paper was printed in the proceedings, but Richards did not appear at the Congress. She died unexpectedly in March of 1911.)
Taylor began his paper by reflecting on the overall history of the black experience from slavery up to the present, almost half a century since the end of the Civil War. He laid out an insightful analysis of problems and prospects--the challenges and responsibilities facing blacks within the new social order:
[After slavery he] began to think of his old way of living and to hope for a new order. The ability to reach out and develop new lines of work, to study the things by which he was surrounded and to make the most of them...(in other words, the secrets of chemistry, of physics, of mathematics, of the principles of mechanics), all this was to him a closed book...Constantly under the will of another...there was no place for that highest of opportunities...
Taylor's ideas about the evolving framework of educational and professional opportunities for blacks appear to have marked an important middle ground in the polarized debate carried on at the time by Booker T. Washington (industrial emphasis) and W. E. B. Du Bois (intellectual emphasis). He drew from both leaders' philosophies, which he viewed as complementary rather than as conflicting.
Continuing to Build Tuskegee
Marriage to Nellie G. Chestnutt (1912)
Six years after the sudden loss of his wife Beatrice, Taylor remarried in 1912. Nellie Green Chestnutt of Wilmington was also a schoolteacher. The couple would have one child, Henry Chestnut Taylor.
John A. Andrew Memorial Hospital (1913)
In 1892, as Taylor was just graduating from MIT, Tuskegee opened the first hospital for African Americans in Alabama. It provided medical facilities for black physicians, who often had little or no access to such in segregated, white-operated institutions, including the public hospitals that catered to black patients. The Tuskegee Institute Hospital and Nurse Training School also provided care for the school's faculty and students, along with training for black nurses (later expanding to serve the local community). It was renamed in honor of the John A. Andrew, the governor of Massachusetts whose granddaughter made the gift (she was the wife of Charles Mason of Boston, a Tuskegee Institute trustee).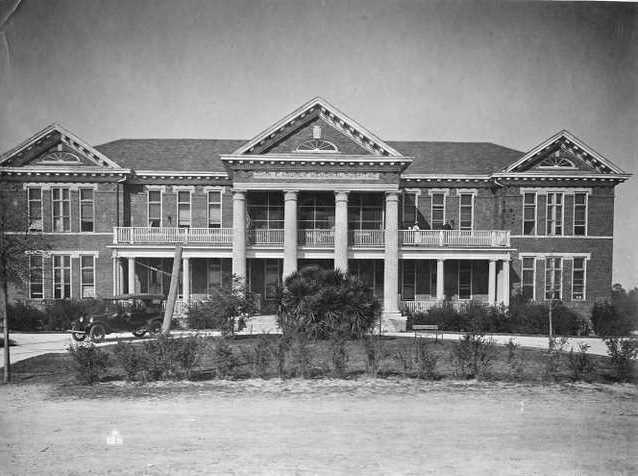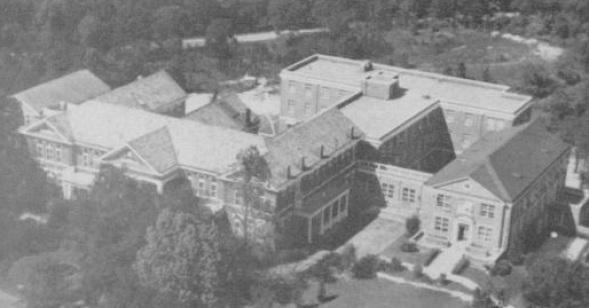 Aerial view of the John A. Andrew Memorial Hospital at Tuskegee Institute. Courtesy Tuskegee University

In 1987, the John A. Andrew Memorial Hospital was closed. Its complex now houses Tuskegee University's National Center for Bioethics in Research and Health Care, as well as the Tuskegee University Legacy Museum.
The Negro Farmer (1914)
In 1913, Taylor was handpicked by Washington as one of five directors of a new periodical, Negro Farmer, slated to begin publication in February 1914. Taylor was the lone faculty member on the board; the others were top Tuskegee administrators: Washington, president; Emmett J. Scott, vice president; Charles H. Gibson, secretary; and Warren Logan, treasurer. The journal was linked to Tuskegee's Agricultural Extension School programs carried out to black farmers throughout Alabama.
New Laundry / George Washington Carver Museum (1915)
Constructed in 1915 as a laundry facility, the New Laundry building was remodeled to a large extent in the same year. In 1938, the Institute designated the building as the George Washington Carver Museum. Beginning in 1938, Carver himself oversaw the conversion of the building into a combined museum and laboratory. The building was officially dedicated in his name in 1941, two years before his death. In 1947, a fire originating in a basement student laboratory heavily damaged the building's interior, which was later remodeled. In 1974 the National Park Service acquired Carver Museum as a part of the Tuskegee Institute National Historic Site.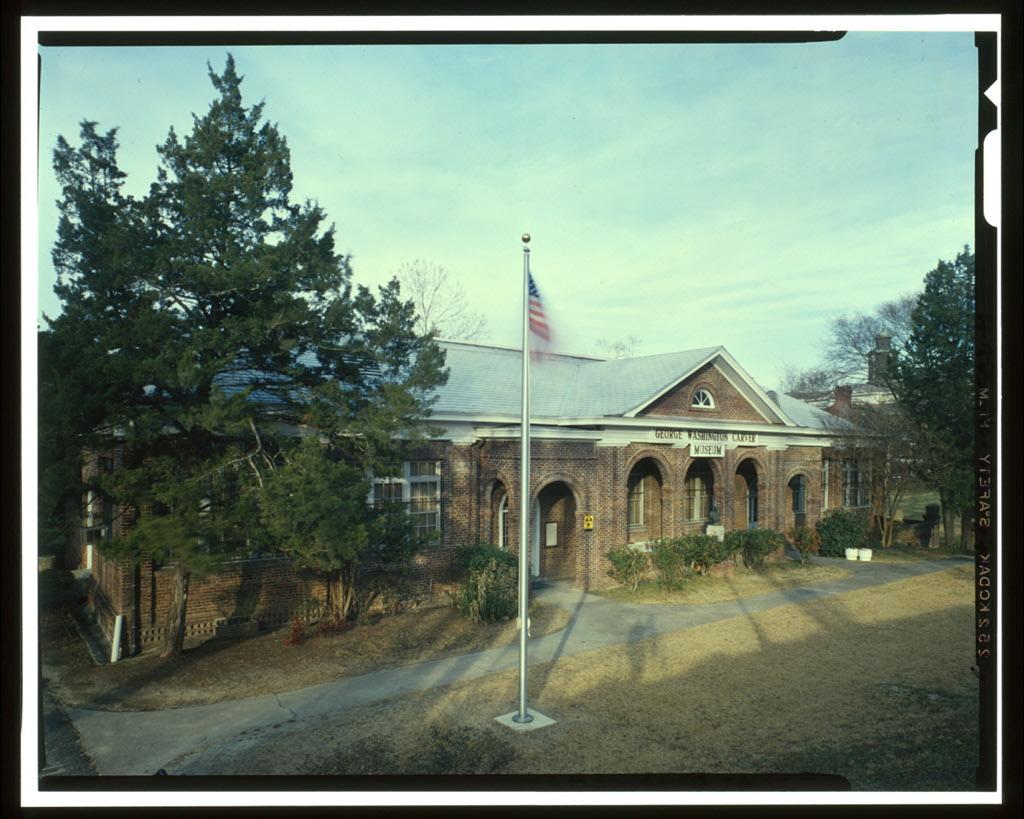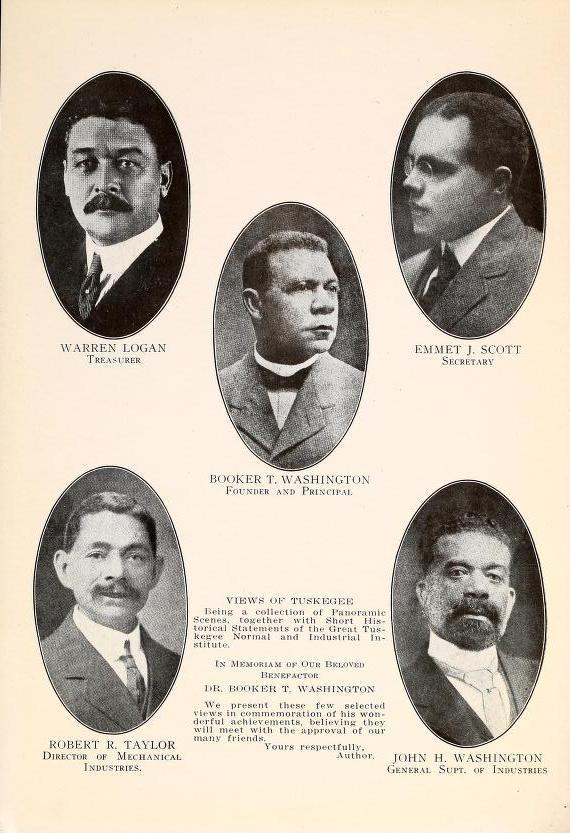 Robert R. Taylor, Director of Mechanical Industries at Tuskegee Institute, featured on a page in the "Lincoln Jubilee Album: 50th Anniversary of Our Emancipation," along with his Tuskegee colleagues Booker T. Washington, Warren Logan, Emmett Jay Scott, and John H. Washington. The event was held from August 22 to September 16, 1915 in Chicago.

JH Ballard/Lincoln Financial Foundation Collection
Agricultural Campus and James Hall (1921)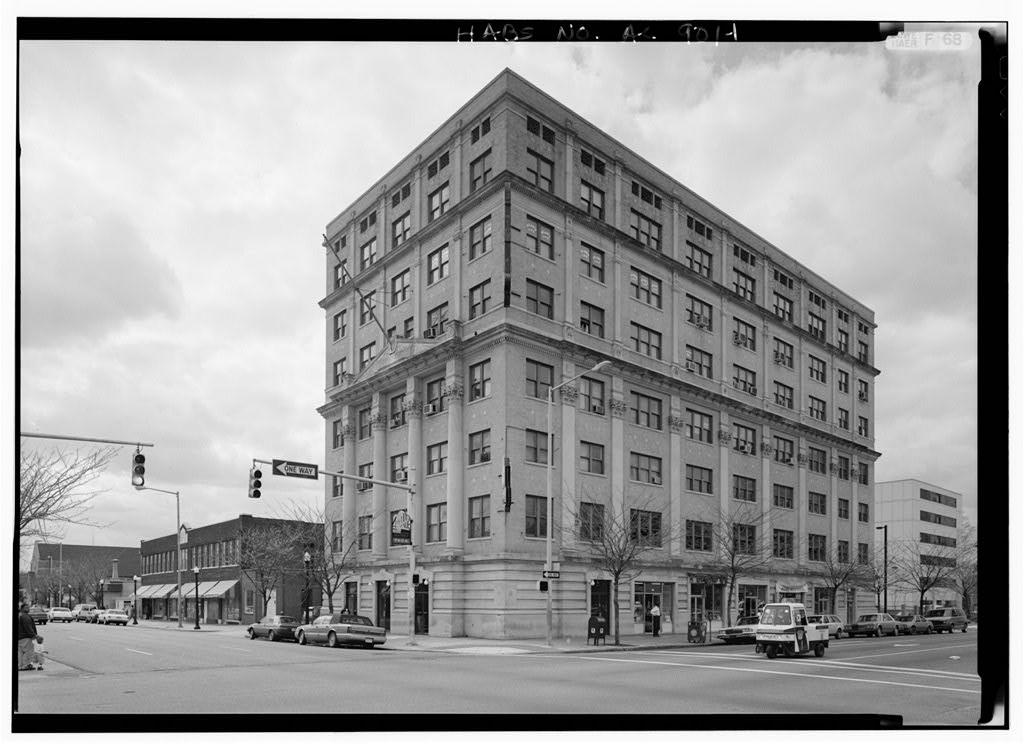 The Colored Masonic Temple in Birmingham, Alabama. Courtesy Library of Congress

This Renaissance-Revival-style building was completed in 1922 and designed by Robert R. Taylor in collaboration with his former Tuskegee student, Leo Persley--both were the state's only two professional black architects at the time. A symbol of black prosperity in the segregated South, the project was both funded and constructed by members of the black community. Throughout its history, the National Register-listed building provided shelter to activists, politicians, and common citizens. It housed the Booker T. Washington Library (now Smithfield Library) for about 30 years.
Vice-Principal of Tuskegee Institute
In 1925, Taylor became Vice-Principal of Tuskegee Institute. In addition to carrying out teaching and administrative duties, he continued to design buildings on campus.
Sage Hall (1926)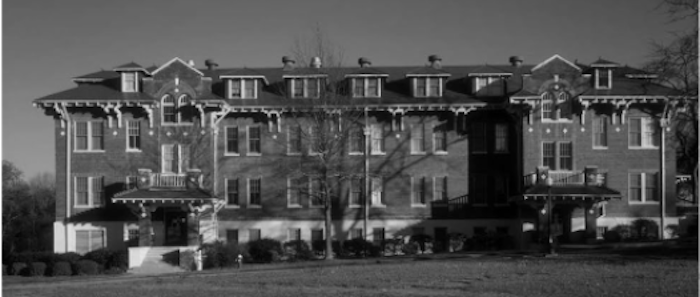 Chambliss Children's House (1928)
Constructed in 1928, the brick structure replaced the Children's House originally built in 1901 (during the period Taylor was away in Cleveland). The new building was a gift from wealthy Tuskegee alum William V. Chambliss. In 1930, it housed a public elementary school, as well as a practice facility for students in the Department of Education. Many children of black professionals in the area were enrolled here. The building later served as the home of the College of Business.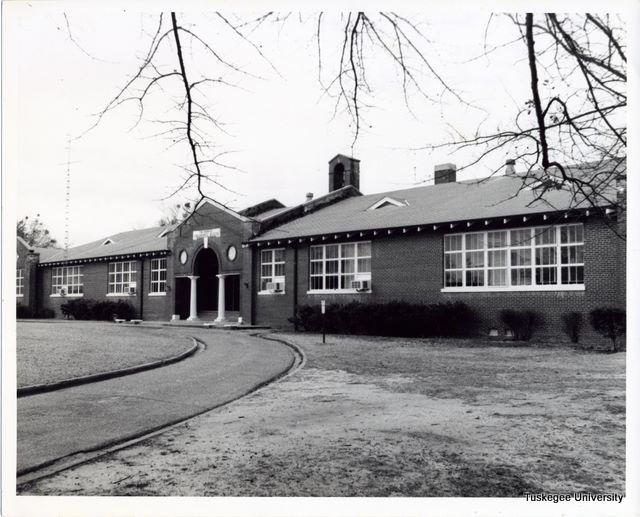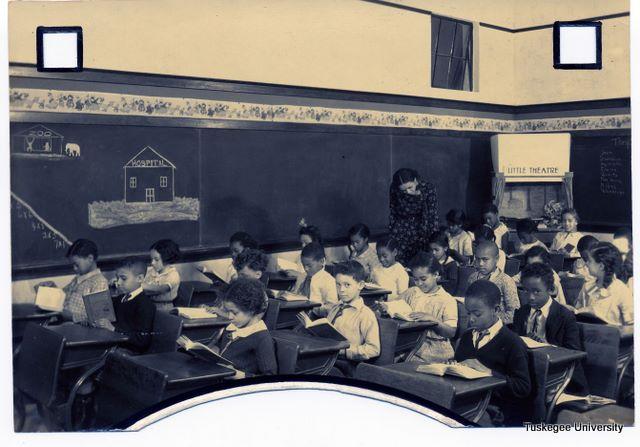 Young students at the Chambliss Children's House, where many black professionals in the Tuskegee Institute area enrolled their children. Courtesy Tuskegee University
Wilcox Trade Buildings (1928)
The Wilcox Trade Buildings were the last set of structures constructed by Tuskegee Institute students.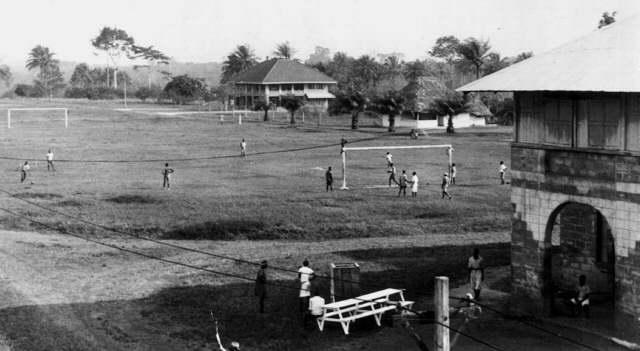 [American Philanthropist] Olivia Phelps-Stokes expressed her desire to finance an educational institution somewhere in Africa...embracing the educational philosophy of Booker T. Washington, that of educating the mind, heart and hands...Liberia was the first country targeted for the establishment of a Tuskegee-type institution

History of BWI, Booker Washington Institute Alumni Association of North America
During the 1920s, Liberian President Charles D. B. King visited the United States and toured the Tuskegee Institute. Upon his return to Liberia, he hired Taylor, to design a campus for a similar school in Kakata. The Liberian government donated 1,000 acres for the proposed Booker Washington Agricultural & Industrial Institute (BWI). This "Tuskegee of Africa" was under the joint sponsorship of the Phelps-Stokes Fund, the Liberian government, and the Firestone Rubber Corporation (which had opened the world's largest rubber plantation in Liberia in 1926). Other supporters included the American Colonization Society, missionary boards, and individuals.
In 1929, Taylor and his wife Nellie traveled to Liberia, where he was to lay out architectural plans and to devise a program in industrial training for the school. They would stay in Liberia for only 39 days. Established in 1822 by freed American slaves, the Liberia the Taylors arrived to was a politically unstable country with very little working infrastructure and in the grip of a mild yellow-fever epidemic (it flared up again after their departure, claiming the lives of some of his new friends).
Taylor's recommendations for initial construction of the school included academic and agricultural buildings and staff housing, followed by a hospital, shops, and a dormitory.
BWI was Liberia's first agricultural and vocational school. It was also the largest secondary school in the country during the first part of the 21st century and has been transitioning to a community college curriculum as of 2014.
The Liberia project cemented Taylor's reputation among African Americans in the U.S., earning him an honorary doctorate from Lincoln University.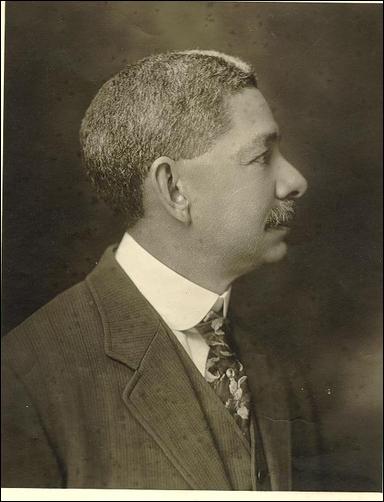 Photo: Frances B. Johnston, Courtesy Tuskegee University
Logan Hall (1931)
Logan Hall was named after Warren Logan, then the retired treasurer of Tuskegee Institute. The building served as a gymnasium and auditorium with a seating capacity of 3,500, and was the second home of the Tuskegee Basketball Golden Tigers and Tigerettes from 1931 until 1987.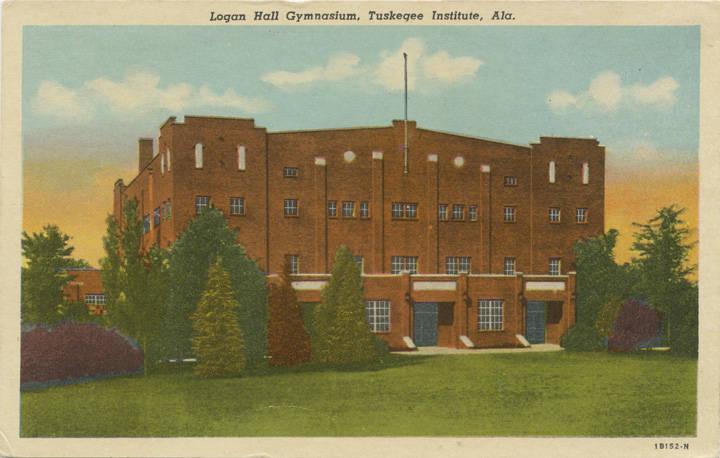 Armstrong Science Building (1932)
The Armstrong Science Building, a boys' dormitory, is a three-story brick building with multiple chimneys and a double front porch. Samuel C. Armstrong
Hollis Burke Frissell Library (1932)
Today the Frissell Library serves as Tuskegee University's main library. Constructed in 1932, the building was named after Hollis Burke Frissell, the second principal of Hampton Institute. In 2001, after a 4.5-million-dollar renovation, the facility was officially renamed the Ford Motor Company Library/Learning Resource Center.

After the Mississippi Valley flood of 1927, Taylor served on the Mississippi Valley Flood Relief Commission appointed by President Herbert Hoover. Taylor also served as chairman of the Tuskegee chapter of the American Red Cross. In 1929, he was awarded an honorary doctorate by Lincoln University in Pennsylvania for his work in Liberia.
After suffering a heart attack in 1932, Taylor retired from Tuskegee. He moved back to his native Wilmington, North Carolina. He began to devote more of his time to civic work, publishing pieces on social justice issues in various newspapers. In 1935, the governor of North Carolina appointed him to the board of trustees of Fayetteville State Teachers College. Taylor was also a trustee of Chestnut Street Presbyterian Church in Wilmington and treasurer of the local "colored" library board. He was a mason, as well as a member of the Phi Gamma Mu and Phi Beta Sigma fraternities, the Society of Arts in Boston, the American Economic Society, and the Business League of Tuskegee.
Throughout his life, he had retained a deep respect for MIT. In 1942, less than a decade after his retirement from Tuskegee, he wrote to the secretary of his MIT class indicating that he had just been released from treatment for an unspecified illness at the Mayo Clinic in Rochester, Minnesota. "Thanks to a kind Providence and skillful physicians," he said, "I am much better now."
Not long afterwards--on December 13, 1942--Taylor collapsed while attending services at the Tuskegee Chapel, the building that he considered his outstanding achievement as an architect. He died that same day at the John A. Andrew Memorial Hospital, also designed by his own hand.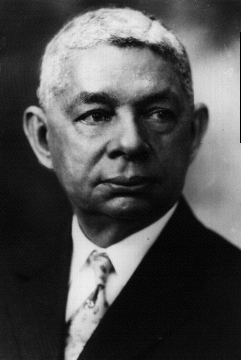 Robert R. Taylor in his later years. Courtesy MIT Museum
[Taylor] had hoped to attend the fiftieth anniversary of his graduation this year but ill health prevented. He has always met his alumni obligations and loved his alma mater.
- Nellie C. Taylor to MIT president Karl Taylor Compton, 1942
Taylor's widow Neliie wrote to MIT president Karl Taylor Compton from the Taylor home in Wilmington. She enclosed some clippings from the local press, including one from the Cape-Fear Journal that read:
In the passing of Dr. Robert R. Taylor, an honored and highly regarded member of the colored race, both the white and Negro citizens lose one whose place will hardly be filled. Dr. Taylor was a man of fine character, strict integrity, progressive, of quiet mien, and one who held a fine sense of civic obligation and responsibility...He was always sane and sensible in his viewpoint and ever actuated by a spirit always to cement friendly and cordial relations between the races.

Quoted in "Class Notes," Technology Review 45 (March 1943): VI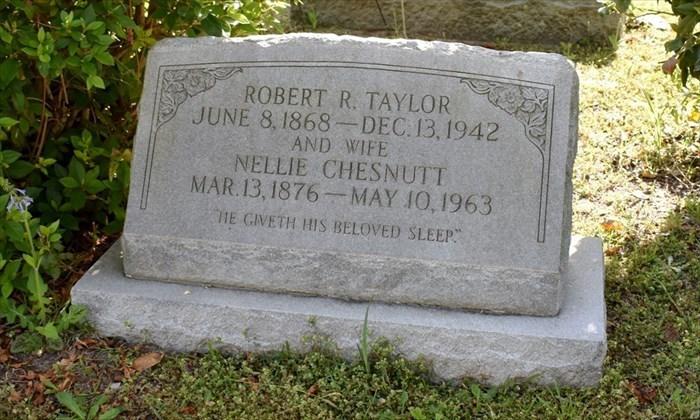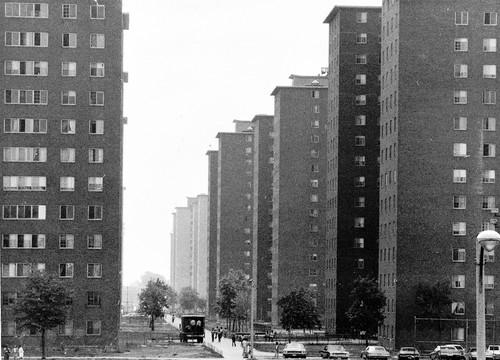 In 1942, the year of Taylor's death, his son Robert Rochon Taylor became the first African-American Chairman of the Chicago Housing Authority. Rochon was an architect and civic leader in Chicago, Illinois. He resigned in 1950, when the city council refused to endorse potential building locations throughout the city of Chicago that would induce racially integrated housing.
Two years after his death in 1957, the Robert Taylor Homes were initiated despite protests from the Chicago Defender and the Welfare Council of Metropolitan Chicago. Given his support for scattered-site public housing, Robert Rochon Taylor would also have opposed what became the largest federal public housing project in the world named in his and his father's honor. Built to house 11,000, the Robert Taylor Homes were occupied by 27,000 tenants at its height in 1965. By 2007 the last of the development's buildings were finally demolished. The Robert Taylor Homes had once been home to a number of public figures, including former Massachusetts Governor Deval Patrick, MIT's 2009 Commencement keynote speaker.
Legacy
MIT and Tuskegee University
The Robert R. Taylor Endowed Chair at MIT
In 1994, MIT endowed a chair for minority faculty in Robert R. Taylor's name. It is the first chair at the Institute named in honor of an African-American. The inaugural holder of the position was Julliard-trained Marcus Aurelius Thompson, an internationally acclaimed violist and chamber music player. Thompson founded performance programs in private studies and chamber music at MIT, and is presently an Institute Professor.
As a fellow African-American I feel pride in using [Robert R. Taylor's] name under my signature.
- Marcus A. Thompson, inaugural MIT Robert R. Taylor Professor of Music, 2011
The Robert R. Taylor (1892) Fellowship at MIT
In 2011, MIT also established the Robert R. Taylor (1892) Fellowship in the School of Architecture + Planning, appointing then visiting professor Walter J. Hood, Jr. as its inaugural fellow. Hood, Jr. advocates the art of "improvisation" as a design process for making urban landscapes and architecture. Philip Ewing, an architecture graduate student in Design Computation, was the fellow for 2014.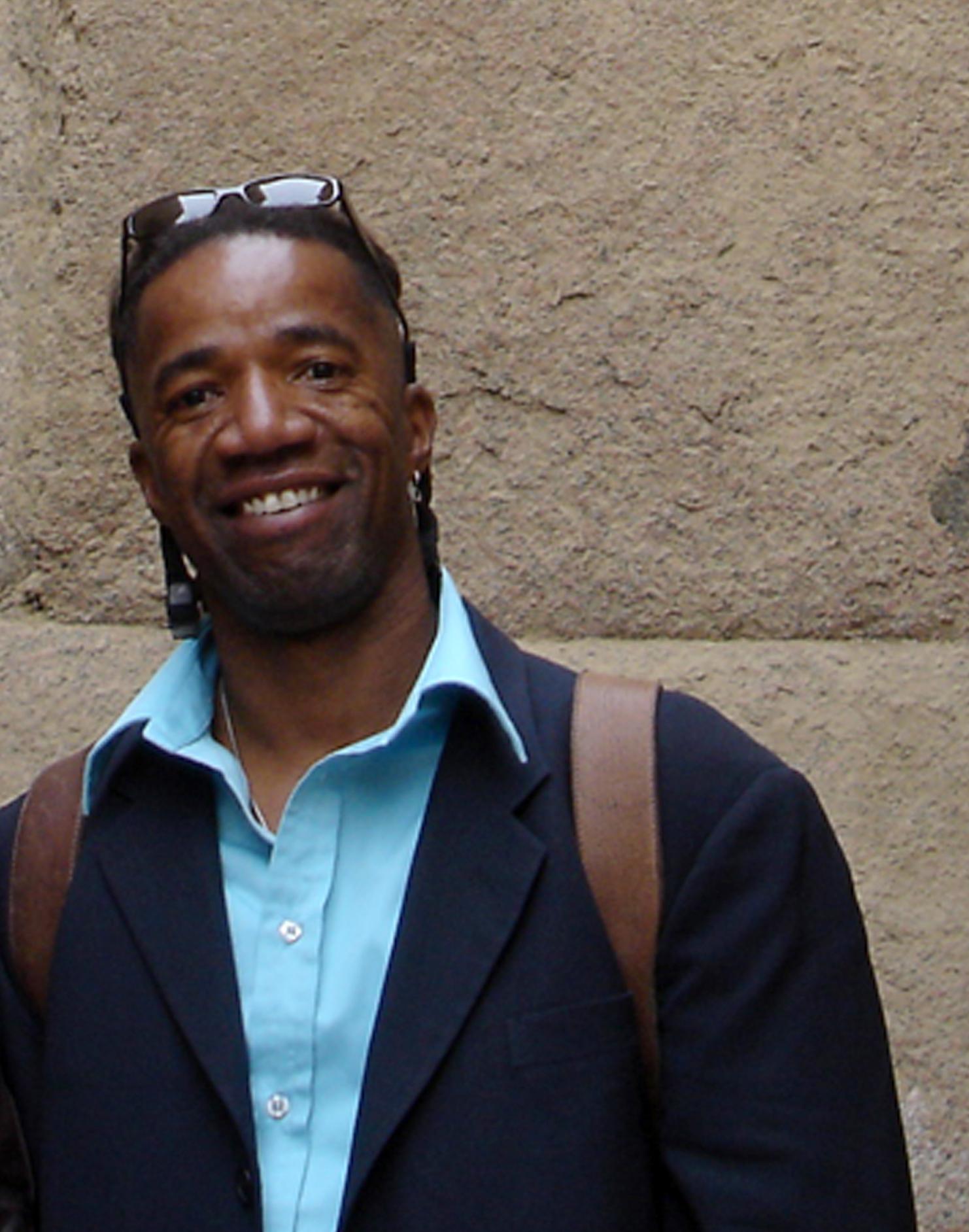 Walter J. Hood, Jr., inaugural Robert R. Taylor (1892) Fellow. He is Professor and former Chair of Landscape Architecture at the University of California, Berkeley, and principal of Hood Design Studio in Oakland, CA.

Photo: Hood Design
The Robert R. Taylor School of Architecture & Construction Science at Tuskegee University
In 2010, Tuskegee University elevated its departments of architecture and construction science from the College of Engineering, Architecture and Physical Sciences (CEAPS) to the Robert R. Taylor School of Architecture and Construction Science (TSACS). The school is located in the Taylor-designed Wilcox A, C and partially in E former trades buildings, originally built in 1928. It is home to one of only two NAAB-accredited, architecture professional degree programs in the state of Alabama, as well as to one of the top Construction Science and Management degree programs in the nation.
[TSACS] is founded on a belief in the power of architecture and construction science to uplift the human condition and give form to society's highest aspirations. Students are prepared to become citizen architects and builders - community leaders who provide a vision of a better-built environment...Our mission is to develop skilled professionals who are capable of playing active roles in shaping communities through the building of meaningful places for all people.

Tuskegee University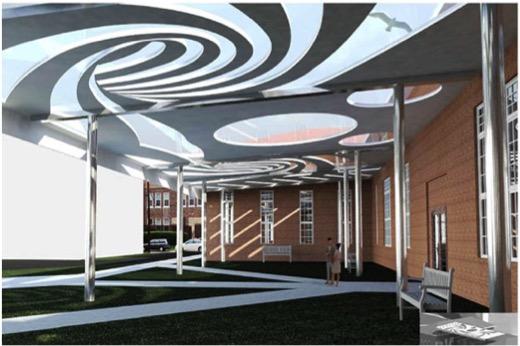 Robert R. Taylor USPS Forever® Stamp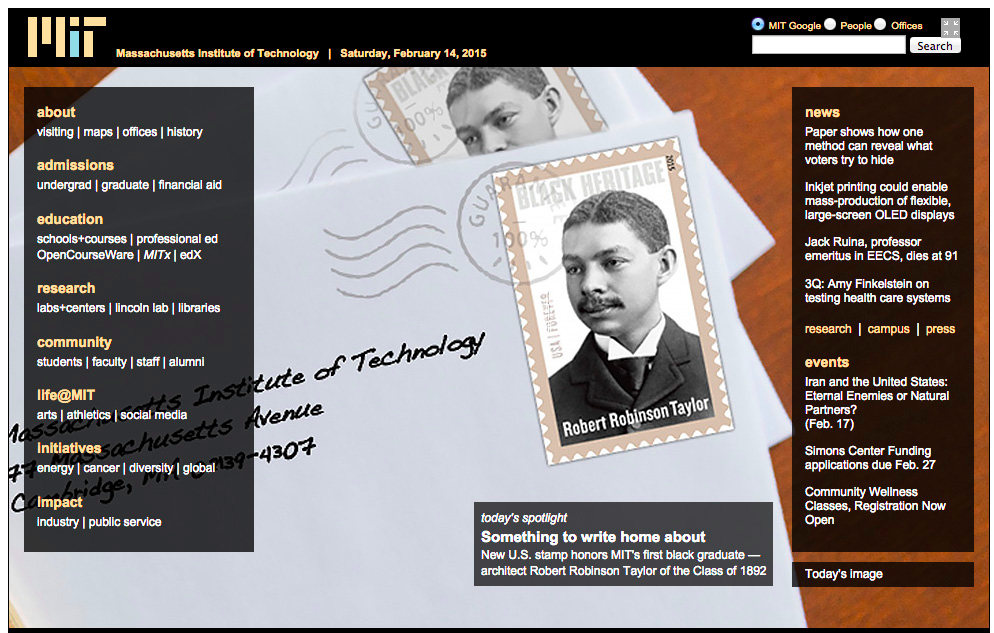 The limited-edition Forever® U.S. Postal Stamp commemorating Robert R. Taylor is the 38th addition to the postal service's Black Heritage Series. The stamp was officially introduced on February 12, 2015 at the Smithsonian National Postal Museum in Washington, D.C. Among the ceremony attendees were MIT president L. Rafael Reif and Tuskegee University president Dr. Brian L. Johnson. Another attendee of note was Valerie Jarrett, Taylor's great granddaughter and senior advisor to President Barack Obama. At a second inauguration on the evening of the 2015 stamp launch, Jarrett initiated the ribbon cutting to open the Smithsonian National Postal Museum's "Freedom Just Around the Corner" gallery exhibit.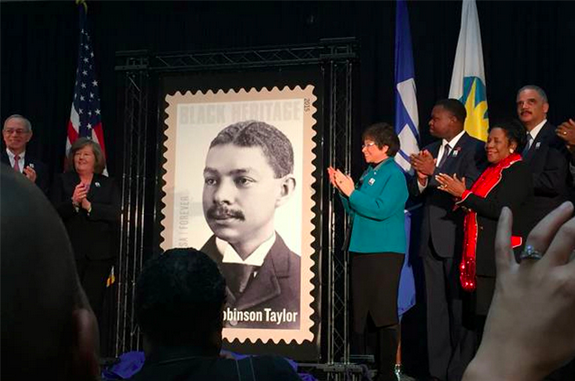 Robert R. Taylor's historic and stellar legacy and association with Tuskegee University is already etched in the annals of American history...With this stamp, it will be permanently etched in all of world history.
- Brian L. Johnson, Tuskegee University president, 2015
On May 13, 2015, MIT also hosted an event at the Stratton Student Center, featuring remarks by Hashim Sarkis, dean of the MIT School of Architecture and Planning; E. Denise Simmons, Cambridge city councillor; and Katherine Lydon, postmaster for the City of Cambridge. Lydon proposed renaming the post office at the MIT Stratton Student Center after Taylor.
Moments like this are important, because in order to shape America's future you need to have a thorough understanding of the past...That's why the Postal Service takes stamps so seriously. To us, stamps are much more than postage. They are the nation's calling cards. They celebrate our culture, remind us of our history and help us appreciate our heritage. Stamps reflect America and that's what our Black Heritage stamps are all about.

Katherine Lydon, Postmaster for the City of Cambridge
When you think of the history of our nation, how people have been marginalized and pushed to the edges, this is our opportunity to put some of our prominent citizens right in front, so we rewrite history by putting them right in the center of history.

E. Denise Simmons, Cambridge City Councillor
I believe this would be among the greatest contributions that we could make towards racial problems...The Robert Robinson Taylor stamp is being issued as a Forever stamp reflecting the universality, timelessness and values of his ideas.

Hashim Sarkis, Dean of the MIT School of Architecture and Planning
Robert R. Taylor stamp unveiling at MIT, 13 May 2015. Photo: John Blanding/The Boston Globe

Pictured left to right: E. Denise Simmons, Cambridge City Councillor; Edmund Bertschinger, MIT Institute Community and Equity Officer; and Katherine Lydon, Postmaster for the City of Cambridge.
As we honor the legacy of Robert Taylor, today's ceremony [at the Smithsonian Museum] reminds us that he was a builder…not only of structures, but of communities…and an architect who designed not only a campus of national importance…but a more promising future for generations to come. Robert Robinson Taylor truly represents the best of MIT, and the best of our nation.
- L. Rafael Reif, MIT President, 2015
In Popular Culture
In the NBC series Timeless, MIT alum Rufus Carlin (played by Malcolm Barrett) is the pilot of a time machine. Born in Chicago in 1983, Rufus is often not enthusiastic about traveling back in time as a black man, as he has to succumb to racism. In Season I, Episode 11- "The World's Columbian Exposition" (aired January 16 2017), Rufus goes back to the 1800s. When another character mistakens Rufus for Robert Robinson Taylor, Rufus responds by saying: "No, I'm the other black guy".
The Honorable Valerie Jarrett, former Senior Advisor to President Obama and CEO of the Barack Obama Foundation, was in conversation about the life and legacy of her great-grandfather Robert R. Taylor. Held on September 30 2022, the event recognized his impact and legacy, and celebrated the loan of Taylor's MIT diploma by Jarrett for the inaugural exhibition of the new MIT Museum. The gathering included reflections on Taylor's legacy and new collaborations between Tuskegee and MIT by Professor of the History and Theory of Architecture Mark Jarzombek PhD '86, as well as Kwesi Daniels, Professor and Head of the Department of Architecture at Tuskegee University. Dr. Holly Harriel MCP '03--Tuskegee Class of 1996, MIT Class of 2003, DUSP Lecturer, and MIT CoLab Director--moderated the discussion with Jarrett.