MIT's role in helping to create NASA includes stories of a black experience that add a unique dimension to space exploration and research.

In 1962, MIT's Lincoln Laboratory transmitted the first television picture, displaying the initials "M.I.T." via NASA's Echo I balloon communications satellite. The signal was bounced 2,700 miles across the country from California to Massachusetts.

Photos: MIT Haystack Observatory; NASA [SP-4308]
NACA
The National Advisory Committee for Aeronautics (NACA) was established in 1915 by the United States Congress as an independent government agency reporting directly to the President. NACA's creation was an effort to catch up, if not surpass, Europe's advancements in airplane technology by the outset of World War I.
Beginning in 1916, NACA conducted flight tests, many of which took place in a series of wind tunnels NACA developed at facilities that included MIT. NACA's first technical report on the effects of wind gusts on airplanes was based on tests conducted at the Institute. The report was co-written by MIT professor Jerome C. Hunsaker MS '12, who would later serve as Chairman of NACA (1941–56). For the next three decades, NACA's mission would continue to expand in aeronautics research during World War II, to supersonic flight, and then to missile technology during the Cold War.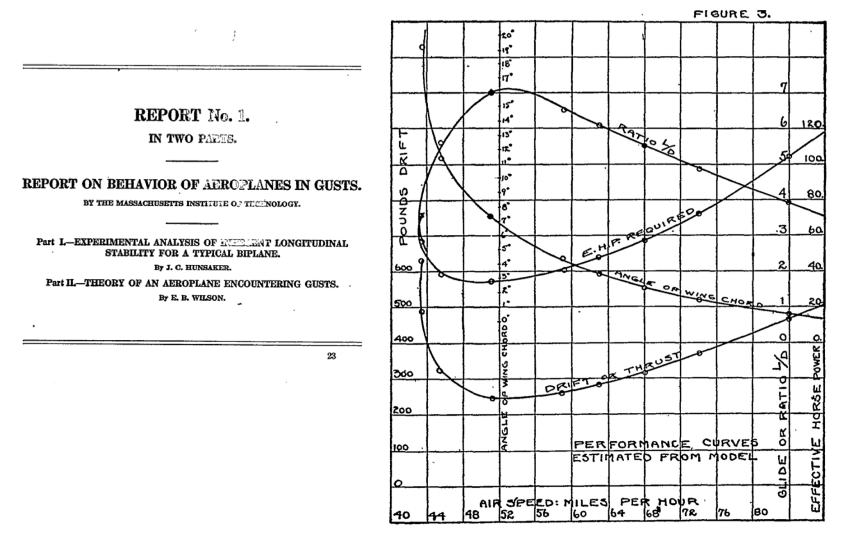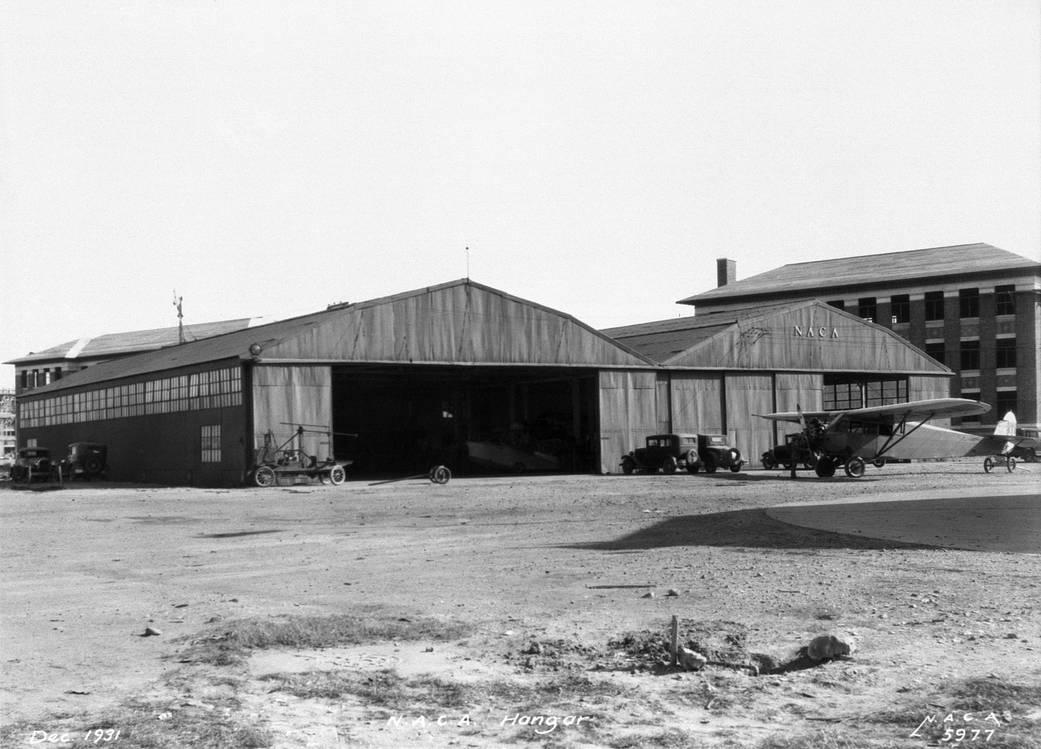 NASA
In 1958, NACA became NASA on the recommendation of MIT president James R. Killian, Jr., then a special assistant for science and technology to U.S. President Dwight Eisenhower. Congress and the President of the United States created the National Aeronautics and Space Administration (NASA) "to provide for research into the problems of flight within and outside the Earth's atmosphere, and for other purposes".
NASA's mission was directly related to the pressures of national defense after World War II when the U.S. and the Soviet Union were engaged in a contest over the ideologies and allegiances. Known as the Cold War, this period also saw the increasing momentum of the "space race" between the two countries. As a result, NASA's relationship with the Institute deepened during the late 1950s and early 1960s.
MIT-educated engineers and scientists played a vital role within NASA and its contractors to execute a wide variety of tasks necessary to achieve the national goal of landing on the moon.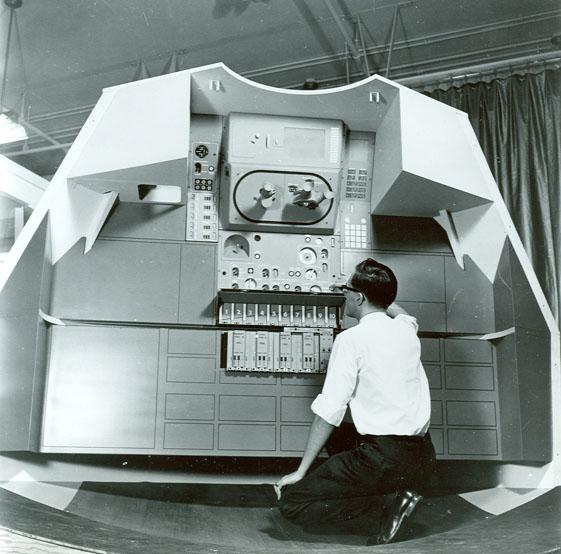 An Instrumentation Lab engineer inspects a mockup of the Apollo spacecraft guidance system, the early 1960s.

NASA awarded the first major contract of the Apollo program to MIT in 1961, just weeks after President Robert F. Kennedy announced the national goal of landing a man on the moon before the end of the decade. MIT professor Charles Stark Draper offered to go into space with the astronauts, a request NASA declined.

Courtesy MIT Office of Public Relations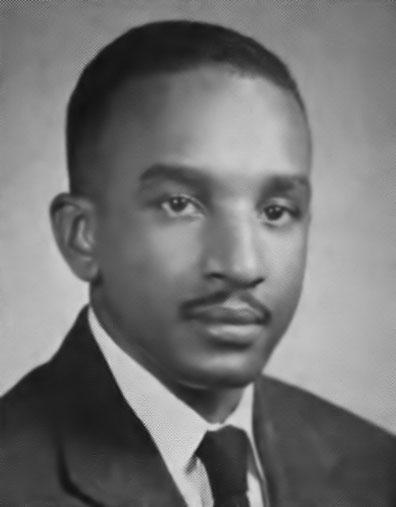 Robert P. Pinckney '52, SM '56 earned both his Bachelor's (1952) and his Master's (1956) in Electrical Engineering from MIT. By 1969, he was working on the Apollo Project as a project engineer on the Digital Computation Group operations staff. "As an upcoming engineer, being Black should not be your first concern," Pinckney said during a Black MIT alumni panel in 1973. "It doesn't matter what your color is or what race you are-- companies pay more attention to what you can do."

Courtesy MIT Museum
Participation of Black MIT faculty, students, and alumni in the MIT-NASA exchange also dates back to the days of NACA.
Victor "Vic" Llewellyn Ransom '48 was employed at NACA immediately after graduating from MIT in 1948. He was among the 101 Tuskegee Airmen who took part in the 1945 Freeman Field Mutiny protest against segregation.
Background
Ransom was born in New York City to a schoolteacher and a writer, both of whom were part of the Harlem Renaissance. Chasing after top schools for Ransom, the family moved 16 times before he turned 16. He graduated from Stuyvesant High School, a magnet public school known for its rigorous math and science curriculum. By senior year, Ransom had already set his sights on studying electrical engineering at MIT.
At the Institute
Ransom's memories of his arrival to the Institute in 1941 are vivid. His impression of the campus was a "War Department," with "massive, unsympathetic buildings". In December of that year, in fact, events at Pearl Harbor led to the United States' entry into World War II. During his sophomore year at MIT, Ransom took a leave from MIT for service training.
The war ended without Victor Ransom ever leaving U.S. soil. But he and other members of the 477th Bombardment Group were busy fighting a different battle.

New Jersey Monthly, 2013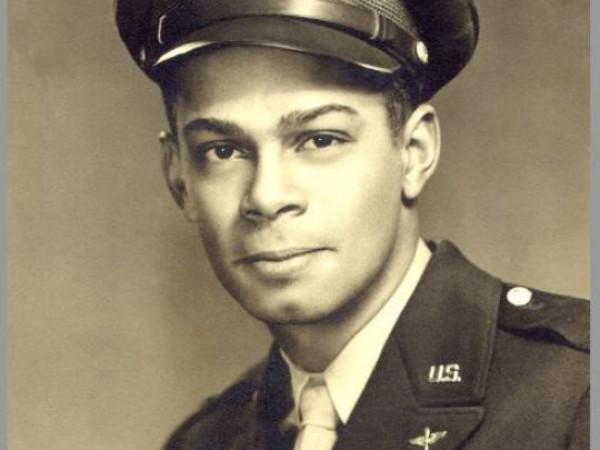 Second Lieutenant Victor Ransom, ca. 1941
Courtesy MIT Museum

Black officers at Freeman Field, Indiana were segregated in an abandoned cadet field and referred to as "trainees," regardless of rank. A member of the the 477th Bombardment Group, Ransom was among the 101 Tuskegee Airmen who participated in the Freeman Field Mutiny protest against segregation at the airfield's officers' club in 1945.
Work at NACA
After the war, Ransom resumed undergraduate studies at MIT, completing his remaining years under the GI Bill in 1948. Though faced with a tough job market after MIT, Ransom received an immediate job offer from NACA at their Langley Field Lab.
He and his wife Dorothy relocated from the New York area to Hampton. They stayed in segregated Virginia for less than a year, after Ransom's plans for graduate school work hit a road block: University of Virginia did not accept black students.
While there was the historically black Hampton University, NACA was paying for graduate work, and University of Virginia was where most of the NACA employees were going. NACA granted Ransom a transfer to their Lewis Lab in Cleveland, Ohio, where he could attend Case Institute of Technology (today Case Western).
[THERE WERE] SIGNS IN THE NACA FACILITIES THAT SAID "WHITE TOILETS," BUT WE IGNORED THEM BECAUSE MOST PEOPLE THERE DIDN'T REALLY GO ALONG WITH THIS LEFTOVER FROM THE OLD SOUTH.
- Vic Ransom in Technology and the Dream, 1996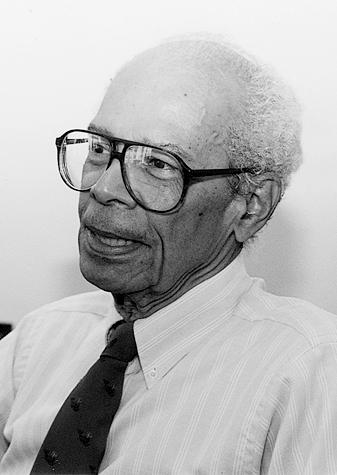 Ransom joined Bell Laboratories as a member of the technical staff while still in graduate school. He would move up the ranks at Bell Labs and in the communications industry for the next 30 years. His areas of specialty included transistors and digital products, network switching technologies, systems for special needs, and environmental control systems design.

Photo: Courtesy Victor Ransom
Katherine G. Johnson was the physicist and mathematician whose calculations were critical to NASA missions sending astronauts into orbit and to the moon and whose story is chronicled in Margot Lee Shetterly's Hidden Figures.
From NASA's Katherine G. Johnson Biography by Margot Lee Shetterly
Born in White Sulphur Springs, West Virginia in 1918, Katherine Johnson's intense curiosity and brilliance with numbers vaulted her ahead several grades in school. By thirteen, she was attending the high school on the campus of historically black West Virginia State College. At eighteen, she enrolled in the college itself, where she made quick work of the school's math curriculum and found a mentor in math professor W. W. Schieffelin Claytor, the third African American to earn a PhD in Mathematics. Katherine graduated with highest honors in 1937 and took a job teaching at a black public school in Virginia.  

When West Virginia decided to quietly integrate its graduate schools in 1939, West Virginia State's president Dr. John W. Davis selected Katherine and two male students as the first black students to be offered spots at the state's flagship school, West Virginia University. Katherine left her teaching job, and enrolled in the graduate math program. [In 1952] a relative told her about open positions at the all-black West Area Computing section at the National Advisory Committee for Aeronautics' (NACA's) Langley laboratory, headed by fellow West Virginian Dorothy Vaughan...Katherine began work at Langley in the summer of 1953...She spent the next four years analyzing data from flight test, and worked on the investigation of a plane crash caused by wake turbulence.

When asked to name her greatest contribution to space exploration, Katherine Johnson talks about the calculations that helped synch Project Apollo's Lunar Lander with the moon-orbiting Command and Service Module. She also worked on the Space Shuttle and the Earth Resources Satellite, and authored or coauthored 26 research reports. She retired in 1986, after thirty-three years at Langley. "I loved going to work every single day," she says. In 2015, at age 97, Katherine Johnson added another extraordinary achievement to her long list: President Obama awarded her the Presidential Medal of Freedom, America's highest civilian honor.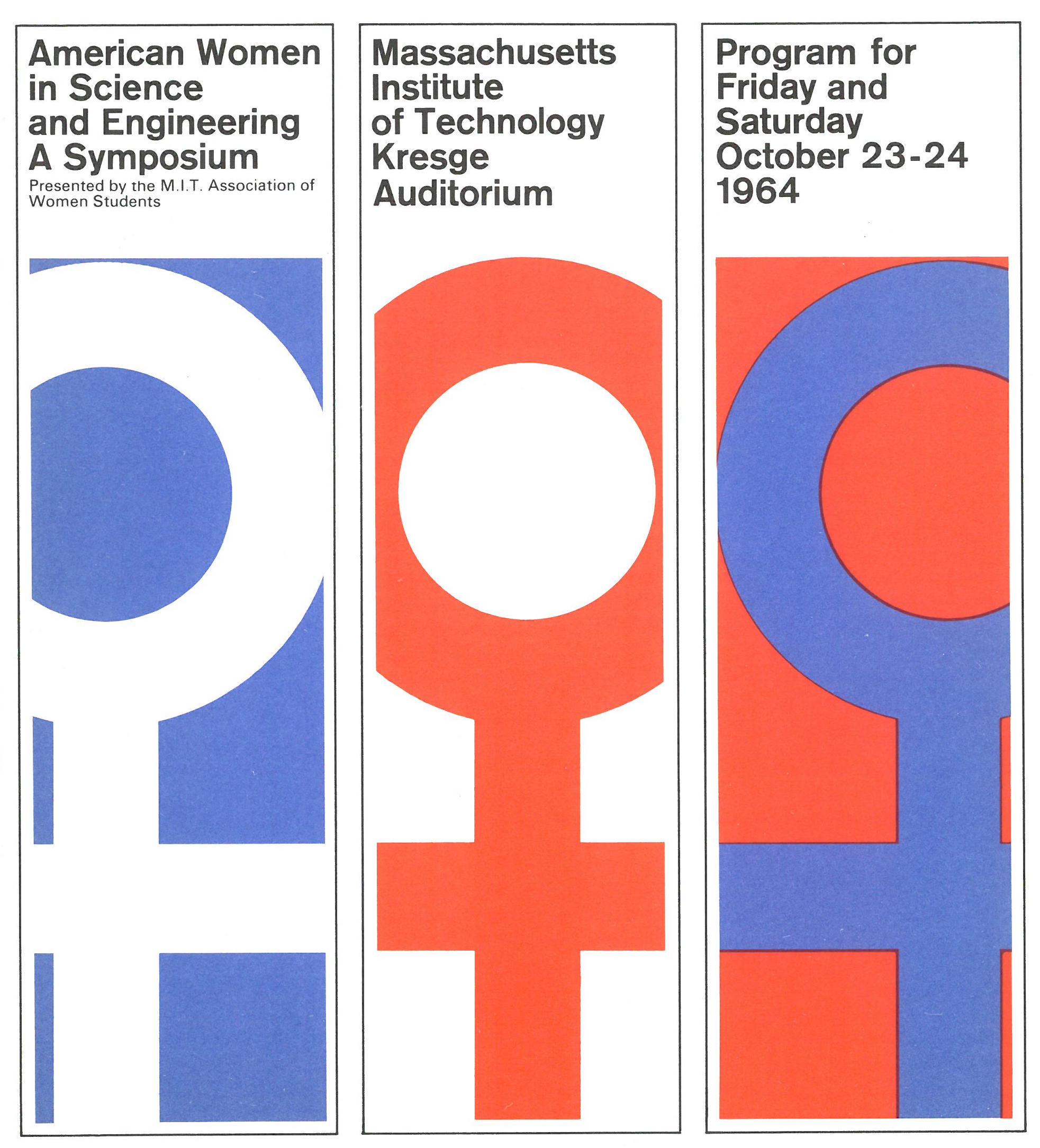 MIT LIBRARIES: "In October 1964, the MIT Association of Women Students sponsored 'American Women in Science and Engineering: A Symposium,' inviting student delegates from more than 200 universities to join them at MIT. An advisory committee gathered names of distinguished female scientists and engineers, several of them African American, to be invited who could 'be planted in the audience to spark discussion'...Among these notable women were Katherine G. Johnson."

IMAGE: Program cover for the American Women in Science and Engineering symposium, October 1964 (MIT Libraries)
Elaine Denniston
Data Keypuncher at MIT Instrumentation Lab
Elaine Denniston was one of many women working on computer programming for Apollo. From 1966 to 1968, she worked at the MIT Instrumentation Lab as a data keypuncher.
Born and raised in Boston, Massachusetts, she was hired into MIT's Instrumentation Lab (now called Draper) via a staffing agency on the basis of her experience keypunching cards for an insurance company. She had only a high school education. In her mind, it was simply a job, and she was a young mother with children to feed. "Apollo was in the background," she recalls. "I was a fairly naive, immature 26- or 27-year old. … I didn't have a science background. I didn't even take physics because [my high school] was a girls' school."

But half a century later, her former boss would remember Denniston with the rest of the section's Apollo team.

"Elaine Denniston: The woman who corrected Apollo's code," Astronomy, 21 June 2019
With no opportunity for advancement at the Instrumentation Lab, Denniston left MIT in 1968 and enrolled in Radcliffe College. After graduating in 1973, she attended Boston University Law School, then went on to practice law in the private sector. Denniston retired in 2012.
Robert Henry Lawrence Jr
First African-American Astronaut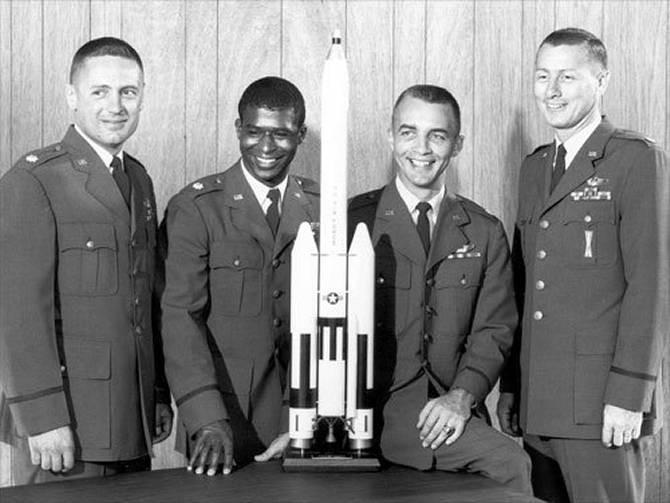 In 1967, Robert Lawrence was the first African-American selected for a space program. He logged more than 2,000 hours flying jets, including the Lockheed F-104 Starfighter, and he studied a difficult steep-descent gliding technique called the flare maneuver—work that contributed significantly to the development of the Space Shuttle. Tragically, Lawrence died in a training accident. His role in the space program fell into obscurity until the 1990s, when his widow and his colleagues successfully petitioned NASA to acknowledge his contributions and inscribe his name on the Space Mirror Memorial at the Kennedy Center in Florida.

[...]

Stream_l__i___n____e_____s (after Robert Lawrence) is a work for clarinet and real-time computer accompaniment composed by Matthew Schumaker [2019-20 MIT MLK Visiting Scholar] as an homage...[Schumaker's process included using] a computer program to create musical lines in the clarinet part from the photographed contours of curved aerodynamic streamlines flowing off a plane's wing—a technique developed following an introduction into streamlines from MIT Professor Wesley L. Harris...The piece was commissioned by the Dinosaur Annex Chamber Ensemble. Clarinetist Diane Heffner performed in the premiere on April 14 in Killian Hall at MIT as part of the Cambridge Science Festival.
Willie Ray Mackey
Spacecraft Plasma Physicist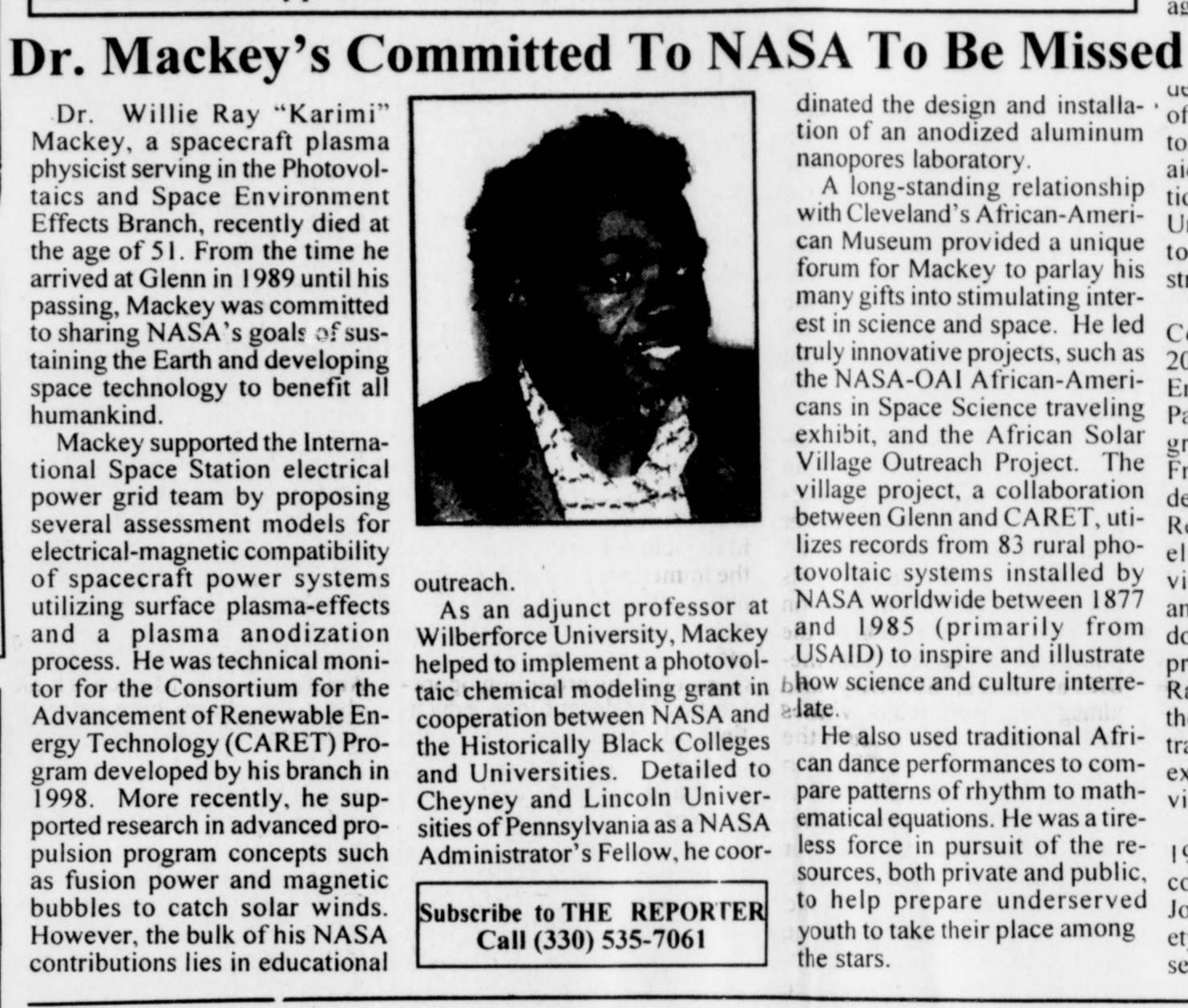 Renowned NASA astrophysicist and African dancer Willie Ray "Karimi" Mackey (AKA Osagyefo Karimi Salmone Faye) PhD '81 was the second African American to earn a PhD in Astrophysics from MIT. Dr. Mackey worked at NASA from 1989 until his death in 2004. Called the "dancing physicist" by friends, he also completed a seven-year apprenticeship in African dance and drum under Raymond Sylla, an African cultural icon from Senegal.
Born in Memphis, TN and raised in St. Louis, MO, Dr. Mackey also earned a BA in Physics and Mathematics, with a concentration in African American Cultural Arts, from Oberlin College. "At Oberlin, [Mackey] was seeking to find himself," wrote Oberlin faculty member Kofi Lomotey. "As a result, [he] came before the academic standards committee for review of his academic progress. A few of us on the committee 'saw something in him' and urged the committee to 'give him another chance.' And look what happened--the first Oberlin physics major of African descent in modern times at Oberlin and subsequently an MIT physicist."
Dr. Mackey performed extensively throughout New England with the Art of Black Dance and Music. He served on the Ohio Arts Council Dance Panel and as Assistant Professor of Mathematics and Physics at Wilberforce University. Dr. Mackey founded the Cooper Community Science Center in Roxbury, MA; Institute of Rational Analysis, Boston, MA; Amiraka Afrique, Dayton, OH; Po Tolo Studio Complex, Cincinnati, OH; the McNair-Diop Astrophysical Institute; and AfricaHouse International (the Art House), Cleveland, OH.
At the time of his death in 2004 at age 51, "Sirius was making its annual daytime appearance in the sky," according to obituary writer Alana Baranick (more below). "His "African name, Karimi, means 'one whose spirit travels with the stars.'" Dr. Mackey had been working as a Spacecraft Plasma Physicist at the NASA John H. Glenn Research Center at Lewis Field in Cleveland, OH, while serving as Director of Modern Africa Tama Tama. A celebration honoring his life was held at the African American Museum of Cleveland.
[Mackey] felt a kinship with the primitive Dogon people of West Africa, who have been mapping the stars for more than 800 years...[He] was fascinated that the Dogon, who revere Sirius - known as the Dog Star - knew of its tiny companion star, Sirius B, centuries before modern astronomers identified it...

As a scientist, Mackey conducted far-ranging "fundamental research that doesn't reveal itself until years downstream but is critical to development," said Julian Earls, director of the NASA Glenn Research Center.

But he didn't look like a rocket scientist.

"He had his own style," said NASA colleague Eric Overton. "In appearance, he was so down to earth, you would be shocked to know he even had a job. Then you find out he worked at NASA, had a Ph.D." [...]

"We worked together to provide NASA exposure and computer technology for students who lived in a homeless shelter in Philadelphia," said J. Otis Smith, a Cheyney [University] professor...[Mackey] also did his best to get his twin daughters, Nyonu and Naima, excited about science.

"If you looked in the sky on a clear night, he could tell you the names of the stars," Naima said.

Alana Baranick, The Plain Dealer, 30 August 2004
Builder of African drums and master drummer Baba Jubal Harris discusses how he met Dr. Mackey, his teacher and mentor:
[Dr. Mackey] invited me to come to be a visiting artist in one of his residencies, and that is when I got introduced to the Ohio Arts Council and their artists-in-education program. So, I was like, wow, this is really great, 'cause this is something that, you know, I want to do. Like, bring African music dance and culture into the schools and tie it into the academics, tie it into science, math, social studies, history...and that's what we did.

"Traditions: Ohio Heritage Fellows," Episode 202, ThinkTV (Dayton, Ohio), American Archive of Public Broadcasting (GBH and the Library of Congress), Boston, MA and Washington, DC.
Isaiah M. Blankson '69, MS '70, PhD '73 has had a NASA career spanning over a quarter century. Nicknamed the "Speed Demon," he is internationally known for his expertise in hypersonics/aerodynamics and propulsion.
At the Institute
Blankson came to the United States from Ghana to study at MIT. As an undergraduate, he earned the Luis de Florez Award for excellence in engineering. The award was established by U.S. Navy Admiral Luis de Florez '11, the first director of technical research at the CIA who was influential in the development of early flight simulators; Florez was also a pioneer in the use of 'virtual reality' to simulate flight and combat situations in World War II.
Blankson earned both his Bachelors (1969) and Masters (1970) degrees in Aeronautics and Astronautics from MIT. He continued on to his doctorate at the Institute, earning his PhD (1973) with a thesis on the near-wake of a Mach 6.3 cone in hypersonic flow using magnetic model suspension. His work since has contributed to the development of hypersonic flight guidance and control systems, and of waverider cruise missile design.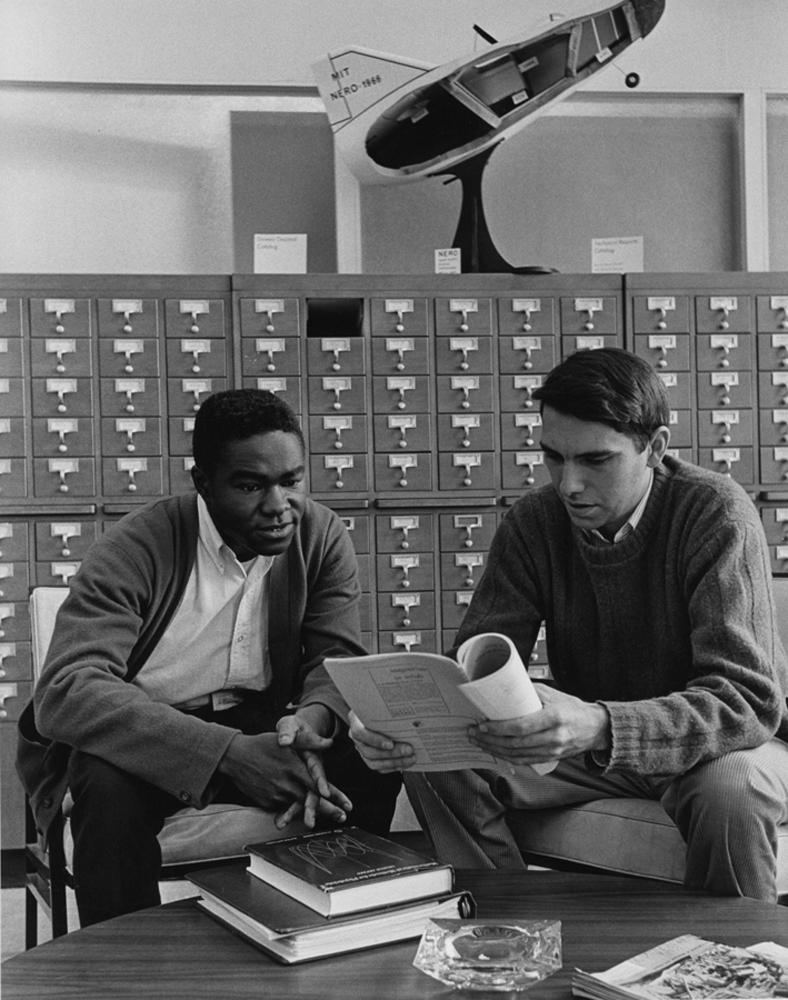 MIT sophomore Isaiah Blankson (left) with mentor and young professor of aero engineering, Larry Bucciarelli, 27 May 1967. Courtesy MIT Museum

Blankson completed his secondary school studies at the Mfantsipim School in Ghana. Nobel Prize winner and former U.N. Secretary-General Kofi Annan MBA '72 is a fellow alum of Blankson's, both from Mfantsipim and MIT. Blankson came to the U.S. to study at MIT under the African Scholarship Program of American Universities, an international cultural and educational exchange division of the U.S. Information Agency (USIA). Established in 1953 during the Cold War, the USIA served as a "public diplomacy" program until 1999, when its exchange function was folded into the Department of State.
At NASA
Blankson began his career as an Aerospace Scientist at the General Electric's Engineering Systems Division, where for nearly a decade he conducted research on advanced technologies for high-speed flight. Then he took a position at NASA, launching a quarter-century long career. His positions have included Assistant Director at National Aerospace Plane Office, Deputy Director Hypersonics Research Division, and Program Manager.
Since 1997, Blankson has worked at the NASA Glenn Research Center in Cleveland, Ohio. Currently, he is a Senior Technologist, of which there are only 12 among more than 1,250 scientists at NASA. As a specialist in hypersonics/aerodynamics and propulsion, he provides advice and guidance to NASA Glenn administration, NASA center program managers, and other government agencies. Areas of focus include air-breathing hypersonic aerodynamics and propulsion, plasmas and electromagnetic interactions in gas dynamics, magnetic levitation systems, and advanced millimeter-wave imaging technologies for aviation safety and homeland security.
Here at NASA, we were looking for someone to take this proven method [plasma water purification] and turn it into a product that produces so many thousands of gallons of pure water a day...the technology is ripe for implementation and marketing.

Isaiah Blankson, The Plain Dealer, 2017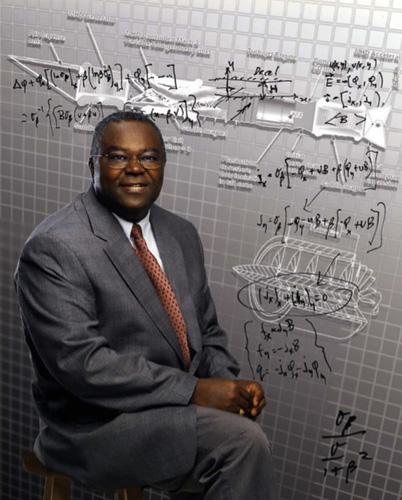 Isaiah Blankson on the cover of Science Spectrum Magazine (September/October 2005), which nicknamed him the "Speed Demon" for his work on cruise missile and aircraft concepts designed to travel four to eight times the speed of sound.
Blankson initiated a flight program that led to NASA's X-43 Hypersonic Scramjet-Engine successful flights at Mach 7 and 10. As part of NASA's Fundamental Aeronautics Program, he formulated and instituted a research program in plasma and MHD interactions in aerodynamics and propulsion. Under the NASA Universities Center of Excellence Program in Hypersonics, he has been a technical monitor/management coordinator for the University of Maryland, University of Texas at Arlington, Syracuse University, and North Carolina A&T State.
Blankson has been recognized for his many contributions with the 2002 NASA Exceptional Performance Award and the 2014 Presidential Rank Award of Distinguished Senior Professional, the highest civil servant award granted annually by the U.S. Government.
Wesley Harris
NASA Associate Administrator for Aeronautics
Wesley "Wes" L. Harris served as NASA Associate Administrator for Aeronautics and is former Head of the MIT Department of Aeronautics and Astronautics. He has been the Charles Stark Draper Professor of Aeronautics and Astronautics at MIT since 2001 and Associate Provost for Faculty Equity since 2008.
Harris is an expert in the field of helicopter rotor aerodynamics and acoustics. His research focuses on fluid dynamics: unsteady aerodynamics, aeroacoustics; rotorcraft technology; economic incentives: defense systems acquisition, lean financial management methods; sustainment of capital assets; sickle cell pathology: onset dynamics of crisis.
Background
Born in Richmond, Virginia, Harris was intrigued by airplanes as a child and made models of balsa wood or plastic powered with rubber bands. As early as fourth grade, he dreamed of becoming a test pilot. He would go on to earn a Bachelor of Science with honors in Aeronautical Engineering from The University of Virginia, followed by an MA (1966) and a PhD (1968), both in Aerospace and Mechanical Sciences, from Princeton University.
TO TRAVEL TO SPACE REQUIRES THE ABILITY TO RISK FAILURE IN ORDER TO SUCCEED. AND PEOPLE ARE NOT BORN WITH THIS ABILITY. IT MUST BE TAUGHT.
- Wes Harris in Technology Review, 2007
At the Institute
Harris began his career at MIT as an Associate Professor of Aeronautics and Astronautics and of Ocean Engineering (1973-79), during which he also served as the very first director of MIT's Office of Minority Education (1975-79). Prior to his promotion to Professor of Aeronautics and Astronautics in 1981, Harris worked as a Computational Methods Manager at NASA Headquarters for a year.
His departure from MIT in 1985 was followed by appointments as dean of engineering at the University of Connecticut, and as Vice President and Chief Administrative Officer of the University of Tennessee, where Harris also headed its Space Institute. Before his return to MIT in 1995, Harris spent two years working at NASA.
[AT NASA] I WAS GIVEN AN OPPORTUNITY TO SHAPE AND MOLD AND TO...BUILD SOME RELATIONSHIPS BETWEEN GOVERNMENT, INDUSTRY, AND ACADEMIA.
- Wesley L. Harris in Technology and the Dream, 1996-98
At NASA
From 1993 to 1995, Harris served as Associate Administrator for Aeronautics at NASA Headquarters in Washington, D.C. He was responsible for strategy, planning, advocacy, and direction of NASA's Aeronautics Research programs, as well as for institutional management of NASA's Ames, Langley, and Lewis Research Centers, and Dryden Flight Research Center.
As Chair of the Aeronautics Management Council, Harris evaluated the top Aeronautics programs. He served on the NASA Program Management Council, which evaluated the top NASA programs. He testified before the U.S. Congress on major Aeronautics programs and facilities and was the spokesperson for NASA in public forums on matters of Aeronautics.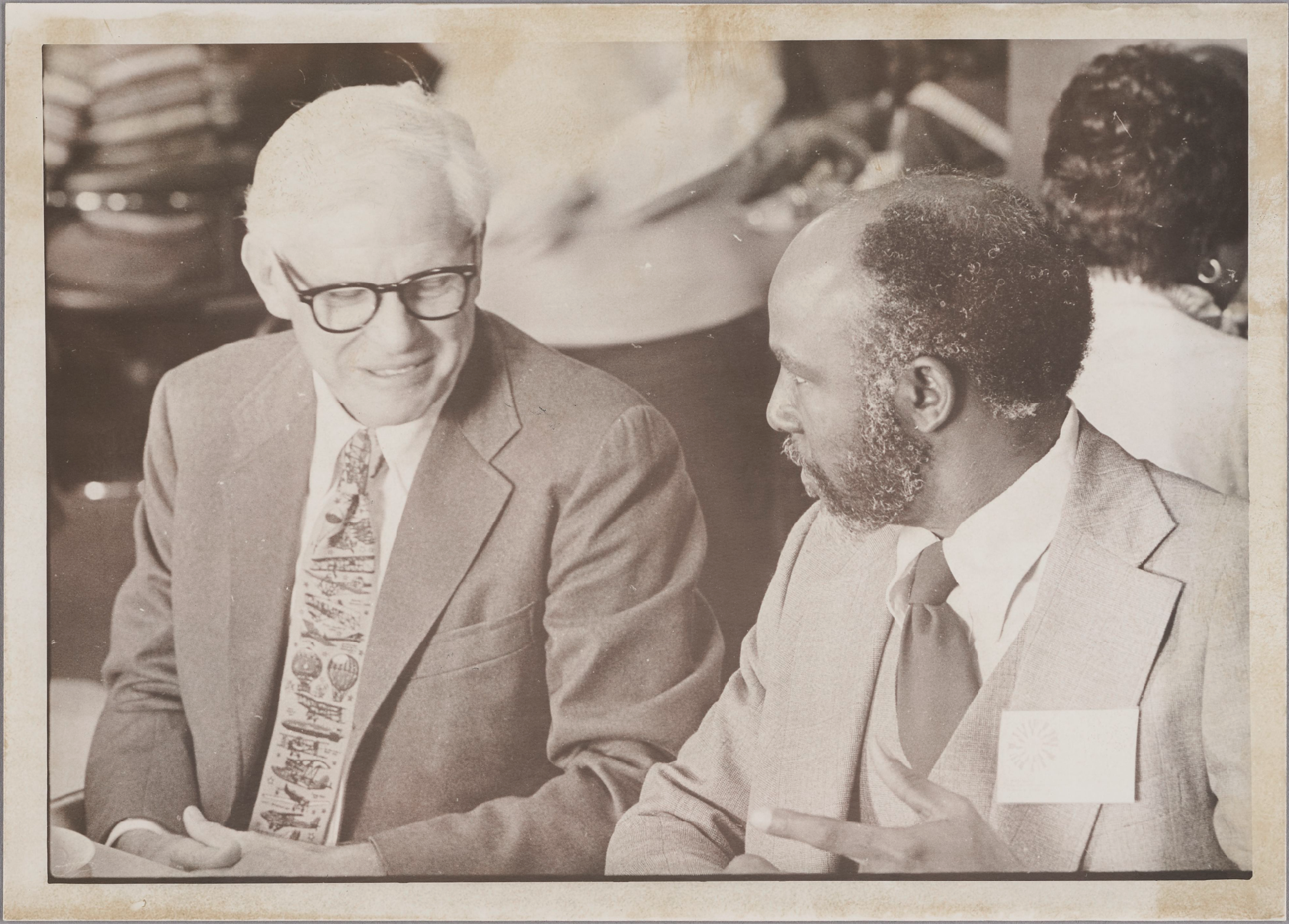 Robert Seamans and Wes Harris at the MIT Minority Students in Engineering Seminar, ca. 1980.
Photo: Calvin Campbell/MIT News Office

Robert C. Seamans, Jr. MS '42, ScD '51 was a leading NASA administrator who worked on the Apollo program and the ninth secretary of the U.S. Air Force. At MIT, he served as director of the Charles Stark Draper Laboratory and dean of the School of Engineering during Harris' early years on faculty.
During his two-year tenure, Harris strengthened NASA research programs and resource management capability. His efforts led to improvements in communications and working relationships with the U.S. Congress, the Office of Management and Budget (OMB), the Office of Science and Technology Policy (OSTP), the National Economic Council (NEC), and the Office of the U.S. Trade Representative.
Harris led the development of U.S. Administration policy in Aeronautics science and technology, working with agencies that included the Federal Aviation Administration (FAA) and the Department of Defense (DoD). Under Harris' leadership, NASA developed an Aeronautics Strategic Enterprise Plan. The first NASA–Russian cooperation in fundamental aeronautical research was established. He led the formation of the National Rotorcraft Technology Center (NRTC), which restructured the University Research Program and the Computational Aerosciences Program. Joint NASA Aeronautics – industry – university consortia were developed in general aviation aircraft, unpiloted vehicles, and rotorcraft. In order to increase cost-effective technology transfer, Harris also led the revamping of the four NASA Aeronautics Centers.
Honors
Harris returned to MIT as a 1995 Dr. Martin Luther King, Jr. Visiting Professors, among the first in the program. Formerly Head of the MIT Department of Aeronautics and Astronautics, Harris continues to be influential in the academic, administrative, and cultural life of MIT. In 2001, the Minority Introduction to Engineering, Entrepreneurship and Science program established the Wesley L. Harris Scholarship Fund for MITE2S in his name. Harris is the recipient of the 40th MLK Celebration Lifetime Achievement Award (2014) for his dedicated service to the MIT Community.
Woodrow Whitlow Jr
NASA Distinguished Service
Woodrow "Woody" Whitlow, Jr. '74, MS '75, Ph.D. '79 had a life-long career at NASA, beginning in 1979 until his retirement in 2013. He was awarded a NASA Distinguished Service Honor Medal, the agency's highest honor.
Background
Whitlow was born in Michigan, he is the son of two custodial workers. Early on he dreamed of becoming a chemist, but the space missions of the 1960s inspired him to aim for a career as an astronaut. Whitlow earned his Bachelors degree in Aeronautics and Astronautics in 1974, the same year his mother civil servant her high-school degree. He continued his studies in aeronautics and astronautics at MIT, earning his Masters (1975) and Ph.D. (1979) degrees under Professor Wesley L. Harris.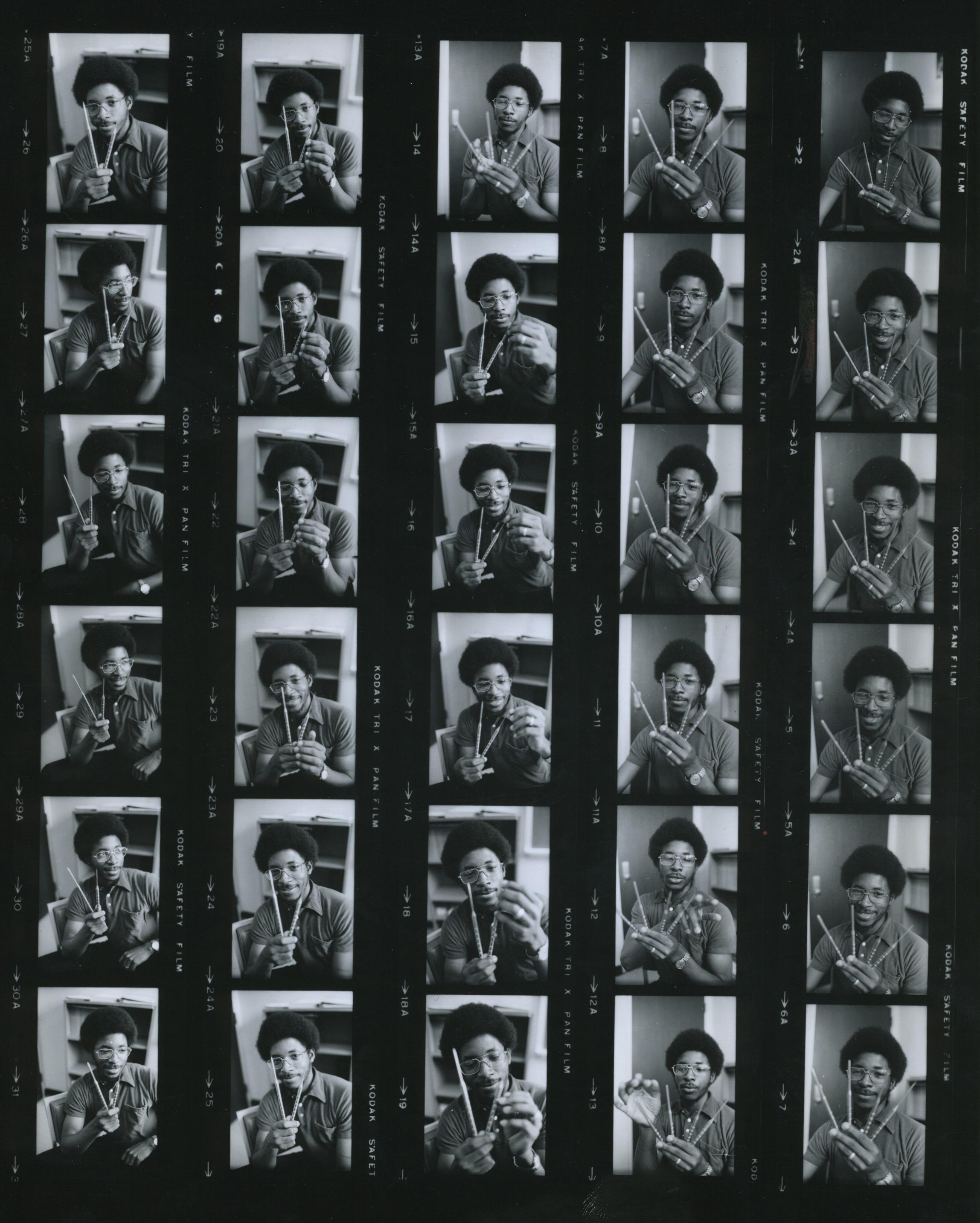 WOODY WHITLOW HAD WHAT IT TAKES TO BE AN MIT FACULTY MEMBER, BUT HE CHOSE TO GO TO NASA AFTER HE GOT HIS DOCTORAL DEGREE.
- Leon Trilling, MIT Professor of Aeronautics and Astronomics Emeritus, 1996
At NASA
Whitlow's career at NASA began in 1979 while he was still a graduate student at MIT and was offered a position as a research scientist at the NASA Langley Research Center in Hampton, Virginia. At Langley, he would specialize in fluid dynamics, aerodynamics, and aeroelasticity. Whitlow remembers accepting the job offer after an amusing series of phone calls...
After Langley, Whitlow began to assume various positions of increasing responsibility, moving up the leadership ladder:
1994- Director of the Critical Technologies Division, Office of Aeronautics at NASA Headquarters in Washington, D.C.
1998- Director of Research and Technology, among other positions, at NASA John H. Glenn Research Center at Lewis Field in Cleveland, OH
2003- Deputy Director of the NASA John F. Kennedy Space Center in Washington, D.C.
2005- Director of NASA John H. Glenn Research Center at Lewis Field in Cleveland, OH
2010- Associate Administrator for the Mission Support Directorate at NASA Headquarters in Washington, D.C.
He was recognized with the NASA Equal Opportunity Honor Medal and the NASA Distinguished Service Honor Medal, the agency's highest honor. Since his retirement in 2013, Whitlow has devoted time to STEM leadership education efforts such as World Space Week in South Africa.
Honors
Post-retirement, Whitlow was named Executive in Residence at the Cleveland State University Washkewicz College of Engineering and conferred an honorary doctor of engineering degree from Cranfield University. He has written nearly 40 technical papers, most in the areas of unsteady transonic flow and aeroelasticity. His numerous awards include being named U.S. Black Engineer of the Year in Government and a 2010 Fellow by the American Institute of Aeronautics and Astronautics (AIAA), and receiving the (British) Institution of Mechanical Engineers William Sweet Smith Prize and the (U.S) Presidential Rank of Distinguished Executive, the highest award for federal executives.
Ronald "Ron" Erwin McNair PhD '77 was the second African-American to make a flight to outer space. In 1985 he and eight other astronauts lost their lives in the space shuttle Challenger accident, and MIT renamed a campus building in McNair's honor.
Early Years
McNair was born in Lake City, SC, later calling Harlem, NY his 'home away from home'. Classmates nicknamed McNair "Gizmo" for his extraordinary skills with all things mechanical. The Soviet launch of the first space satellite fired in him an early love of math and science. Sputnik's launch so obsessed first-grader McNair that he was often seen staring at the sky.
In the summer of 1959, eight-year-old McNair was denied checking out books at the segregated Lake City Public Library in South Carolina. Refusing to leave without his science books, he waited. The library staff called the police and his mother, after which McNair was allowed to borrow his books. His composure before authority at such a young age left an impression on many. Ron's Big Mission (Dutton Books for Young Readers, 2009) is a children's book inspired by this event. Today the library houses the Ronald E. McNair Life History Center, which opened in 2011 beside McNair's gravesite along with a statue and square erected in his honor. Plans are underway to expand the center into a science and technology museum, dedicated to helping South Carolina students learn about space, physics, computers and other topics in STEM.
We all knew that Ron was smarter than the rest of us. We all knew that he was going to get that 100 on a test. However, his determination made the rest of us eager to study hard to at least get a 99.
- Ron McNair's former classmate, Ebony Magazine (May 1986)
In 1967, McNair graduated valedictorian of Carver High School, where he had excelled in both athletics and academics. Awarded a state scholarship, he went on to study at North Carolina Agricultural and Technical State University (NC A&T) in Greensboro, NC. McNair had the opportunity to visit MIT on a junior-year exchange scholarship before earning a Bachelor of Science in Engineering Physics, magna cum laude, from NC A&T in 1971. Named a Ford Foundation Fellow and Presidential Scholar, he received a graduate scholarship to MIT. In 1978, two years after McNair earned his doctorate in Physics from MIT, NC A&T would also present him with an honorary doctorate of Laws.
Today, NC A&T facilitates the U.S. Department of Education Ronald E. McNair Post-Baccalaureate Achievement Program in his honor "to help low-income, first-generation students fulfill their academic, personal, economic and social goals". For over 30 years, the university has also held the Annual Ronald E. McNair Commemorative Celebration.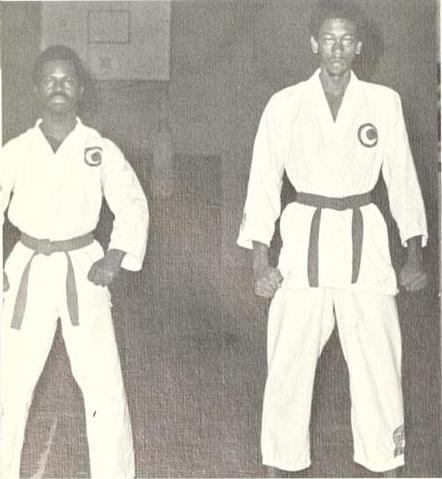 Karate Club Head Instructor Ronald E. McNair (left) and Assistant Instructor William Perry at North Carolina A&T State University, 1971.

Source: The Ayantee, North Carolina A&T State University
At the Institute
The satisfying thing about physics itself is the feeling of having understood and unlocked something heretofore unknown.

Ronald McNair quote inscribed on McNair Park monument in Brooklyn, New York, 1994
McNair first visited MIT on a junior-year exchange scholarship the year before he earned a Bachelor of Science in Engineering Physics, magna cum laude, from North Carolina Agricultural and Technical State University (NC A&T) in Greensboro, NC in 1971. He continued on to graduate studies at MIT as a Ford Foundation Fellow and Presidential Scholar.
During his tenure at MIT, McNair worked work on quantum electronics and laser spectroscopy under physics professor Michael Feld. McNair's research involved the earliest development of chemical HF/DF and high-pressure CO lasers. New understandings and applications for polyatomic molecules came about from his subsequent experiments and theoretical analysis on the interaction of intense CO2 laser radiation with molecular gases. McNair also conducted research on the scientific foundations of martial arts.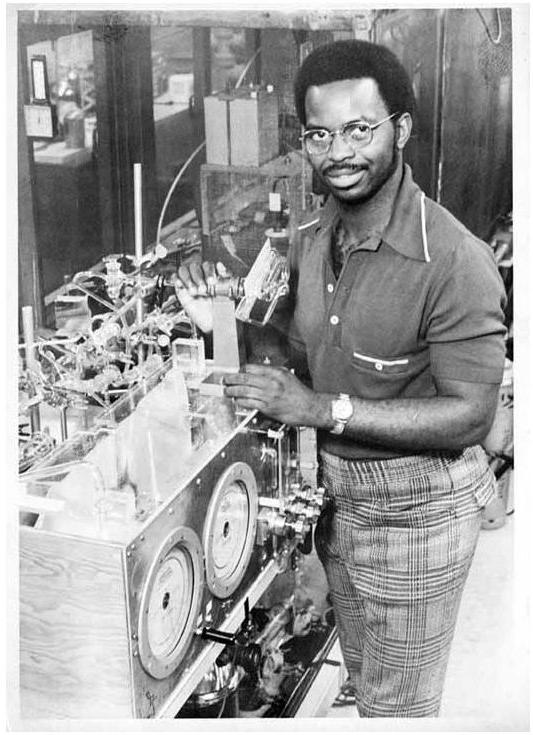 In 1975, McNair went abroad to study laser physics at the Ecole d'Ete Theorique de Physique in Les Houches, France as part of a collaboration between physicists there and at MIT. Near the end of his doctoral program, however, he lost two years' worth of data related to the laser physics research findings for his thesis. Undeterred and without complaint, McNair managed to produce a second set of data in under a year. "[T]he second set turned out better than the first set of data," his advisor and mentor Michael Feld told Ebony magazine in 1986. "This was typical of the way he worked to accomplish goals." McNair's novel research findings would be published as several pathbreaking scientific papers in the areas of lasers and molecular spectroscopy.
Throughout his research in physics, McNair continued his work with area inner-city youth through martial arts and other activities. A 5th-degree black belt in karate, he participated in many tournaments, winning an AAU Karate Gold Medal, five Regional Black Belt Karate Championships, and more than 30 trophies. McNair also extended his experience as Head Instructor of the Karate Club at NC A&T by starting a karate club at the St. Paul's AME Church near MIT. Among its members were McNair's mentor Prof. Feld and Feld's eight-year-old twin sons.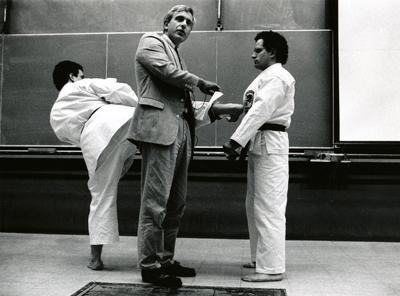 [Michael Feld] had an amazing track record of mentoring African-American scientists, including astronaut Ronald McNair, who received his PhD under Michael's supervision. In turn, Ron became Michael's karate master...the true master is the one who helps others to achieve their best.
- Former Head of Physics Edmund Bertschinger to MIT News, 2010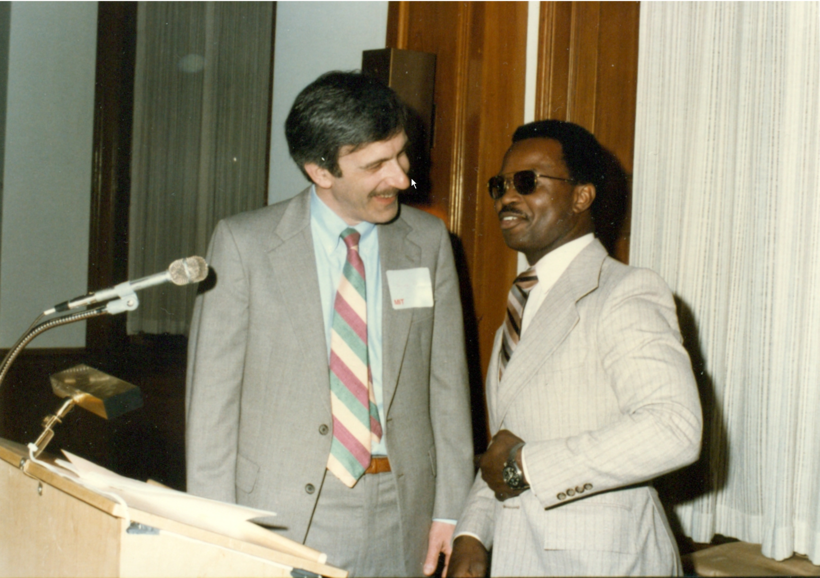 An opportunity for a unique mentor-mentee collaboration arose when Feld was invited to give a Christmas lecture on the physics of karate. Despite his terror of giving a lecture on a topic he felt he knew nothing about, Feld accepted. His crash-research included taking strobe movies of karate strikes and his ongoing membership in McNair's karate club.
The lecture-demonstrations on the physics of karate by Feld and McNair would eventually earn them renown, with multiple invitations from the American Association for the Advancement of Science. Feld and McNair received worldwide press attention for the 1979 Scientific American article they co-authored with scientist-engineer Stephen R. Wilk, "The Physics of Karate".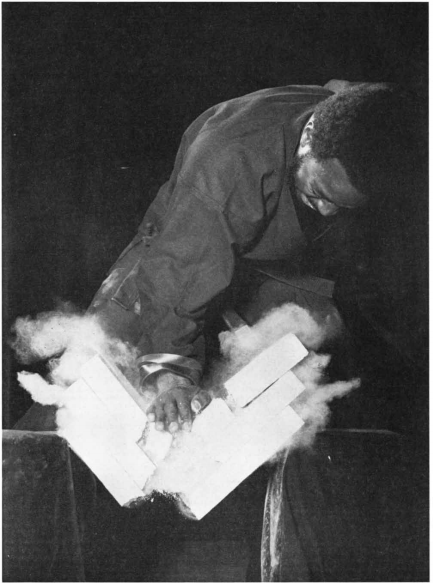 Image of Ron McNair in "The Physics of Karate," 1979. Source: Scientific American

ARTICLE EXCERPT:

"Three concrete slabs are broken by one of the authors (McNair) with the heel of his right palm. Slabs were "patio blocks" that weighed 6.5 kilograms and were 40 centimeters long, 19 centimeters wide and four centimeters thick. The supports under the ends of the blocks reduced their effective length by four centimeters. Bone can resist 40 times more stress, or force per unit area, than concrete."
There have been 40 MIT astronauts (including 38 alumni, one faculty, and one spouse of an alum)...MIT is behind only the Air Force Academy (#2) and Annapolis (#1) in the number of alums who have become astronauts.
- Alan Cisar '73, "A History of the MIT Club of South Texas: 1926-2016"
Astronaut Candidacy
After MIT, McNair served as a staff physicist at the Optical Physics Department of Hughes Research Laboratories in Malibu, California. His research included electro-optic laser modulation for satellite-to-satellite space communications, as well as the development of lasers for isotope separation and photochemistry utilizing non-linear interactions in low-temperature liquids and optical pumping techniques. It was this research that first put McNair into close contact with NASA, and when the opportunity presented itself he applied for astronaut training.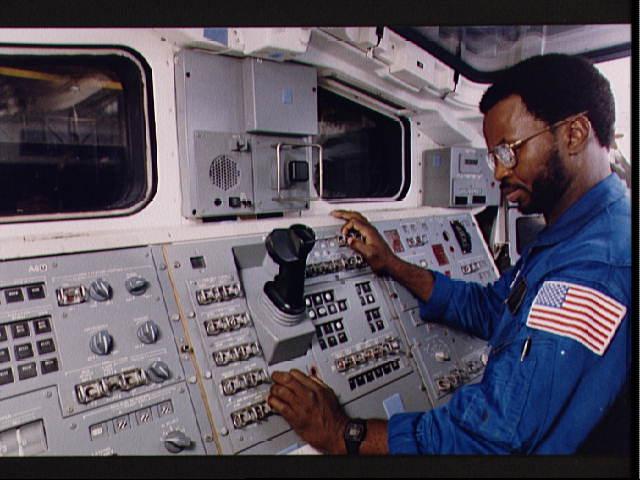 In 1978, McNair was selected as one of 35 applicants from a pool of 10,000 for the NASA astronaut program. He was one of the first three African Americans astronauts ever selected by the space program. McNair would successfully fly on the STS 41-B mission aboard the Challenger as a mission specialist from February 3 to 11, 1984.
NASA's tenth space shuttle mission was McNair's first trip and made him the second African-American to make a flight to outer space. He was the first astronaut to operate the Canadarm giant robotic arm to position EVA crewman around Challenger's payload bay, and the first to conduct experiments using a laser ranging device. An accomplished jazz saxophonist, McNair was also the first to play a musical instrument in space.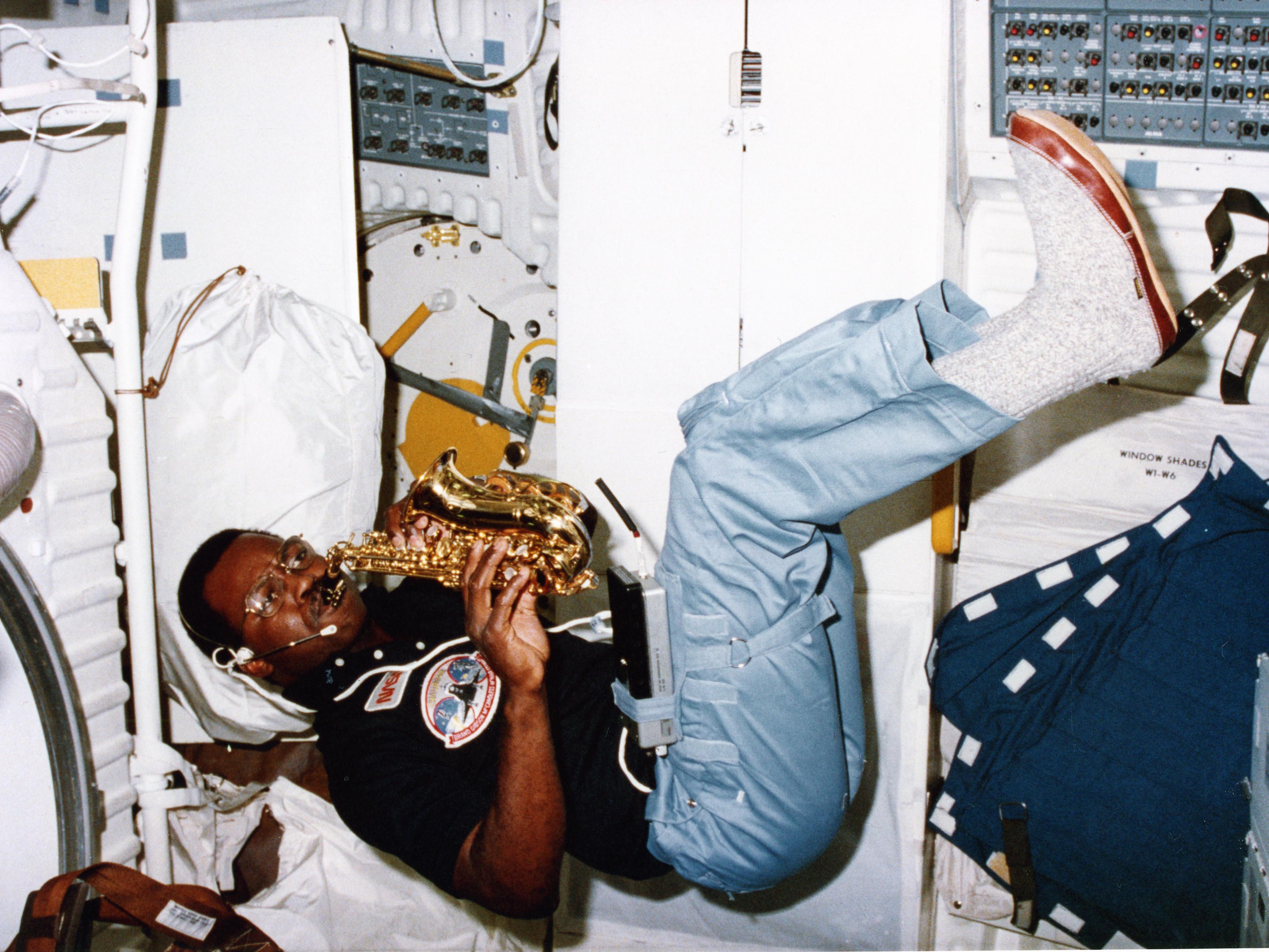 Accomplished jazz saxophonist Ron McNair, the first astronaut to play a musical instrument in space, shown here playing the sax on the NASA STS 41-B mission aboard the Challenger, February 1984. Photo: NASA, courtesy AIP Emilio Segrè Visual Archives, Ronald E. Mickens Collection

NASA has a tradition of playing wake-up music to astronauts as a morale booster for the crew and for ground support personnel. Often selected by the astronauts' family, the playlist has a unique meaning to individual crew members. On Day 3 of the mission, "A Train" by Contraband--a group of NASA employee musicians--was played for McNair, featuring him on the tenor sax (the song was possibly in reference to McNair's time in Harlem and inspired by Duke Ellington's "Take the A Train"). "North Carolina A&T University alma mater" was played for McNair on Day 6.
NASA Mission STS 41-B
The STS 41-B mission crew's accomplishments included deployment of two Hughes 376 communications satellites; testing of sensors, computer programs, and other equipment; and the first untethered spacewalk. McNair had assumed primary responsibility for the German SPAS-01 Satellite, acoustic levitation and chemical separation experiments, the Cinema 360 motion picture filming, five Getaway Specials, and numerous mid-deck experiments.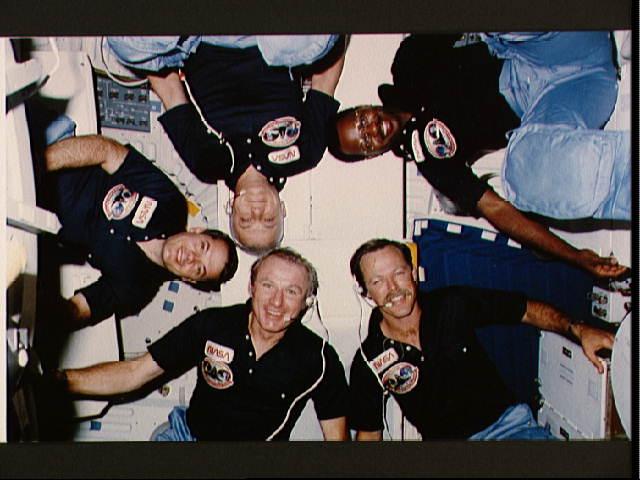 On the February 11, 1984 the Challenger shuttle landed successfully at the Kennedy Space Center in Florida, completing its fourth trip into space. By then, McNair had logged a total of 191 hours in space.
NASA Mission STS-51-L
Two years after the STS 41-B mission, McNair was reassigned as a mission specialist for STS 51-L. This new mission, however, never materialized. Launched on January 28 1986, the Challenger disintegrated nine miles above the Atlantic Ocean just 73 seconds after liftoff.
McNair, an accomplished jazz saxophonist, had plans to play a saxophone solo on board the Challenger for composer Jean Michel Jarre's album Rendez-Vous, including participation in the concert via live feed. Though neither recording nor concert came to fruition, the album's last piece was entitled "Last Rendez-Vous (Ron's Piece) - 'Challenger'".
Honors
In life, McNair had received countless awards and fellowships, including being named a Presidential Scholar (1967-1971), a Ford Foundation Fellow (1971-1974), a National Fellowship Fund Fellow (1974-1975), a NATO Fellow (1975); winner of Omega Psi Phi Scholar of the Year Award (1975), Los Angeles Public School Systems Service Commendation (1979), Distinguished Alumni Award (1979), National Society of Black Professional Engineers (NSBE) Distinguished National Scientist Award (1979), Friend of Freedom Award (1981), Who's Who Among Black Americans (1980), and numerous proclamations and achievement awards. In addition to receiving an honorary degree from from North Carolina A&T State University in 1978, McNair received honorary Doctorates of Science from Morris College in 1980 and from the University of South Carolina in 1984.
Legacy
NASA named a crater on the moon after McNair. Numerous schools were named in his memory, and the U.S. Department of Education created the Ronald E. McNair Post-Baccalaureate Achievement Program for low income or first-generation doctoral students. Recently, the Ronald E. McNair Life History Center opened in his hometown of Lake City, SC.
On December 5, 1986, MIT dedicated Building 37, home to the Center for Space Research and part of the Aeronautics and Astronautics department, to McNair. The Black Alumni/ae of MIT (BAMIT) established the Ronald E. McNair Scholarship Fund (Fund#: 3340400) to recognize McNair's commitment to excellence and service in the black community, qualities that the fund also seeks to reward in black MIT undergraduates.
In 1988, Congress established the Ronald E. McNair Post-Baccalaureate Achievement Program, serving college students in preparation for attending graduate school and working toward their doctoral degrees.
In 2005, MIT and NASA built on their longtime tradition of cooperation by establishing the Ronald E. McNair-NASA Visiting Professorship in Astronautics. The professorship is a rotating position for a NASA scientist or engineer to teach and conduct research for at least a year at MIT's Department of Aeronautics and Astronautics. Funding for the professorship comes both from NASA and MIT, which work together to select candidates for the position.
McNair is survived by his two children, Reginald Erwin and Joy Cheray, and his wife, Mrs. Cheryl McNair, chairwoman of the Ronald E. McNair DREME Foundation.
James Hubbard Jr
Astronaut Candidate | Langley Distinguished Professor | NIA Director
In 1982, James E. Hubbard, Jr. '77, ME '79, Ph.D. '82 became the MIT's first black Ph.D. in mechanical engineering. His work would later result in what many consider the first example of an "adaptive structure".
Hubbard earned his license as a Marine Engineer for the US Coast Guard, serving as one of the first black and youngest engineers at sea. He spent a year in Vietnam as an engineering officer in the Merchant Marine prior to his undergraduate studies at Morgan State University.
Hubbard transferred to MIT, where he completed his undergraduate and graduate degrees in mechanical engineering. While still in graduate school, he was appointed assistant professor the MIT Mechanical Engineering Department. A Fellow of the Vertical Flight Foundation, Hubbard worked on parametric wind tunnel tests to investigate helicopter aero-acoustics. He was selected as a NASA Astronaut Candidate in 1984, the year before he left MIT.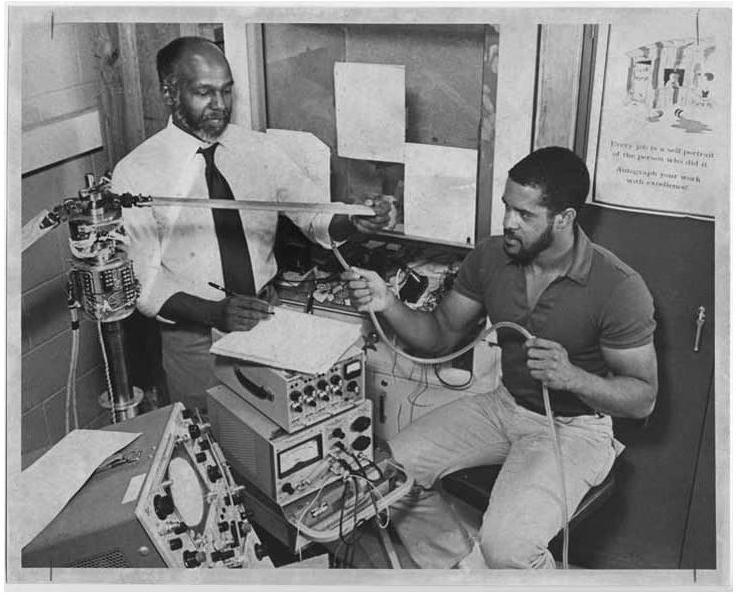 James Hubbard, Jr. (right) and his mentor, Professor of Aeronautics and Astronautics Wesley L. Harris, collaborate on an aeroacoustical study, February 1982.

Photo: Calvin Campbell, Courtesy MIT Museum
Hubbard's research focus includes: Morphing Airframe Architecture, Airfoils, and Missile-control surfaces, Engine Inlet Shape control, Closed Loop Flow Control using Conformal Sensors and Synthetic Jets. His work resulted in what many consider the first example of an "adaptive structure," able to respond to changes in its environment. He has since earned a dozen patents, including one for "Smart Skin" sensor technology.
Since 2003, he has been the University of Maryland Glenn L. Martin Institute Professor and the Samuel P. Langley Distinguished Professor. Hubbard also serves as Director of the Morpheus Laboratory, a multi-million dollar research facility he developed to work in the areas of smart skins and active controls for small unmanned aerial vehicles. Additionally, he is Director for the Center of Adaptive Aerospace Vehicle Technology at NASA's National Institute of Aerospace (NIA). This non-profit research and graduate education institute created to conduct leading-edge aerospace and atmospheric research, develop new technologies for the nation and help inspire the next generation of scientists and engineers.
In 2016, Hubbard was elected to the National Academy of Engineering, the first to be inducted for advances in adaptive structures.
I WOULD LIKE TO DESIGN, BUILD, AND DEMONSTRATE A SEAMLESS, AERODYNAMICALLY EFFICIENT AERIAL VEHICLE CAPABLE OF RADICAL SHAPE CHANGE.
- James E. Hubbard, Jr.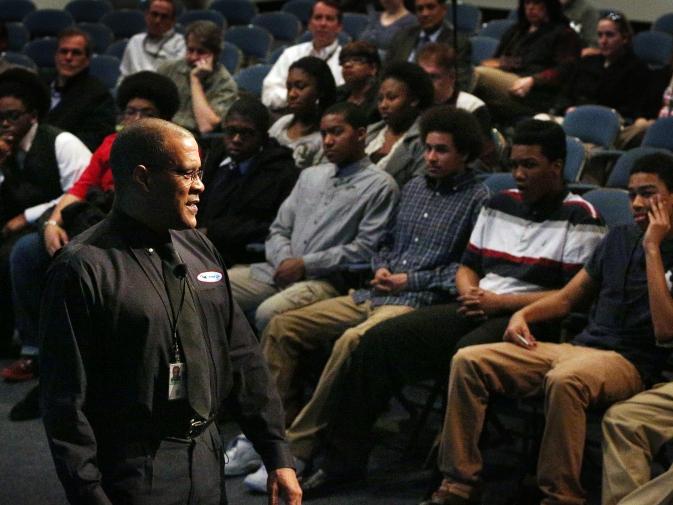 Hubbard shares his life story with 9th-grade Engineering Explorations students during a Profiles in STEM lecture at NASA Langley's Reid Center, 2014. Photo: David C. Bowman/NASA

"I was born into that. And I was taught that. And I grew up with that," Hubbard told an audience of young people, referring to Jim-Crow era segregation in his hometown of Danville, VA. During the 1960s his mother was jailed for her active involvement in the Civil Rights movement.
Robert "Bobby" Lee Satcher, Jr. '86, PhD '93 is a physician, chemical engineer, and NASA astronaut who became the first orthopedic surgeon to travel into space.
Satcher is a specialist in child and adult bone cancer. NASA chose him as an Astronaut Candidate in 2004, in part, for his expertise in biotechnology. Loss of bone mass is among the many health issues facing the future astronauts who will fly on the long-duration space travel envisioned by NASA. Satcher was 38 years old when he was one of 11 candidates chosen from a field of more than 4,000 applicants. The 2004 astronaut cohort was the first new class formed since the Columbia Challenger space shuttle accident in which Satcher's fellow MIT alum and inspiration, Ronald E. McNair PhD '76, lost his life.
I CAME UP PRETTY MUCH IN AFRICAN-AMERICAN COMMUNITIES...SO GOING OFF TO COLLEGE AND ARRIVING AT MIT WAS ALMOST LIKE ARRIVING ON ANOTHER PLANET. IT WAS THE FIRST TIME I WAS IN A PREDOMINATELY NON-BLACK SITUATION.
- Bobby Satcher in Technology and the Dream, 1997
A native of Virginia, Satcher is the son of a chemistry professor and an English schoolteacher, both of whom were reared in the South. Positive role models who stressed education, particularly in math and science, surrounded Satcher (his uncle, David Satcher, was the U.S. Surgeon General during the Clinton administration).
Satcher earned both his Bachelors (1986) and PhD (1993) in Chemical Engineering from MIT. His orthopedic research has mainly explored the question of how cancer spreads to the skeleton and possible bone substitutes to repair damaged bone.
After MIT, Satcher attended medical school at Harvard and completed his residency in Orthopedic Surgery at the University of California, San Francisco as well as a fellowship in Orthopedic Oncology at the University of Florida. Before joining NASA, Satcher was a professor in the Department of Orthopaedic Surgery at The Feinberg School of Medicine, Northwestern University.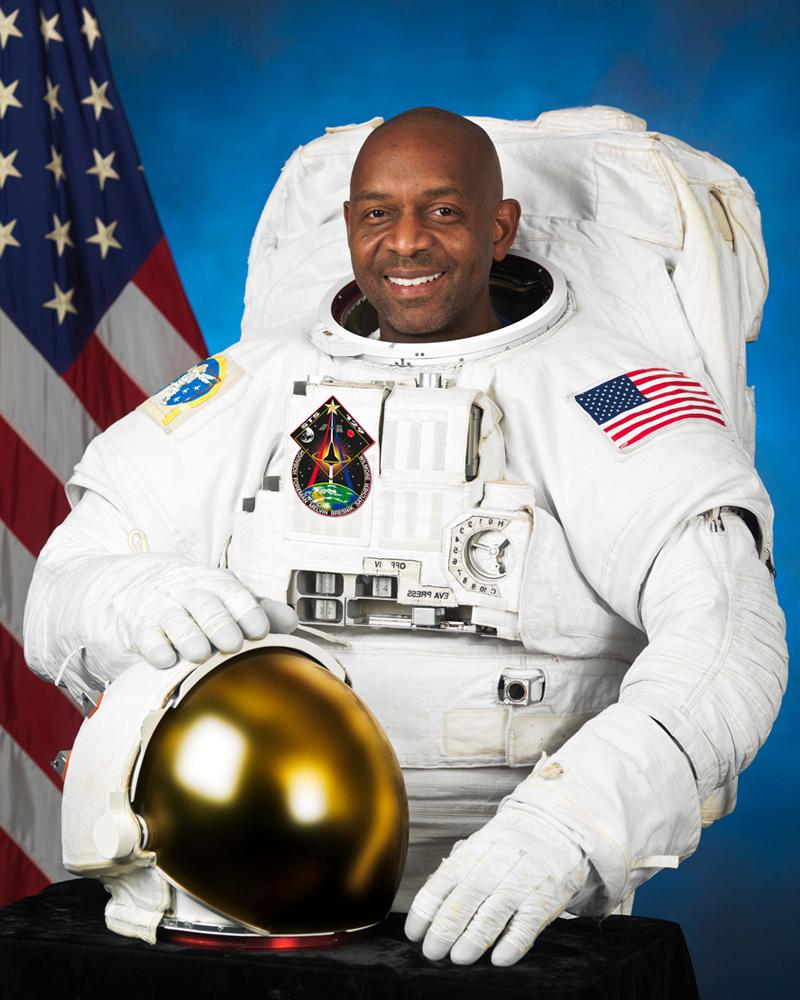 Astronaut Candidate Training
Adapted from MIT Alumni Association News & Views, 2004
NASA has a new vision for space exploration in the 21st century, one that will allow extended travel far beyond present day levels. To do so, however, mankind must not only make some significant technological advances but physiological advances as well. That's because the loss of bone mass is a serious issue for astronauts the longer they travel. Satcher's work at the forefront of orthopedic oncology was a good fit with NASA's high-priority research on microgravity and the musculoskeletal system.
He joined NASA at a time when biotechnology would be critical for the type of long-duration space travel that NASA envisions. Then 38 years old, Satcher was one of 11 candidates chosen from a field of more than 4,000 applicants to form the 2004 astronaut class, the first new class formed since the Columbia Challenger space shuttle accident--in which Satcher's fellow alum and inspiration, Ronald E. McNair Ph.D. '76, perished.
Satcher underwent basic training, paying his dues, he says, "to learn all the skills you will need to be an astronaut and be assigned a mission." In 2006, he completed Astronaut Candidate Training. In addition to classroom and simulator instruction, his training included
scientific and technical briefings
intensive instruction in shuttle and International Space Station systems
physiological training
T-38 flight training
water and wilderness survival training
first-hand experience in microgravity in 30-second bursts on the KC-135 "Vomit Comet"
extensive physical and psychological training
Russian-language instruction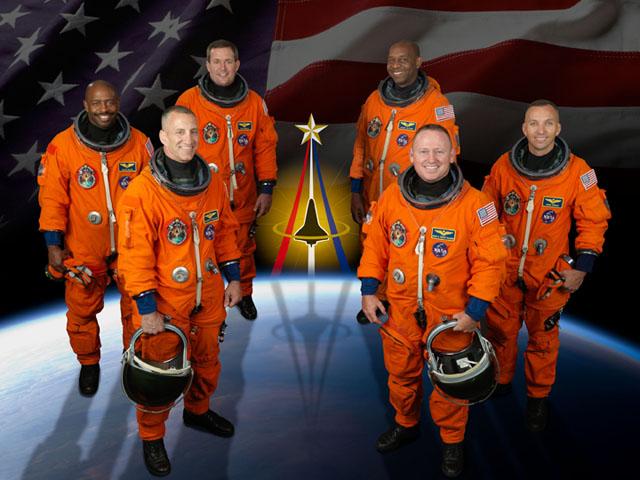 Attired in training versions of their shuttle launch and entry suits, the six astronauts take a break from training to pose for the STS-129 crew portrait, 14 July 2009.
Photo: NASA [STS129-S-002]

Front row: astronauts Charlie Hobaugh (left), commander and Barry Wilmore, pilot. Back row, from left: astronauts Leland Melvin, Mike Foreman, Robert Satcher, and Randy Bresnik, all mission specialists.
Mission STS-129
The STS-129 Atlantis was the 31st shuttle flight to the International Space Station. Satcher flew on STS-129 Atlantis (November 16-29, 2009) with a crew that included another black mission specialist, Leland Melvin, an expert in fiber optics and aerospace structures and materials. Aboard were also Commander Charles O. Hobaugh, Pilot Barry E. Wilmore, and Mission Specialists Mike Foreman and Randy Bresnik. 
The STS-129 crew delivered two Express Logistics Carriers (ELC racks) to the International Space Station and approximately 30,000 pounds of replacement parts for systems that provide power to the station, keep it from overheating, and maintain proper orientation in space. During the mission, Satcher performed two spacewalks for a total of 12 hours and 19 minutes of extravehicular activity (EVA). The STS-129 mission was completed in 10 days, 19 hours, 16 minutes and 13 seconds, traveling 4.5 million miles in 171 orbits.
Of the crew members, Satcher was tweeter-on-board for the mission. His tweets from space are documented under two Twitter accounts: Astro_Bones focuses on the overall mission, and ZeroG_MD recounts medical updates.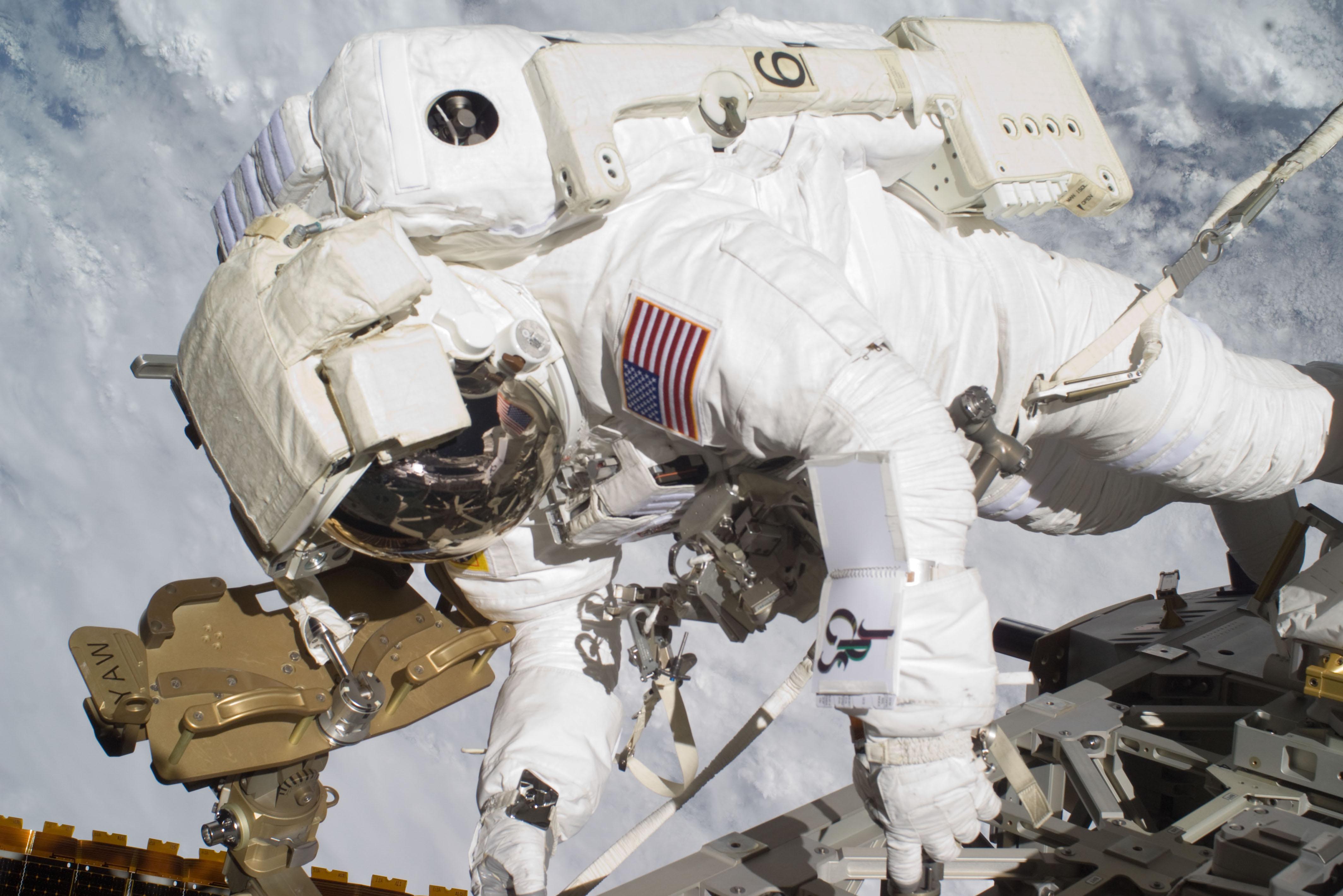 Satcher during the mission's third and final session of extravehicular activity (EVA) as construction and maintenance continued on the International Space Station, 2009.

Source: NASA [ISS021-E-031705]
Post-NASA
Satcher left NASA in 2011 and has been on staff as a Surgical Oncologist at the University of Texas MD Anderson Cancer Center in Houston, TX.
He also dedicates his time community organizations, having served as Big Brother for Youth at Risk Counseling Program, Department of Corrections, San Francisco, CA; Tutor for Black Student's Union Tutorial Program, MIT; member of the National Society of Black Engineers (NSBE); Supervising Adult for Cub Scout Camp for Boys in Nashville, TN; Proctor for Freshman Dormitory at Harvard University; and Lay Episcopal Minister at the St. Edmund's Episcopal Church in Chicago, IL and at St. James Episcopal Church in Houston, TX.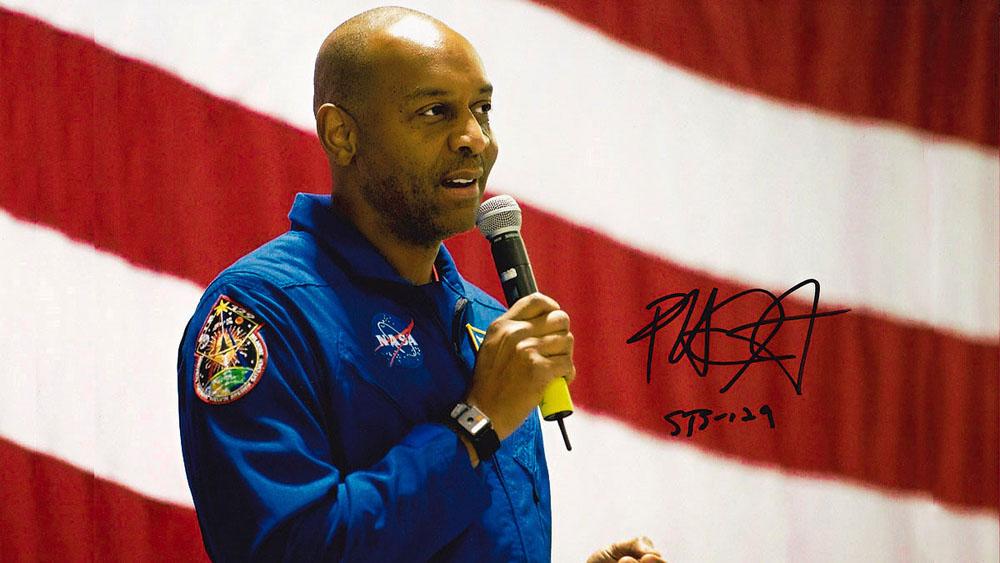 Satcher's honors include a National Merit Scholarship, the Monsanto Award and the Albert G. Hill Award from MIT. He is a member of the: Tau Beta Pi Engineering Honor Society, American Academy of Orthopaedic Surgeons, Musculoskeletal Tumor Society, American Academy of Cancer Research, Connective Tissue Oncology Society, National Medical Association, Society of Black Academic Surgeons, Doctors United in Medical Missions, National Comprehensive Cancer Network, American Telemedicine Association, Orthopaedic Research Society, MIT Alumni Association, Black Alumni at MIT (BAMIT), and Harvard Alumni Association.
Satcher is the co-founder of the eHealth Research Institute, is a user panel member of the National Space Biomedical Research Institute, and serves on the boards of CSTEM and Teach for America. He is married to a pediatrician and fellow MIT alumni D'Juana White-Satcher '86.
Iris Mack
NASA Michoud Assembly Facility Intern | Jet Propulsion Lab Intern | NASA Astronaut Program Semifinalist
Iris Marie Mack grew up in a family of ten in New Orleans' Calliope Projects. Her early interest in space and astrophysics led to a summer internship at the NASA Michoud Assembly Facility, then at the Jet Propulsion Laboratory on the Physical Properties Team for the Mars probe Viking program as an undergraduate. In 1978, she graduated from Vassar College with a double major in mathematics and mathematical physics in 1978. Mack went on to UCLA for her master's degree in mathematics and worked as a research fellow at AT&T Bell Labs, where she received a patent for her work with Harrison E. Rowe and Ronald V. Schmidt in fiber optics. Mack also earned an executive MBA as a Sloan Fellow at the London Business School.
In 1986, she became the second Black woman to receive a doctorate in applied mathematics from Harvard University and the first Black woman to teach applied mathematics at the MIT Sloan School of Management. At Sloan, she taught courses in financial engineering, statistics, and operations research in addition to applied mathematics until 1991. Mack was a 1989 semifinalist for the NASA Astronaut Program. She later founded Phat Math Inc. in Miami, Florida in 2003; worked as an investment banker and an Enron Energy Trader; and was named one of "Top 10" College Students and one of "Top 10" Working Women by Glamour Magazine.
Aprille J Ericsson
Astronaut Applicant | Aerospace Engineer | Capture Mission Manager
Aprille Joy Ericsson '86 graduated from MIT months after Ronald E. McNair lost his life aboard the Challenger. The first African-American woman to earn a Ph.D. in engineering at the Goddard Space Flight Center, Ericsson has had a lifelong career at NASA.
Ericsson grew up in the projects of Bedford-Stuyvesant in Brooklyn, New York. In the summer of 1980, she attended MIT's Minority Introduction to Engineering and Science (MITES), a rigorous six-week residential academic enrichment program for rising high school seniors with a strong academic record and an interest in science and engineering.
She credits the program with helping her find her true calling. Ericsson had plans to pursue a law degree, but being strapped into the flight simulator at Hanscom Air Force Base in Bedford, MA changed her mind. Her flight score of –103, just three points from perfect, marking what she recalls as her first real interest in aeronautics and astronautics.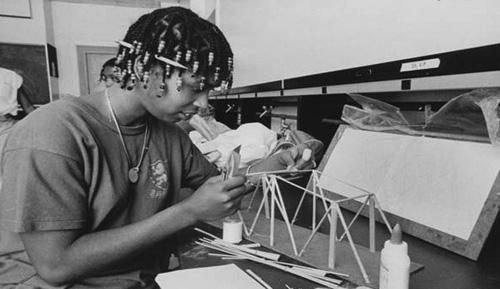 Aprille Ericsson learning to work in high-pressure scenarios during a MITES bridge-building competition, July 1980.
Courtesy MIT Museum

MITES also taught Ericsson how to handle crises and to develop the critical skills needed to thrive under strict time constraints and stressful situations. One was an injured finger she sustained while trying to finish a project for the MITES bridge-building competition.
Inspired by her experience at MITES, Ericsson attended MIT after high school. As an aeronautics/astronautics engineering major, she was involved with several projects geared toward manned space flight, including the Applied Physics Laboratory, where she helped develop a fiber-optic laser gyroscope. She was active in the Space Systems Laboratory, helping to create a database for Extravehicular Activity (EVA) neutral buoyancy activities performed at NASA Johnson Space Center. Her senior thesis involved researching Manned Mars Mission crew systems for interplanetary vehicles.
These projects generated in Ericsson an even stronger desire to participate in manned space missions, which would later inspire her to apply as a NASA Astronaut Candidate. Ericsson '86 graduated from MIT with a Bachelor's in Aeronautics/Astronautics Engineering in 1986--just four months after fellow alum Ronald E. McNair Ph.D. '76 died tragically aboard the Space Shuttle Challenger.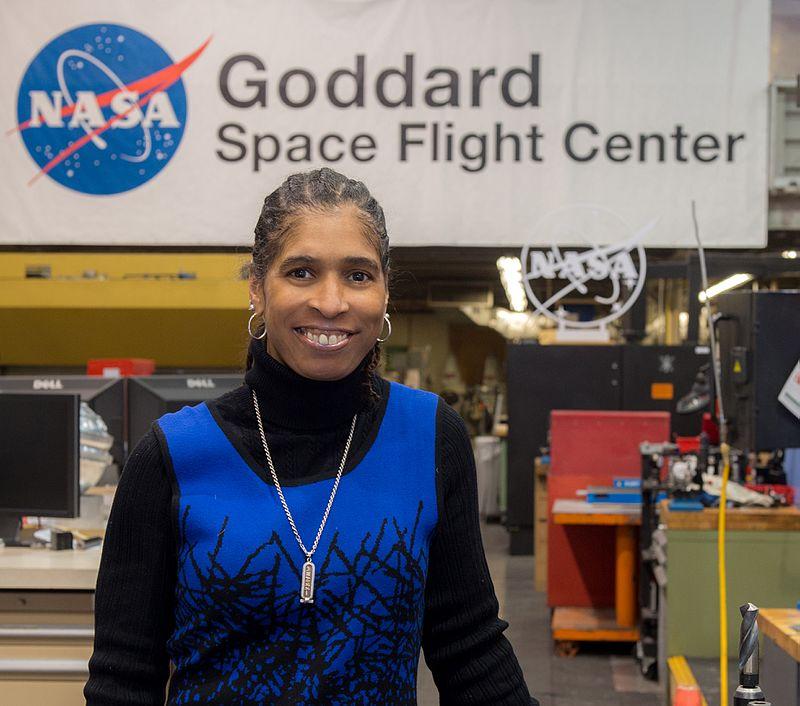 I FOLLOWED MY DREAM TO EXPLORE SPACE, BUT THAT ROAD WAS NOT WITHOUT ITS OBSTACLES. DISCRIMINATION AFFECTS US ALL...WHEN I WORK WITH SCIENCE AND ENGINEERING TEAMS, I KNOW THAT EACH ONE ON THAT TEAM IS IMPORTANT.
- Aprille Ericsson, MIT MLK Celebration Keynote, 2017
Ericsson earned her Master's in Mechanical Engineering from Howard University in 1991. Her research aimed to develop optimal digital control algorithms for orbiting large space platforms like the International Space Station (ISS). Funders for her work included the NASA Goddard Space Flight Center Coop, the NASA Center for Studies of Terrestrial and Extraterrestrial Atmospheres, and the NASA DC Space Grant Consortium. In 1995, Ericsson made history as both the first woman at Howard to earn a PhD in mechanical engineering and the first African-American woman to earn a PhD in engineering at the NASA Goddard Space Flight Center (GSFC).
Ericsson stayed on at GSFC as an aerospace engineer in the robotics group, advancing to a lifelong career at NASA (emphasis = positions she continues to hold today):
1989- Aerospace Engineer
1991- Educational Outreach, GSFC
1992- Attitude Controls Systems Engineer, GSFC
2001- Program Executive - ICESat & SORCE, NASA Headquarters, Washington, DC
2002- Instrument Project Manager, GSFC
2004- Program Analyst- Space Science Enterprise, NASA Headquarters, Washington, DC
2013- Deputy to the Chief Technologist, Applied Engineering and Technology Division, GSFC
2014- SBIR/STTR Program Manager- Innovative Technology and Partnership, GSFC
2016- Capture Mission Manager, GSFC
2017- New Business Lead Instrument Systems and Technology Division, GSFC
Ericsson is a member of the NASA GSFC Speakers Bureau and the Women of NASA Group. She has increased the number of students entering the NASA STEM educational pipeline. She is the creator of an email pipeline distribution of grants, internships, and employment opportunities. For this commitment to the leadership of young African-American students, she was honored with the NASA Goddard Honor Award for Excellence in Outreach.
Besides her work at NASA, Ericsson has served as adjunct faculty at several Washington, D.C.-area universities. She sits on the technical academic boards of the National Academies and of MIT, and previously at Howard University, where she is on the Board of Trustees. Over the years, Ericsson has won many other awards, most notably the 2016 Washington Award from the Western Society of Engineers.
TELL OUR YOUNG PEOPLE ABOUT ALL THE "APRILLES" OUT THERE.
- The Honorable Daniel S. Goldin, NASA Administrator, 1999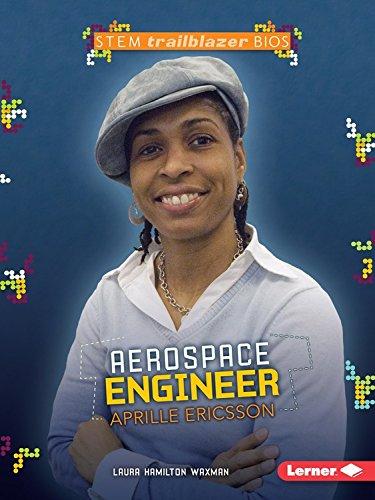 "Aerospace Engineer Aprille Ericsson" by Laura Hamilton Waxman (21st Century, 2015). The Stem Trailblazer Bios series introduces young readers to people working in STEM fields.
Olaronke Olabisi
Astronaut Candidate | 100 Year Starship Researcher
Olaronke "Ronke" Olabisi '93 was an astronaut candidate semi-finalist in the 2013 NASA Group 21 selection and is a researcher for the NASA-sponsored 100 Year Starship project.
Olabisi holds a Bachelor's in Mechanical Engineering from MIT. She went on to complete two Masters, one in Mechanical Engineering (1994) and another in Aeronautical Engineering (1999), at the University of Michigan, and a Ph.D. in Biomedical Engineering from the University of Wisconsin-Madison (2005). Olabisi is an Assistant Professor of Biomedical Engineering at Rutgers University, where she heads the Ronke Olabisi Lab.
EVERY BIOMEDICAL ENGINEER HAS THEIR FAVORITE TISSUE, AND MINE IS BONE. IT'S THE ONLY THING IN THE BODY THAT HEALS WITHOUT A SCAR. IT WILL COMPLETELY REDESIGN ITSELF...
- Olaronke Olabisi in Vanity Fair, 2016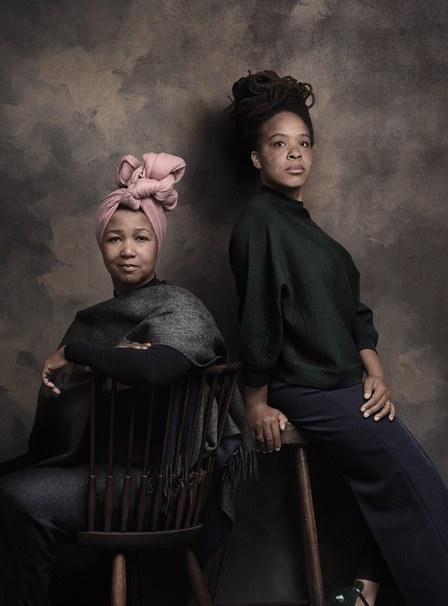 Ronke Olabisi (right) and NASA astronaut Mae Jemison, December 2016
Photo: Amanda Demme/Vanity Fair

OLABISI ON HER MENTOR MAE JEMISON

"The first time I met [Dr. Jemison] was in the '90s, when she was giving a talk at the University of Michigan. She was such an inspiring speaker, and everybody kind of rushed to her at the end, including me. The second time, I was giving a talk at the University of Wisconsin in Madison about their amazing Graduate Engineering Research Scholars program for PhDs of color. Dr. Jemison was also speaking, and they arranged for me to sit at her table. She found out I was doing post-doc work at Rice in Houston, where she lived, and she told me to give her a call. I said 'If you tell me that, you have to mean it.' I kept pestering her until we connected and became friends."
Desire Greene
Student Actress | Environmental Engineering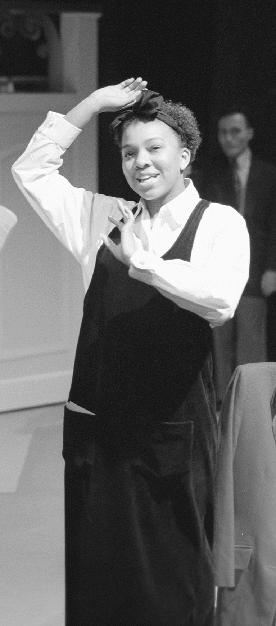 Desire Greene as NASA astronaut Dr. Mae Jemison in the "Living History Museum," 25 February 1998
Photo: Gabor Csanyi | The Tech

Desire Greene '99, an environmental engineering student, plays a young Mae Jemison, who dreams about her brilliant future. The short play "The African American and Latino Living History Museum" portrayed famous figures of American history while a guided tour of about thirty people gathered around each one in turn. Directed by Thomas DeFrantz, Brenda L. Cotto-Escalera, and Ayida Mthembu, the performance used the set of the ongoing musical "Grand Hotel". The sharp, quick vignettes were designed to give the audience a view of the successes of the individuals and a broader insight into the cultural traditions.
Kwatsi Alibaruho
Mission Control Flight Director
In 2005 Kwatsi Alibaruho '94 became NASA's first black Mission Control flight director on duty, a position then occupied by only 58 people since the beginning of the American space program.
Alibaruho was part of the 2005 cohort of flight directors, the second largest ever appointed and the most diverse at the time. Leading a team of flight controllers, support personnel and engineering experts, a flight director has the overall responsibility to manage and carry out space shuttle flights and International Space Station expeditions. A flight director also leads and orchestrates planning and integration activities with flight controllers, payload customers, space station partners and others. Alibaruho was a flight director on duty for the STS-129 Atlantis mission flown in 2009 by fellow MIT alum Robert L. Satcher, Jr. '86, PhD '93.
I LOVE THE DIVERSITY OF CHALLENGES IN SPACE EXPLORATION AND IN MISSION OPERATIONS...THERE IS NOTHING ABOUT MY JOB THAT IS ROUTINE.
- Kwatsi Alibaruho, NASA News, 2005
As I traveled to Houston to interview for the NASA astronaut program, I was incredibly nervous. I had dreamed of becoming an astronaut since I was a little girl, sleeping in the roll-away bed on the back porch of my Grandmother's house in Spencer, Oklahoma.
- Pamela McCauley Bush, MIT MLK Visiting Professor 1997-99 in "Am I Quitting Too Soon?"
Marlyse Reeves '17, president of the student group MIT Women in Aerospace Engineering (WAE), is building a supportive community of women in aerospace engineering.
From "Growing a network of role models," MIT News, 20 December 2016
NASA's Jet Propulsion Laboratory loomed large for Reeves from an early age. Growing up in Pasadena, California, in JPL's backyard, Reeves developed a love of all things outer space, and the lab was a regular destination for school field trips.
Even as a child, Reeves, now an MIT senior, knew she wanted to work in the space industry:
I realized that the engineers at JPL really enable astrophysicists to make their discoveries, so that was what I wanted to be a part of, expanding that knowledge.
Her love of space was nurtured at home, too.
My dad had a telescope when we were growing up. I loved science fiction books and movies. I was a big space nerd.
At MIT, Reeves quickly found her niche in the Department of Aeronautics and Astronautics, where a flexible track within the major allowed her to concentrate on studying autonomous systems.
I ended up choosing AeroAstro because the people in the major I find are very passionate about not only aerospace but space exploration, and I really liked that vibe.
For Reeves, the importance of role models — particularly for women in industry — has been long been clear. She says her first role model was her mom, who graduated from MIT with a master's in urban planning and development and was the executive director of the Los Angeles International Airport while pregnant with her little brother. Since coming to MIT, Reeves has sought positive role models for herself, and as president of the student group MIT Women in Aerospace Engineering (WAE) she has organized panels of successful women in the aerospace industry and helped build a supportive community of women who recognize each other's accomplishments.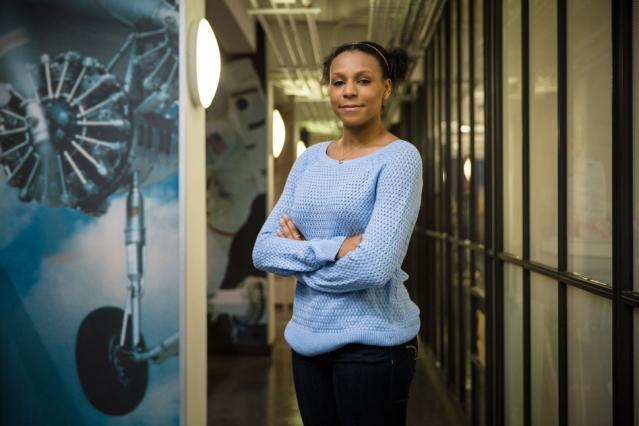 The acclaimed book and major motion picture based on the lives of three African-American women mathematicians at NASA has unique exponents at MIT.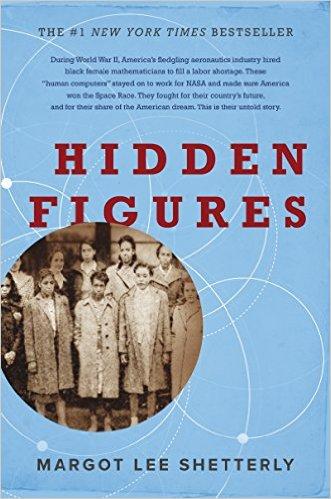 "Hidden Figures: The American Dream and the Untold Story of the Black Women Mathematicians Who Helped Win the Space Race" by Margot Lee Shetterly (William Morrow and Company, 2016) tells the real-life story of three African-American women mathematicians at NASA. Working during the eras of Jim Crow and the Cold War, Dorothy Vaughan, Mary Jackson, and Katherine Johnson contributed to the United States' advancement in its "space race" against the Soviet Union.
MIT Reads is a campus-wide reading program sponsored by MIT Libraries with support from the Institute Committee on Race and Diversity.
In February of 2017, as part of Black History Month, MIT Reads partnered with the MIT Black Women's Alliance for a series of readings and discussions of the Institute's Winter 2017 Book Selection, Hidden Figures: The American Dream and the Untold Story of the Black Women Mathematicians Who Helped Win the Space Race by Margot Lee Shetterly (William Morrow and Company, 2016).
In partnership with the MIT Lecture Series Committee (LSC), MIT Reads also screened the film version on campus in March of 2017 as part of Women's History Month.
Maia Weinstock
Creator of 'Women of NASA' LEGO Set
MIT News deputy editor Maia Weinstock created five 'Women of NASA' figurines that would become an official LEGO set.
In the summer of 2016, Weinstock submitted an entry to LEGO Ideas, a platform that allows people around the world to propose new ideas for LEGO concepts. Her proposed figurines honor five women who made historic contributions to the U.S. space program. Weinstock's "Women of NASA" entry received 10,000 votes from the public in 15 days and was selected to become an official LEGO set. Weinstock has created LEGOs for a number of celebrated scientists and engineers, and a number of MIT faculty members.

"Women of NASA LEGO set blasts off,"MIT News,2 March 2017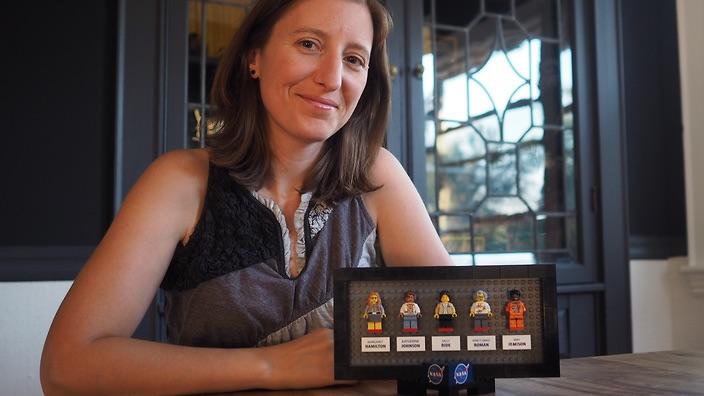 I HOPE THAT 'WOMEN OF NASA' WILL BE ONE LITTLE EXTRA BRICK IN THE WALL OF TRYING TO IMPROVE HOW WOMEN ARE PERCEIVED AND SHOWN IN BOOKS, TOYS, AND FAMILY PROGRAMMING.
- Maia Weinstock in MIT News, 2017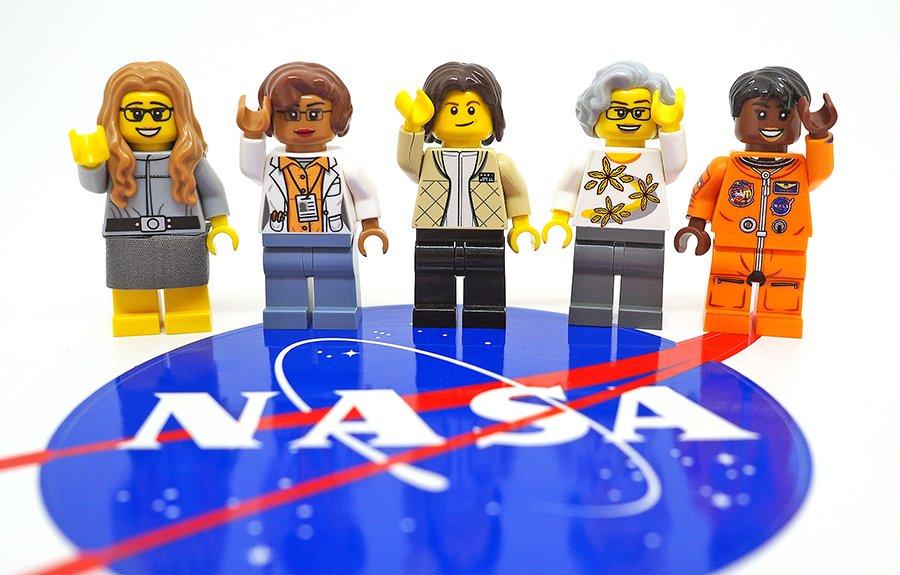 "Women of NASA" LEGO set depicting (left to right): computer scientist Margaret Hamilton; mathematician Katherine Johnson, known for calculating and verifying trajectories for the Mercury and Apollo programs astronaut; astronaut Sally Ride; astronomer Nancy Grace Roman; and astronaut Mae Jemison, the first African-American woman in space.

Photo: Maia Weinstock/LEGO
Shirley Ann Jackson '68, PhD '73 meets her LEGO doppelganger, created by Maia Weinstock, MIT, September 2017
Photos: Maia Weinstock
Joy Buolamwini
Hidden Figures Contest Winner
Joy Buolamwini 'G, an MIT Media Lab graduate student, won the Search for Hidden Figures contest for her work on biases in computer algorithms.
The Search for Hidden Figures contest attracted 7,300 submissions from students across the United States. As one of two grand prize winners, Buolamwini receives a $50,000 scholarship, a trip to the Kennedy Space Center in Florida, plus access to New York Academy of Sciences training materials and programs in STEM. She plans to use the prize resources to develop what she calls "bias busting" tools to help defeat bias in machine learning. That is the focus of her current research at the MIT Media Lab, where Buolamwini is in the Civic Media group pursuing a master's degree with an eye toward a PhD.

"Joy Buolamwini wins national contest for her work fighting bias in machine learning,"MIT News, 17 January 2017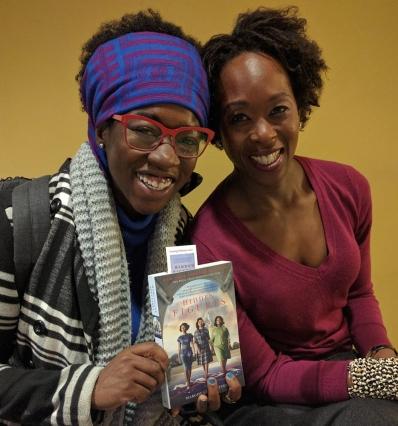 Joy Buolamwini (left) and Margot Lee Shetterly, December 2016
Photo: Joy Buolamwini

After Joy Buolamwini met "Hidden Figures" author Margot Lee Shetterly at an MIT preview screening of the film in December of 2016, she was inspired to enter the Search for Hidden Figures contest.
BY BEING VISIBLE IN STEM, I HOPE TO INSPIRE THE NEXT GENERATION OF STARGAZERS.
- Joy Buolamwini in MIT News, 2017
Tiera Guinn
NASA Rocket Structural Design and Analysis Engineer
Tiera Fletcher (née Guinn) '17 is one of the designers and structural analysts building the Space Launch System for NASA which is set to send people to Mars..
The career trajectory of Fletcher--whose first name is Latin for "earth"--has been widely characterized as "a sequel to the much-acclaimed Hidden Figures movie." Having aspired to become an aerospace engineer as a child, she majored in aeronautics and astronautics at MIT. By the age of 22, Fletcher was already working as a Rocket Structural Design and Analysis Engineer for the Space Launch System being built by Boeing for NASA, designing and analyzing parts of a rocket she believes will be one of the biggest and most powerful in history. In 2017, she won a Good Housekeeping Awesome Women Award, which the magazine says honors women who are "redefining race, fighting poverty, reinventing fashion, literally saving lives, and more."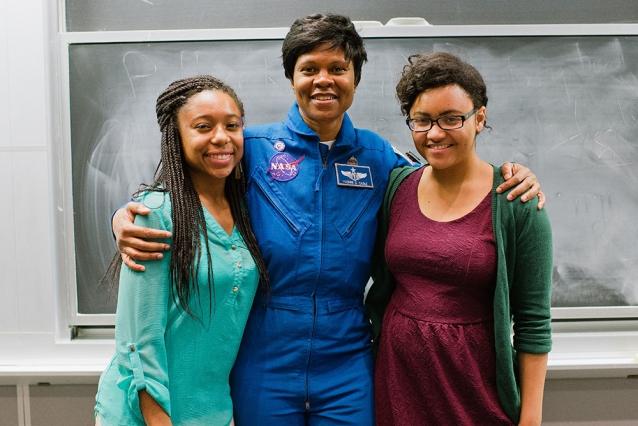 NASA astronaut Yvonne Cagle (center) poses with MIT Black Women's Alliance co-chairs Tiera Guinn '17 (left) and Alyssa Napier '16 during a visit to MIT, 2015. Photo: Yuri Vaysgant/MIT News

Cagle's "Women in Space" talk urged MIT students and girls from the Cambridge-based Science Club for Girls to dream big. Then sophomore Tierra Guinn realized a dream by introducing Cagle. Guinn nearly teared up as she described Cagle's career path: 15 years as an Air Force flight surgeon, then two years of training and evaluation at NASA's Johnson Space Center in Houston in order to serve as a space shuttle flight mission specialist.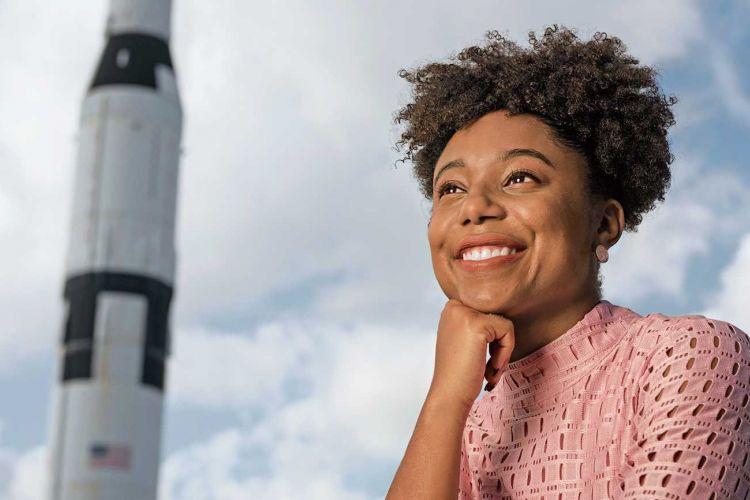 Tiera Fletcher '17, a project engineer and the modernization deputy program manager in Boeing's Space and Launch Division, featured in "Wonder Woman of Rocket Science," Slice of MIT, 18 May 2022.
Stewart Isaacs, an MIT PhD student in aeronautics and astronautics, "found that the toughest part of transitioning into graduate school was having fewer opportunities to socialize with other students" (MIT News Spotlight, 11/22/18).
Isaacs founded MIT AeroAfro, an unofficial organization that seeks to advance the diversity and inclusion initiative of the MIT Department of Aeronautics and Astronautics. The goal of this group is to provide a sense of community and support amongst the African Diasporic graduate students within the department through social gatherings and occasional informational events.
In August of 2018, AeroAfro honored three high school girls whose entry in a NASA technology competition was targeted for derailment by a racist and misogynistic online forum. AeroAfro sponsored a campus visit for the three girls to celebrate their achievement in engineering a water-filtration system using aerospace technology and their placing second in NASA's Optimus Prime Spinoff Promotion and Research Challenge (OPSPARC). The students toured the campus and presented an overview of their winning entry to an appreciative MIT audience (MIT News, 8/14/18).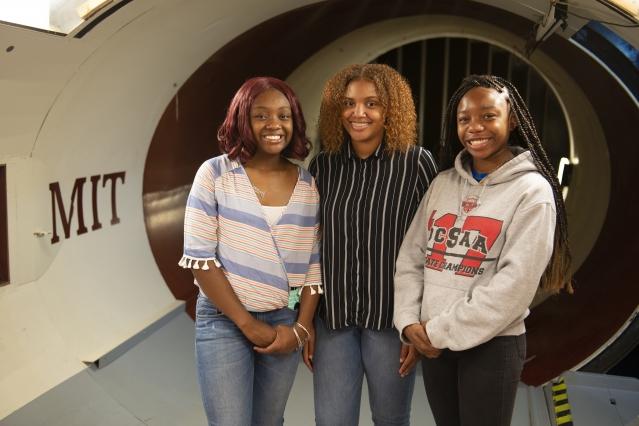 High school students (l-r) Mikayla Sharrieff, India Skinner, and Bria Snell, whose water purification system won them second place in a NASA technology competition, during a tour of the Wright Brothers Wind Tunnel as part of their visit to MIT, 3 August 2018.

Photo: William Litant | MIT News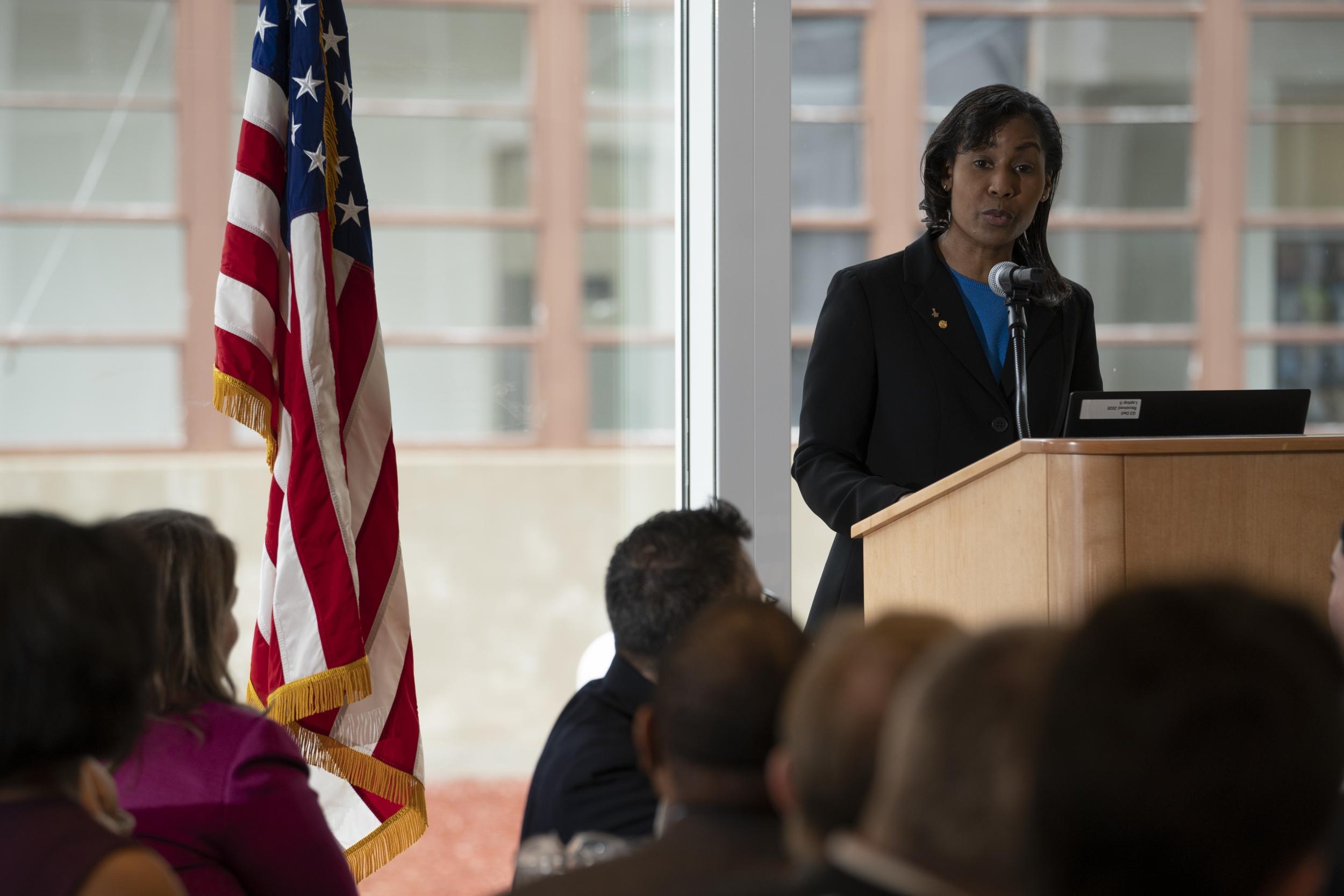 Lincoln Laboratory staff gathered to hear NASA astronaut Stephanie Wilson speak about her career during the seventh annual Martin Luther King Jr. Luncheon. The luncheon is hosted by the Lincoln Employees' African-American Network (LEAN) each February during Black History Month.

The theme governing this year's luncheon was "Fostering Strong, Moral, and Courageous Leadership." It was inspired by Dr. King's "Give Us the Ballot" speech that he delivered during the Prayer Pilgrimage for Freedom in Washington, D.C., in 1957..

"It's the people that surround us and give us encouragement who help us to achieve our dreams," [Wilson] said. Wilson added that every person has walked a different road to get to where they are, and that we all "should endeavor to make sure that everyone in STEM [science, technology, engineering, and mathematics] has a better opportunity than we had."
Wilson is a veteran of three spaceflights, STS-120, STS-121, and STS-131 and has logged more than 42 days in space. Born in Boston, she earned her BS in Engineering Science from Harvard University in 1988 and her MS in Aerospace Engineering in 1992 from the University of Texas at Austin. Her graduate research, sponsored by a NASA Graduate Student Researchers Fellowship, focused on the control and modeling of large, flexible space structures. Selected by NASA as an astronaut in April 1996, she flew her first space shuttle mission in 2006, then flew subsequent shuttle missions in 2007 and 2010. Wilson has served as the Space Station Integration Branch Chief from 2010 to 2012, and in 2013 Wilson completed a 9-month detail to NASA's Glenn Research Center as the Acting Chief of Program and Project Integration in the Spaceflight Systems Directorate. She has also served as a member of the 2009, 2013 and 2017 Astronaut Selection Boards. As a member of the Astronaut Office, she is currently the Mission Support Crew Branch Chief.
Janelle Wellons
Instrument Operations Engineer | NASA Jet Propulsion Laboratory
When Janelle Wellons '16 isn't working on spacecraft as an instrument operations engineer at the NASA Jet Propulsion Laboratory (JPL) she volunteers her time sharing her story with audiences who might not see themselves in the aerospace field.

"There was never a younger version of me that thought one day I could work for NASA," explains Wellons who didn't consider a career in aerospace engineering until she took an introductory course at MIT with Professor Jeff Hoffman.

After graduating from MIT, Wellons began working at JPL on the Cassini Mission to Saturn operating the spacecraft's cameras.

"Creating Space for Good, at NASA and Beyond," Slice of MIT, 17 September 2021
The Johnson Space Center came to Houston in the early 1960s. This had a big impact on the MIT Club of South Texas, which up until then had been largely comprised of people in the chemical and oil industries.
A club meeting in the mid-1960s, during the early years of the space program, featured three astronauts from MIT: Buzz Aldrin ScD '66; Russell Schweikert '56, MS '63; and Dave Scott '62. Today the club website provides information on MIT astronauts currently or recently in space. Another big draw to the club has been the Space Center, which was the site of the 90th anniversary of MIT Club of South Texas in 2017.
Black alums who have served as presidents of the MIT Club of South Texas are Samuel E. Denard '74 (1983-85) and Cordelia Price '78 (2016-17). Both officers earned Harold E. Lobdell '17 Distinguished Service Awards from the MIT Alumni Association "in recognition of alumni relations service to the Alumni Association and MIT that is of special depth over a sustained period".
Sam Denard was recruiting for NASA [in 1977]. They were looking for a black astronaut. That's how he got Ron McNair...I fit the bill. But the problem was that you had to join the military, and I said, "Oh no..." But Ron joined...Mae Jemison was a sophomore at Stanford...We were all recruited at the same time.

W. Ahmad Salih '72, SM '74 in Technology and the Dream, 1999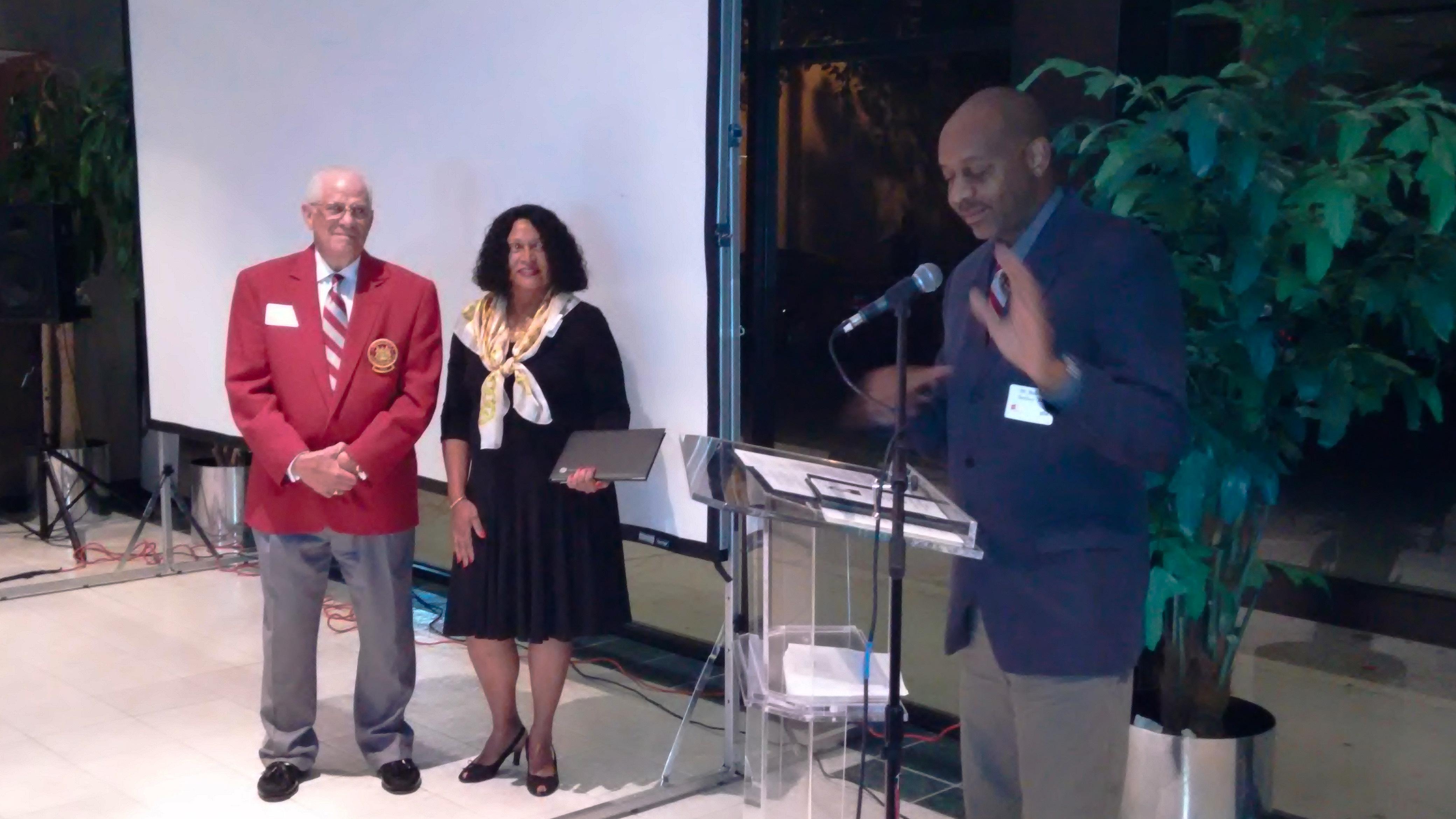 In November of 2015, MIT Club of South Texas, along with the Black Alumni/ae of MIT (BAMIT) and the MIT Alumni Association, co-sponsored an MIT Black History Project event at the Ensemble Theater in Houston. Among the special guests were Mrs. Cheryl McNair, Chairperson of the DREME Foundation and the widow of MIT graduate and NASA astronaut Ronald E. McNair Ph.D. '76. McNair delivered remarks on the impact of her late husband's life and work on future black achievers.
Another special guest to deliver remarks was Astronaut Robert L. Satcher, Jr. '86, Ph.D. '93, assistant professor of orthopedic oncology at MD Anderson Cancer Center. With his children in the audience, Satcher discussed the impact of seeing people who look like him in leadership roles, a responsibility that belongs to everyone.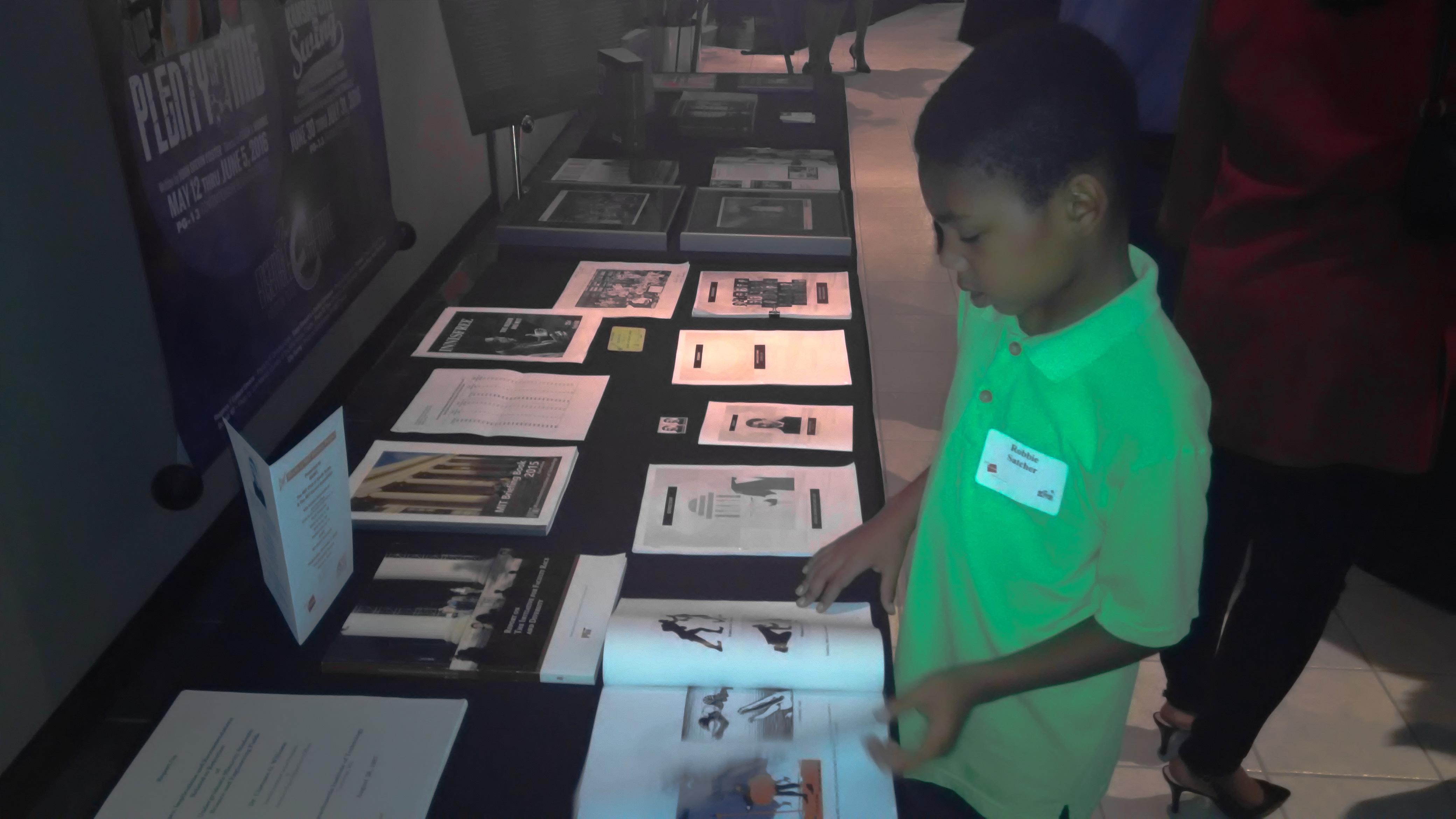 My wish is that we would allow this planet to be the beautiful oasis that she is, and allow ourselves to live more in the peace she generates.
- Ronald E. McNair