Robert R. Taylor, ca. late 1930s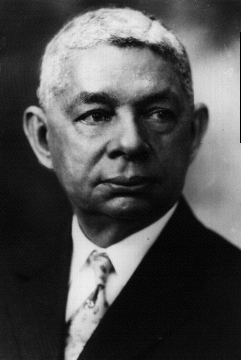 Robert Robinson Taylor (June 8, 1868 – December 13, 1942) was the first known black student to graduate from MIT (Class of 1892). Taylor is also considered to be the first accredited, academically trained African-American architect.
He was recruited to teach at Tuskegee Institute (today, Tuskegee University) by Booker T. Washington and went on to a brilliant 40-year career as a professor and architect at Tuskegee Institute. Taylor designed many of the buildings on the campus of Tuskegee University prior to 1932, and he served as second-in-command to its founder and first President, Booker T. Washington.
In 1943, Taylor's widow Neliie wrote to MIT president Karl Taylor Compton from the Taylor home in Wilmington. She enclosed some clippings from the local press, including one from the Cape-Fear Journal that read:
In the passing of Dr. Robert R. Taylor, an honored and highly regarded member of the colored race, both the white and Negro citizens lose one whose place will hardly be filled. Dr. Taylor was a man of fine character, strict integrity, progressive, of quiet mien, and one who held a fine sense of civic obligation and responsibility...He was always sane and sensible in his viewpoint and ever actuated by a spirit always to cement friendly and cordial relations between the races.

Quoted in "Class Notes," Technology Review 45 (March 1943): VI