Robert R. Taylor, 1892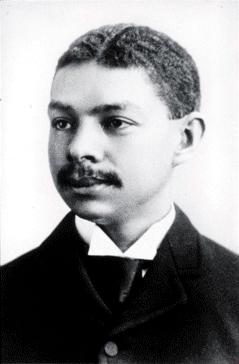 Robert Robinson Taylor (June 8, 1868 – December 13, 1942) was the first known black student to attend and graduate from MIT. He enrolled in 1888 and graduated with the Class of 1892. Taylor is also considered to be the first accredited, academically trained African-American architect.
He was recruited to teach at Tuskegee Institute (today, Tuskegee University) by Booker T. Washington, who looked to model its curriculum after MIT's. Known as a hard, productive worker, Taylor went on to a brilliant 40-year career as a professor and architect at Tuskegee Institute. He designed many of the buildings on the campus of Tuskegee University prior to 1932, and he served as second-in-command to its founder and first President, Booker T. Washington.
In 2010, Tuskegee University elevated its departments of architecture and construction science from the College of Engineering, Architecture and Physical Sciences (CEAPS) to the Robert R. Taylor School of Architecture and Construction Science (TSACS).
MIT endowed a chair for minority faculty in Robert R. Taylor's name in 1994 and also established the Robert R. Taylor (1892) Fellowship in the School of Architecture + Planning in 2011.
In 2015, the United States Postal Service issued a limited-edition Forever® U.S. Postal Stamp commemorating Robert R. Taylor. The 38th addition to the postal service's Black Heritage Series, the stamp was officially introduced on February 12, 2015 at the Smithsonian National Postal Museum in Washington, D.C.
Taylor is the great-grandfather of Valerie Jarrett, former Senior Advisor to U.S. President Barack Obama.
When it was known that I was to leave my home to study at the [MIT], many of the home people asked, 'What is the use?' And a question of similar nature was asked by many in other places. "After graduation, what? Where is the field?"

Robert R. Taylor, "The Scientific Development of the Negro," 50th Anniversary of the Charter of MIT, 10 April 1911