Created by Black MIT students in 1970, this radio program gained popularity in the Cambridge/Boston area.
MIT Student Broadcasting Station
The first MIT student broadcasting station was originally signed on in 1946 as WMIT, becoming WTBS in 1961.
In 1979, the call letters were sold to Ted Turner, and the station's call sign finally changed from WTBS to WMBR, standing for: Walker Memorial Basement Radio. Licensed to Cambridge, MA and broadcasting on 88.1 FM, the radio station is all-volunteer and funded by listener donations and MIT funds.
I wound up…on the radio station doing newscasts, something I never would have expected to do, and which led to what I'm doing now….We couldn't be the MIT radio station and not cover the science that went on there…So it led to a rigor which was extraordinary training.

Adam Clayton Powell III '67, Broadcast journalist and former WMBR News Director
On its 50th anniversary in 2013, WMBR received an MLK Leadership Award. The award honored WMBR for its diverse, community-based programming throughout the years--programs like Captain Al's "The Soul of the Movement," Muna Kangsen's and Julia Mongo's "Africa Kabisa," Brutus Leaderson's "Worldbeat," Cynthia Odu's "In Diaspora," and Alex McNeil's Martin Luther King Day line-up.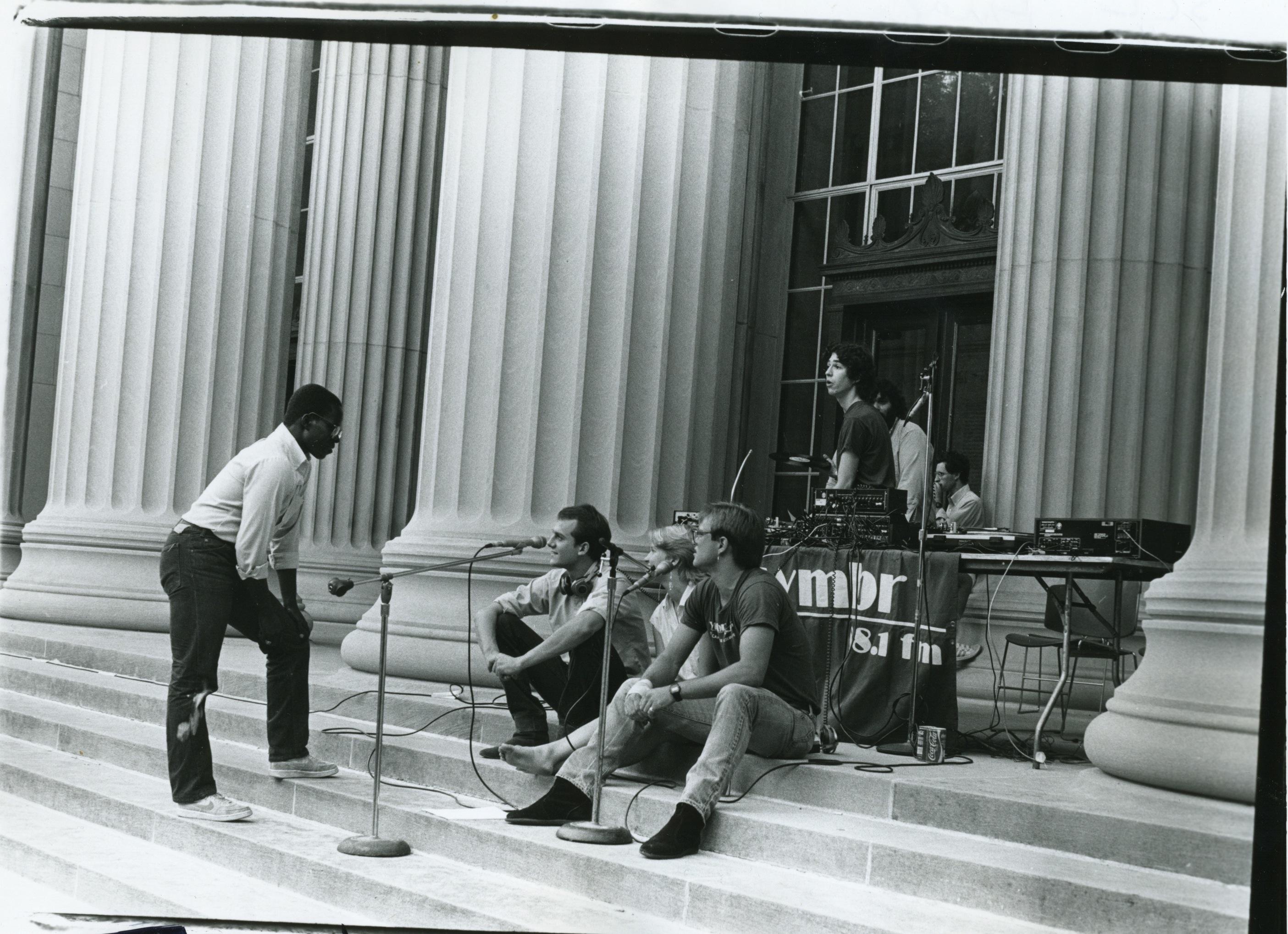 The Ghetto
Uniting the Spirit of the BSU through Music
After seeing a need in radio for the Boston black community, Black Students' Union members created a show called The Ghetto in 1969-70.
Run by black MIT students, the soul-music radio program gained popularity in the Cambridge/Boston area. Show creators Waayl Ahmad Salih '72, SM/EAA '73 (aero-astro major and future physician) and James "JC" Clark '74, SM '81 (electrical engineering major and current president of South Carolina State University) named The Ghetto radio show after Donny Hathaway's 1970 song of the same name. Their faculty advisor was longtime MIT electrical-engineering professor Amar Bose '51, founder of the Bose company.
W. Ahmad Salih
The Ghetto also provided a large part of the station management. One of our deejays, DJ J.C. (James Clark), was elected station general manager in 1971, and [Waayl Ahmad Salih] was the first licensed engineer and later the station comptroller.

We started out having one half-hour show once a week in 1969. The station had only 8 watts of power, which effectively only covered the MIT campus. By 1972, we were broadcasting non-commercial FM stereo with 720 watts, all night, seven nights a week, making us the number-one Black radio in the entire Boston metropolitan area. We used this vehicle to sort of help in uniting the black community.

A few years later the BSU at Boston University produced The Drum, our major competition. When celebrities came to Boston (e.g., War, Stevie Wonder, Richard Pryor, Donnie Hathaway, The Bluenotes, The Stylistics, Aretha Franklin, The Isley Brothers, The Manhattans, and Grover Washington), they would all stop by The Ghetto for interviews and promos.

Waayl Ahmad Salih, "Reflections of an MIT Student Activist (Part III)," BAMIT Review, 31 July 2017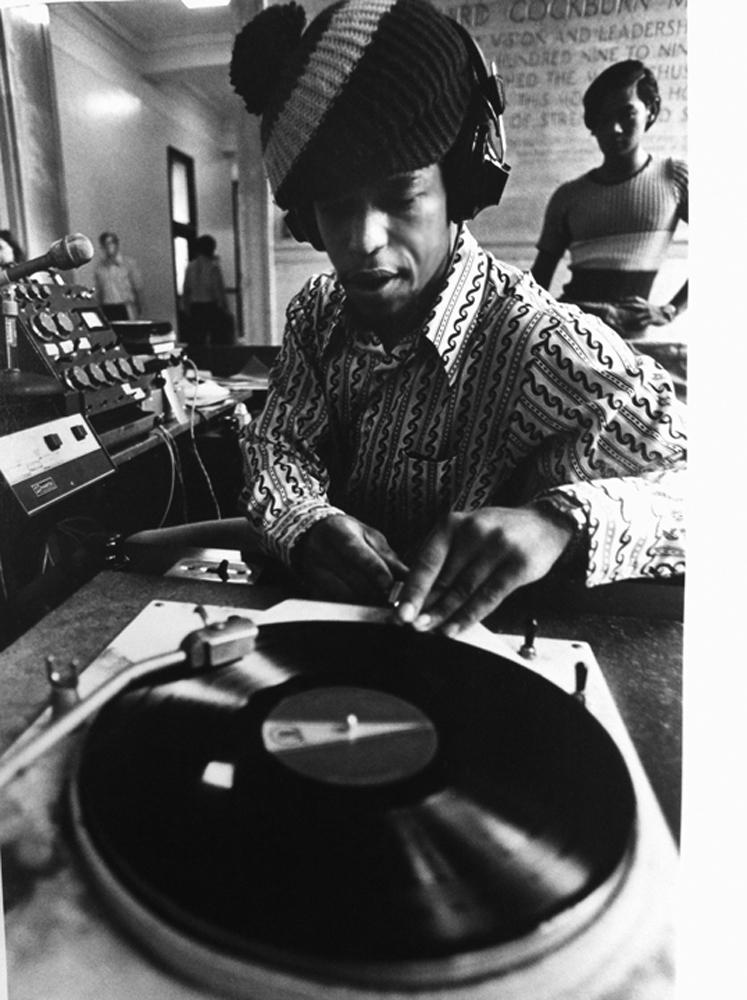 Aero-astro major and future physician W. Ahmad Salih deejaying for "The Ghetto" in Lobby 10, 1972

Photo: Margaret Foote, Courtesy MIT Museum
In 1972, we hosted one of the largest concerts ever at MIT, starring War, with over 20,000 attendees. J.C. got the idea to have a "City Party". The hub was at Walker Memorial, and we had satellite parties at Boston University, Boston College, Northeastern, Harvard, Tufts, Wellesley, University of Massachusetts, Simmons, and other schools and community centers around town.

What made it a City Party was that everybody in their homes and cars were urged to turn on The Ghetto — and to play it loud! We would rotate the broadcast from different satellite locations and have everybody "check in". You could stand outside almost anywhere in the Boston metro area and hear the party. People were dancin' in the streets! We charged 50 cents and made almost $10,000 — and I'm sure at least half the people didn't pay.

Waayl Ahmad Salih, "Reflections of an MIT Student Activist (Part III)," BAMIT Review, 31 July 2017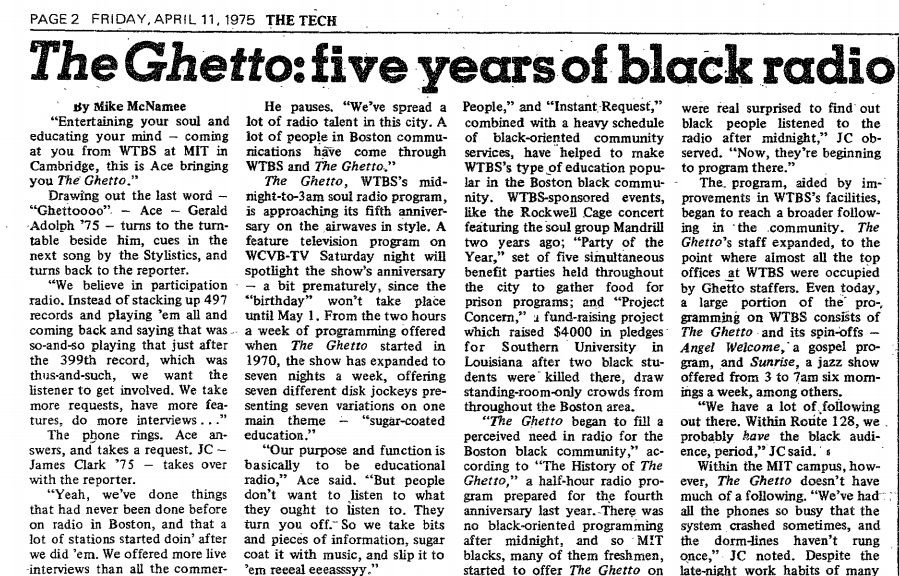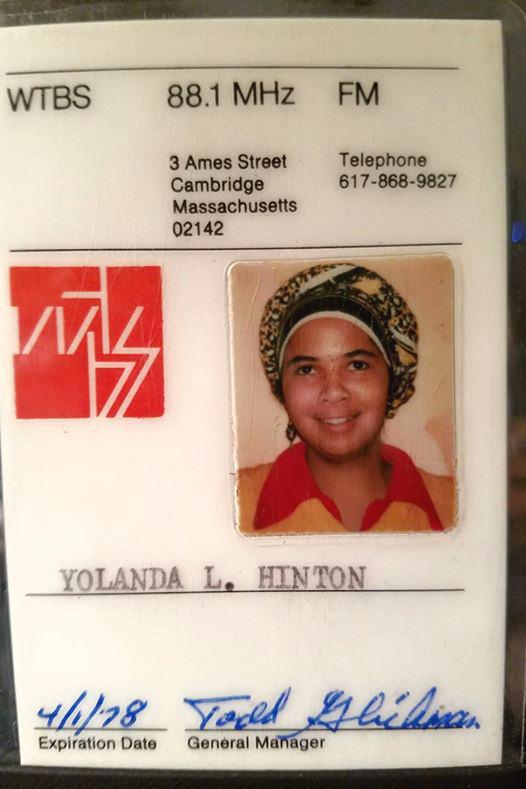 Yolanda Hinton's WTBS ID card, expiration 1 April 1978. Hinton, a mechanical-engineering major, was a prominent student activist at MIT. Courtesy Yolanda L. Hinton
Yolanda L. Hinton
I spent many hours at the radio station the whole time I was [at MIT]. I started out doing news, and eventually got into doing music and then public affairs programs...

I was spending a lot of time doing those other things and not doing the work. Especially with the radio station, a lot of us got into academic trouble because we spent so much time at the radio station. We loved what we were doing there. But we were all from different class years and different majors too, so we couldn't really do our academic work together...

[W]ithin the radio station, I was involved primarily with the black programming and I isolated myself from a lot of the other people at MIT, which also tended to isolate me from a lot of the other opportunities at MIT. So I would advise people not to focus as narrowly as I did. I needed a lot of that support and that was good for me, but there was a lot more reaching out that I should have done...

[Yolanda Hinton's daughter Danielle Hinton '08, MNG '02, PhD '10, also an MIT alumna] amazes me with her motivation and her focus. She was born when I was in graduate school...One of her mentors is JC, James Clark...We got to be friends primarily through the radio station, the things we were doing there. He became one of my best friends.

Yolanda Hinton '77, SM '80 in Technology and the Dream, 22 June 1999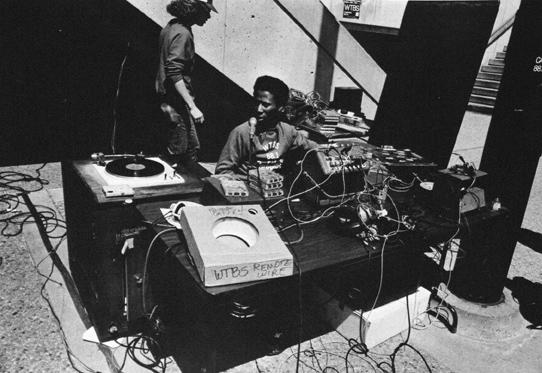 Adonis A. Neblett
Perhaps some more positives would be the relationships that I made...I was on the radio [at MIT] at what was then WTBS and doing the Ghetto radio program. That was a wonderful extracurricular activity for me...J.C. [Clark] was there. Ace was there, Gerald Adolph ['75], and somebody that we used to call Starchild. I can't remember any of the other names...That midnight to 3 am shift, that was it. I loved it.

Adonis A. Neblett '79, in Technology and the Dream, 18 October 1996
Samuel Nixon, Jr.
I became active with the radio station...That was a whole other dimension—WTBS, it was called at the time, later WMBR. I started out just going down to the station, seeing what it was like. I actually got plugged into it through the church in Cambridge, St. Paul's AME Church...I went there and did become active with them, first through their recording ministry. That's what kind of pulled me to the WTBS radio station. There were members who were involved with that ministry who were also active at MIT. They were students there.

Samuel Nixon, Jr. '80, in Technology and the Dream, 7 February 1996