Yolanda Hinton's WTBS ID card, ca. 1978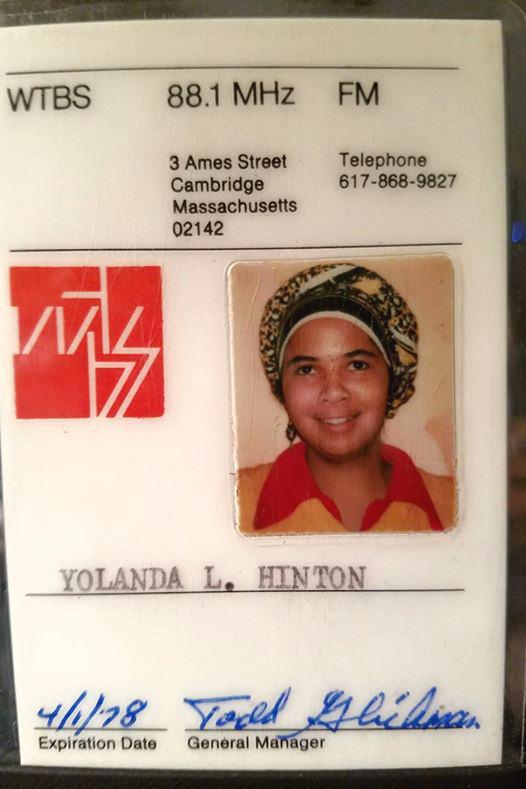 Yolanda "Jinx" L. Hinton '77, SM '80 was a prominent student activist at MIT. She earned her BS (1977) and MS (1980) degrees from MIT, both in Mechanical Engineering. Her daughter Danielle Hinton '08, MNG '02, PhD '10, also an MIT alumna, was conceived while Hinton was working on her graduate school at the Institute.
I spent many hours at the radio station the whole time I was [at MIT]. I started out doing news, and eventually got into doing music and then public affairs programs...within the radio station, I was involved primarily with the black programming...[My daughter] amazes me with her motivation and her focus. She was born when I was in graduate school...One of her mentors is JC, [WTBS station general manager] James Clark ['76, SM '81]...We got to be friends primarily through the radio station, the things we were doing there. He became one of my best friends.

Yolanda Hinton in Technology and the Dream, 22 June 1999
About WTBS
The first MIT student broadcasting station was originally signed on in 1946 as WMIT, becoming WTBS in 1961. After seeing a need in radio for the Boston black community, Black Students' Union members created a show called The Ghetto in 1969-70. Run by black MIT students, the soul-music radio program was gained popularity in the Cambridge/Boston area.