Wayne Turner, 2001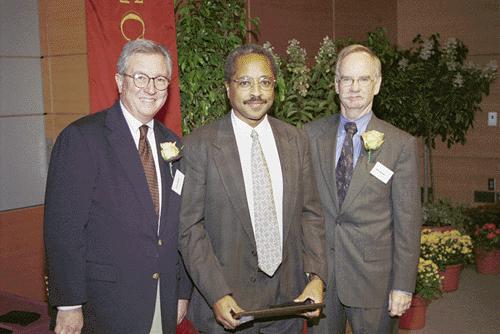 MIT Excellence Award
Wayne Turner, then Associate Director of the MIT Financial Systems Services Team, received a 2001 an MIT Excellence Award for Working Smarter and Getting Results. MIT Human Resources annually awards the MIT Excellence Awards + Collier Medal, which "acknowledge the extraordinary efforts made by members of our community toward fulfilling the goals, values, and mission of the Institute." Turner's efforts "have been multiple and felt throughout the community," generating results that include "expanded customer base of 7 additional areas that use SAP for their financial processes, a new quality assurance process to improve rigorous testing, and a trust among departments that allows achievement of common goals on behalf of the Institute."
Turner holds a Bachelor of Education (1981) and a Master of Public Administration (1986) from Northeastern University, where in 1994 he was inducted into the Varsity Club Hall of Fame for his accomplishments in the sport of ice hockey. Currently, Turner is Director of Business Partnerships & Operations at MIT.
Family Background
Turner's great-grandfather Jefferson Davis Edwards was instrumental in establishing the black settlement of Amber Valley in Alberta, Canada. At age 21, Edwards fled from segregation and prejudice in the American South, walking from Oklahoma to northern Canada in 1910. The Canadian documentary A Farmer From Amber Valley (2001), directed by David Adkin, tells the story of Edwards and his wife Martha Murphy, two of Amber Valley's first settlers. In 1973, the Alberta government honored Edwards with an Achievement Award in Humanities for his contributions to sports, politics and community life.