Wallace P. Reed and the Tuskegee weather detachment, ca. 1944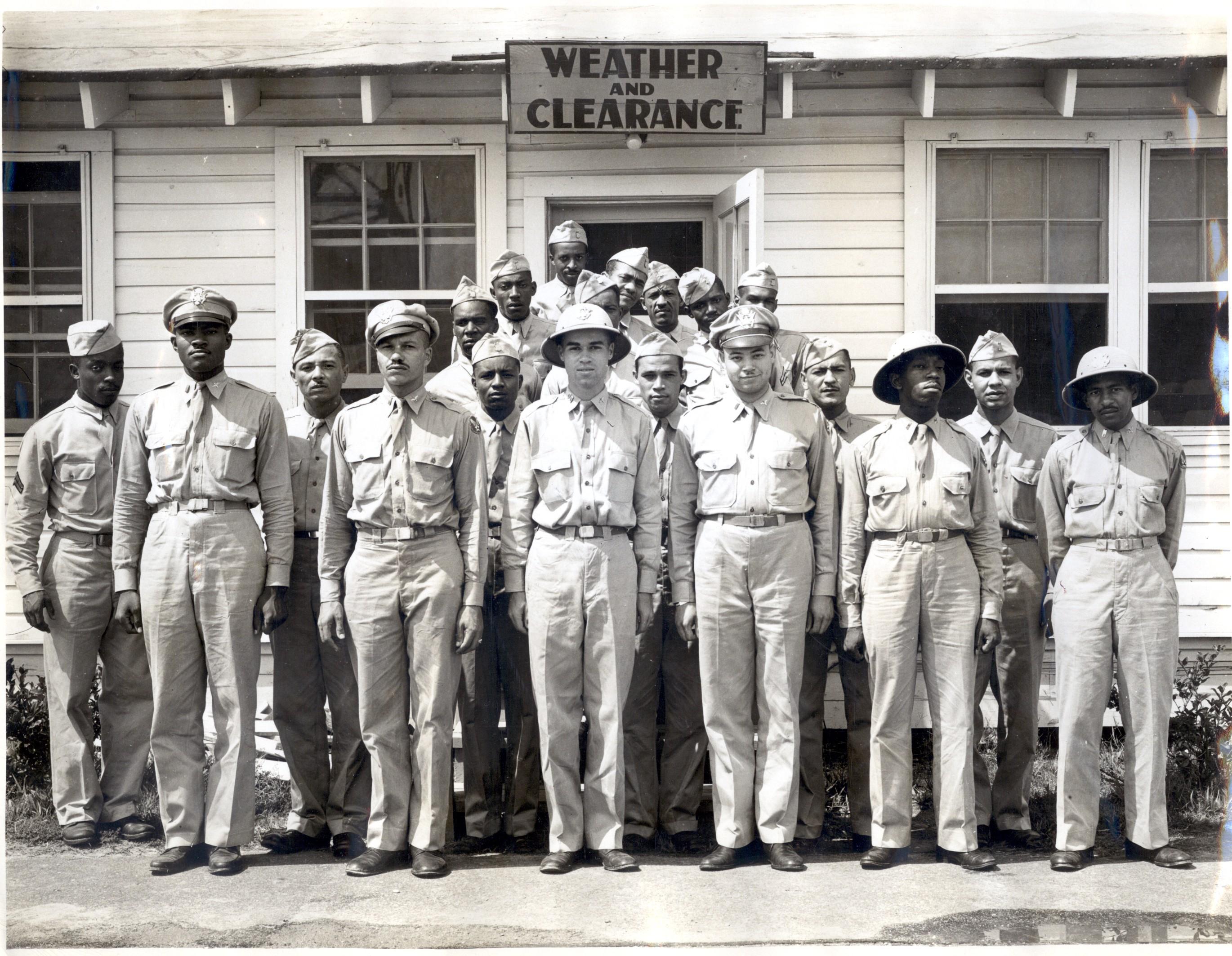 Tuskegee Airmen
When the Army Air Corps found itself short on weather forecasters at the outset of WWII, it teamed up with academia to increase training of weather officers. MIT was the first of three American universities to offer graduate degrees in meteorology at the time and contributed to the training of African-American military pilots popularly known as the Tuskegee Airmen. In the summer of 1940, the Institute began offering abbreviated courses in the teaching of meteorology to select aviation cadets. Candidates requirements included: engineering or other degree, two years in mathematics (including differential equations and integral calculus), and one year in physics.
Among the MIT alums who served as Tuskegee Airmen were Wallace Patillo Reed '42, Second Lieutenant Victor L. Ransom '48, aeronautical engineers Yenwith Whitney '49 and Louis Young '50, and meteorologist Charles Anderson PhD '60.
Wallace Patillo Reed
On Feb. 14, 1942, the first African-American meteorologist in the armed services graduated from a specialized training course at the Massachusetts Institute of Technology.

Wallace Patillo Reed was found through an extensive search by MIT officials at the request of the Army Air Forces [AAF]. In 1940, the Army had only 62 qualified weather forecasters. With WWII expansion already underway, it was initially estimated that as many as 10,000 weather officers were needed just for the AAF; by war's end, more than 6,000 had been trained.

Cadet programs were set up initially at MIT, New York University and the California Institute of Technology, with additional courses later at the University of Chicago, the University of California Los Angeles and an AAF program at Grand Rapids, MI. Potential weather officers needed engineering, math, physics or chemistry degrees, later lowered to at least two years of coursework. Reed entered MIT's second class in 1941, followed by 14 other African-American aviation cadets and one enlisted forecaster before the program closed in 1944.

Upon graduation, Reed was commissioned into the Army Air Corps, three weeks before the first class of pilots graduated from pilot training at Tuskegee Army Air Field, Ala. After a three-week orientation at Mitchel Field, New York, Lt. Reed was assigned as the Tuskegee AAF base weather officer.

Reed served his entire tour in charge of the base weather station there and helped train weather officers who deployed overseas. After the war, he moved to the Philippines where he worked for Pan American Airways and the Weather Bureau. Years later he returned to the United States, passing away in 1999.

In addition to being the first African-American meteorologist in the military, Capt. Reed is believed to have been the Weather Bureau's first African-American meteorologist.

"Valentine's day marks 1st for African American Meteorologist" by Jerry White, 99th Air Base Wing Historian, Nellis Air Force Base News, 21 February 2012
In 1946, after serving in World War II, Reed took a post as a government official, connected with the U.S. Weather Bureau at Nickols Field. He lived in Manila for over three decades before moving back to the United States.