Toni P. Robinson: Collier Medal of Service, 2015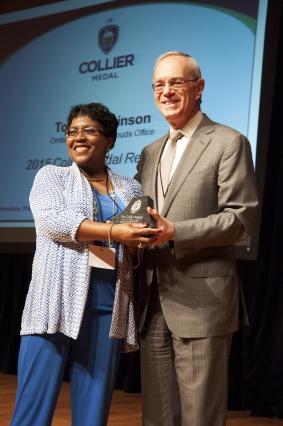 Toni P. Robinson has served as an Ombudsperson, Certified Mediator, and instructor within the MIT community since 1998. She has over twenty-five years experience in management, ombudsmanry, conflict resolution systems design, training, mediating, coaching, and consulting. Robinson also conducts numerous courses and workshops on communication processes and skills, diversity, harassment prevention, team leadership, and policies/procedures/resources for administrative and academic departments, labs, centers, residence and student groups within and on behalf of MIT. She is a mentor in the MIT Bio Matrix program, a member of the MIT pre-law advisory team, and periodically serves in an advisory capacity to various internal committees and focus groups which address issues within the MIT community. She has also taught courses on negotiation and dispute resolution in the MIT Sloan School of Management MBA Program. Robinson holds a Juris Doctor Degree from the Seattle University School of Law and a Masters of Science/Applied Behavioral Science Degree from The Johns Hopkins University. In 2015, MIT awarded Robinson The Collier Medal of Service, honors the memory of Officer Sean Collier.
The 2015 Collier Medal recognizes a member of our community who demonstrates a commitment every day to those same virtues. Her name is Toni Robinson and she is an MIT Ombudsperson. Toni has built countless individual and collective bridges across the MIT community. And she performs small acts of kindness every day -- quietly, consistently, and often anonymously. In fact, since the Ombuds Office exists in a Cone of Silence, she is an "unsung hero" by definition.