SPURS Fellows of 1969-1970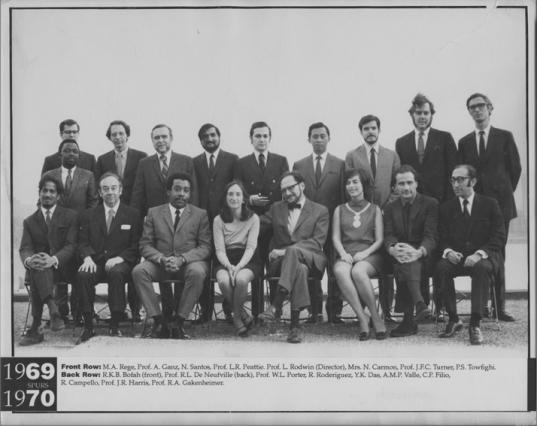 The Special Program for Urban and Regional Studies (SPURS), created in 1967 within MIT's Department of Urban Studies and Planning (DUSP), is a one-year, non-degree program designed for outstanding mid-career professionals from newly industrializing countries.
The program provides the opportunity for mid-career professionals who are or will be shaping policy in developing countries to further develop their planning and problem-solving capacities. Each academic year, 15 to 18 qualified individuals from over 120 countries carry out a program of study and research focusing on the problems of urban and regional change within the broader context of development. Drawn from fields as diverse as architecture, economics, and urban planning, the fellows follow a flexible program of study that exposes them to faculty, practitioners, and local, national, and international organizations and events.
In April of 2018, SPURS celebrated it's 50th Anniversary (see alumni).
[Bish] Sanyal [Ford International Professor of Urban Development and Planning, director of SPURS since 2004, former head of DUSP] has witnessed many changes in the urban and regional planning field...since he arrived at MIT in 1984. "In developing countries, most planning decisions used to be made from the top down," he explains. "A central government minister would say: 'We need a road here,' and the road would be built. Today there are many more stakeholders and community groups involved in such decisions. Planners need different skills than they once did. When SPURS was created, we didn't offer a single course in negotiation or dispute resolution. Now most of our fellows sign up for at least one."

"Special Program for Urban and Regional Studies celebrates 50th anniversary," MIT News, 6 April 2018