Shantytown built in protest by Coalition Against Apartheid, 1987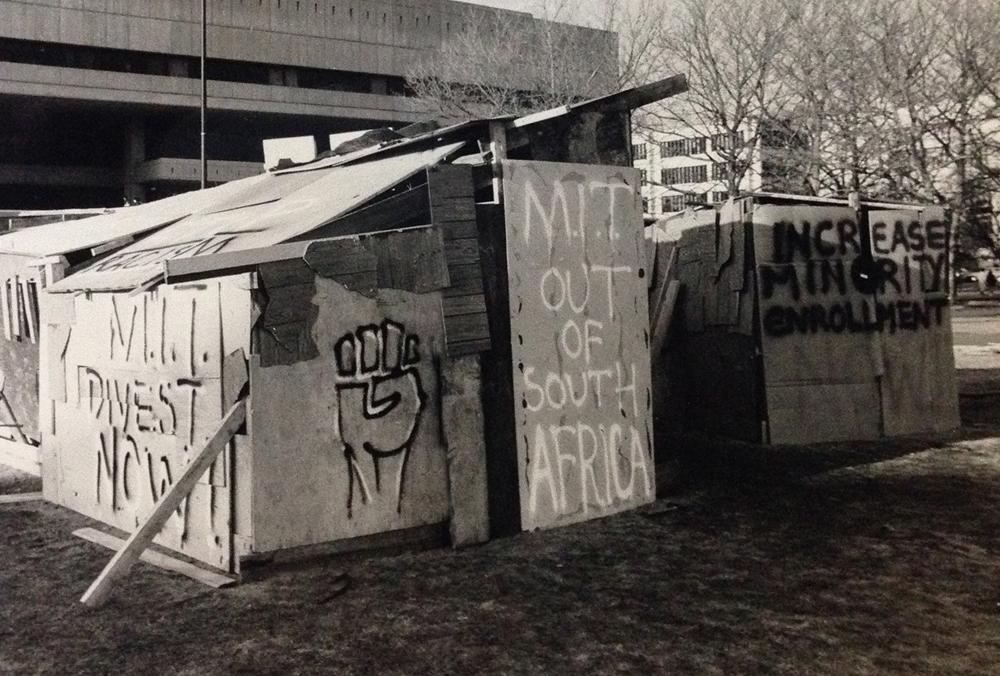 During the 1980s, protesters urged the MIT Corporation to divest from South Africa. Campus student protests against Apartheid grew out of the anti-Vietnam War movement. The Coalition Against Apartheid (CAA) drew support from faculty throughout MIT, including political science professor Willard R. Johnson and urban planning professor Melvin H. King. MIT never divested its South African assets, and the CAA ceased its protest activities after 1991.
It is time for MIT to divest itself of "any connection to South Africa," [Willard Johnson] said. MIT has approximately $65 million invested in companies with South African holdings, according to Shiva Ayyadurai '85...

Johnson asserted, "Our job is to put the kind of moral and financial pressure on South Africa" which will force South Africa to end Apartheid. "There is no word we could use here today which would be as obscene or troubling as the reality in South Africa itself."

Johnson referred to a 14-year history of student protest against Apartheid. The protests began, according to one of the speakers, in 1971 as a part of the anti-Vietnam War movement.

The original result, Johnson said, was a policy which foreshadowed the current Sullivan principle. That principle calls for corporations which operate in South Africa to work to improve conditions within that country.

Johnson denied divestment would be an immoral act of "washing our hands" of responsibility. "It is not a matter of walking away from the problems, it is a matter of seeing these problems," he said.

Massachusetts, Johnson said, was the first state to divest its pension funds from South African investments. "Since that time four other states have joined" Massachusetts, he said.

"Since I began [this speech]," Johnson added, "one [South African] has been arrested ... and two have died of malnutrition.... People are dying in jails again.... Divestment has been the only thing that makes South Africa worried."

Johnson urged MIT students to support the Anti-Apartheid Act of 1985, which is one of many Congressional bills concerning South Africa. He cited the recent passage of a measure designed to restrict aid to Nicaraguan rebels.