Rho Nu Chapter of Alpha Phi Alpha, 2006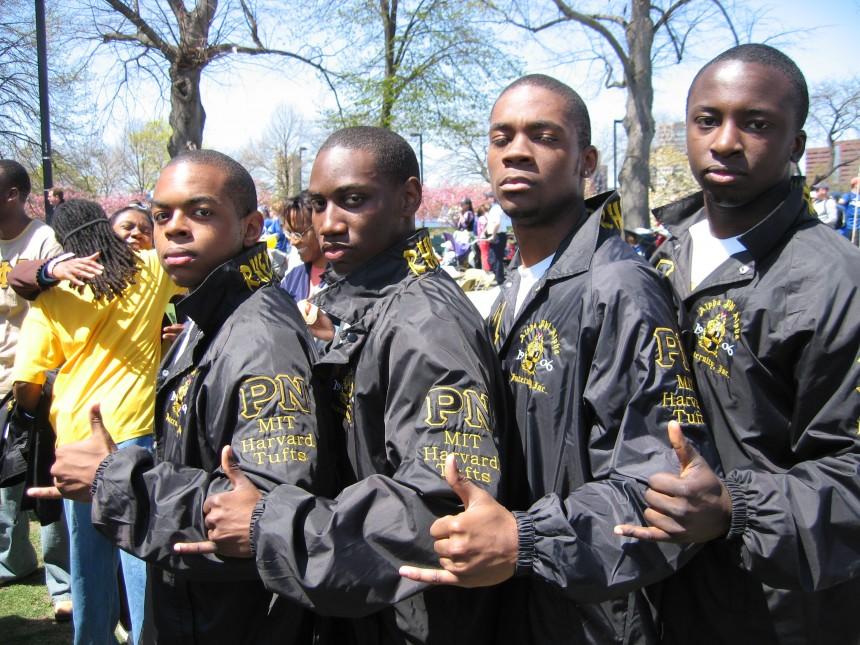 Rho Nu Chapter of Alpha Phi Alpha
The Rho Nu Chapter of Alpha Phi Alpha Fraternity Inc. was chartered on September 26, 1989, and encompasses the campuses of MIT, Harvard University, and Tufts University. Rho Nu chapter was founded to bring the "light" of Alpha Phi Alpha into the Cambridge community. Believing that a chapter is only as strong as its individual members, Rho Nu Brothers have held and continue to hold leadership positions at their respective universities. Upon graduation, Brothers of the Rho Nu Chapter have entered the most competitive law, medical, business, and engineering schools in the world. Rho Nu Brothers have started companies and authored books, in addition to reaching back to their communities in the true spirit of community service. The chapter's goals include addressing the needs of the Black community and serving its youth, as well as participation in general college activities and social service.
History of Alpha Phi Alpha
Alpha Phi Alpha Fraternity, Inc., the first intercollegiate Greek-letter fraternity in the United States established for men of African descent, was founded on December 4, 1906 at Cornell University in Ithaca, New York by seven college men who recognized the need for a strong bond of Brotherhood between African Americans. The purpose and object of the Fraternity was declared to be "educational and for the mutual uplift of its members."

The Fraternity initially served as a study and support group for minority students who faced racial prejudice- educationally and socially-at Cornell. During those beginning days, the Jewel founders and early leaders of the Fraternity worked to lay a solid foundation for Alpha Phi Alpha's principles of scholarship, fellowship, good character and the uplifting of humanity.

The Fraternity's national programs date back to 1919, when Alpha Phi Alpha introduced its "Go-to-High School, Go-to-College" campaign to increase the education level of the African American community. Alpha Phi Alpha later took the lead in the voting rights struggle for African Americans and coined the nationally famous phrase: "A Voteless People is a Hopeless People" as part of its effort to register black voters. The slogan remains the battle cry today for Alpha voter registration efforts.

Alpha Phi Alpha has long stood at the forefront of the African American community's fight for civil rights and human dignity. From the Fraternity's ranks have come outstanding civil rights leaders such as: W.E.B. DuBois, Adam Clayton Powell, Jr., Edward Brooke, Martin Luther King, Jr., Thurgood Marshall, Andrew Young, William Gray, Paul Robeson, Julius Chambers, Maynard Jackson and many others.