Phil Freelon, ca. 1977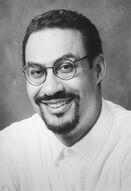 Philip G. Freelon MArch '77 was a professor of the practice in the MIT Department of Architecture and lead architect for the Smithsonian's National Museum of African American History and Culture.
A native of Philadelphia, Freelon attended Hampton University in Virginia before transferring to North Carolina State University, from which he graduated in 1975 with a bachelor of environmental design degree in architecture. He earned his master's degree in architecture from MIT and at age 25 was the youngest person to pass the Architecture Registration Exam in North Carolina.
For nine years beginning in 2007, Freelon taught 4.222 (Professional Practice), a required subject in the master's in architecture program that uses current examples to illustrate the legal, ethical, and management concepts underlying the practice of architecture. The Freelon Group, which he founded in 1990, became one of the largest African American-owned architectural firms in the country.