Onyx Charter Line, 1977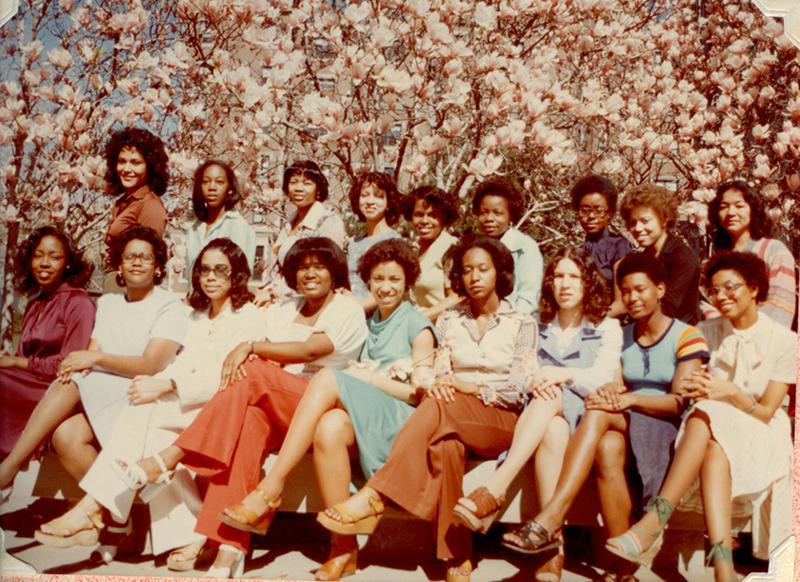 Pictured back row, left to right: Stephanie Y. Posey (Pres. Onyx; 1st Pres. LU- AKA); Yolanda Alicia Tanner (Secretary); Janie M. Harris; Helene Hanson (Historian); Diane E. Waters (Treasurer); Connie Nathan (VP); Doris J. Armour; Lisa Ebgounu; Nola Michiko Hylton (Chairperson of Onyx Fundraising; later grad advisor of interest group that chartered the Stanford Chapter).
Pictured Front row, left to right: Judith Martin; Cordelia M. Price; Panchita L. Terry; Celia Ann Berry (Finance Secretary); Pamela Leslie Hampton (Parliamentarian); Debra L. Thompson; Leslye E. Miller; Sheila L. Luster; Elaine J. Harris
---
Onyx Charter Line
Onyx was begun by Mary Hope, then MIT Assistant Dean of Student Affairs, who felt that an effective group was needed through which Black women on predominantly White campuses could communicate and help each other. Onyx evolved into the Lambda Upsilon Chapter of Alpha Kappa Alpha (AKA).
AKA Lambda Upsilon Chapter
Chartered on October 8, 1977, the Lambda Upsilon Chapter of AKA was the first sorority on MIT's campus of any type. Lambda Upsilon's membership consists of students from MIT, Harvard University, and Wellesley College.
Alpha Kappa Alpha Sorority
Alpha Kappa Alpha Sorority, Incorporated is an international service organization that was founded on the campus of Howard University in Washington, D.C. in 1908 and is the oldest Greek-lettered organization established by African-American college-educated women.