Obituary: Willie Ray "Karimi" Mackey, 2004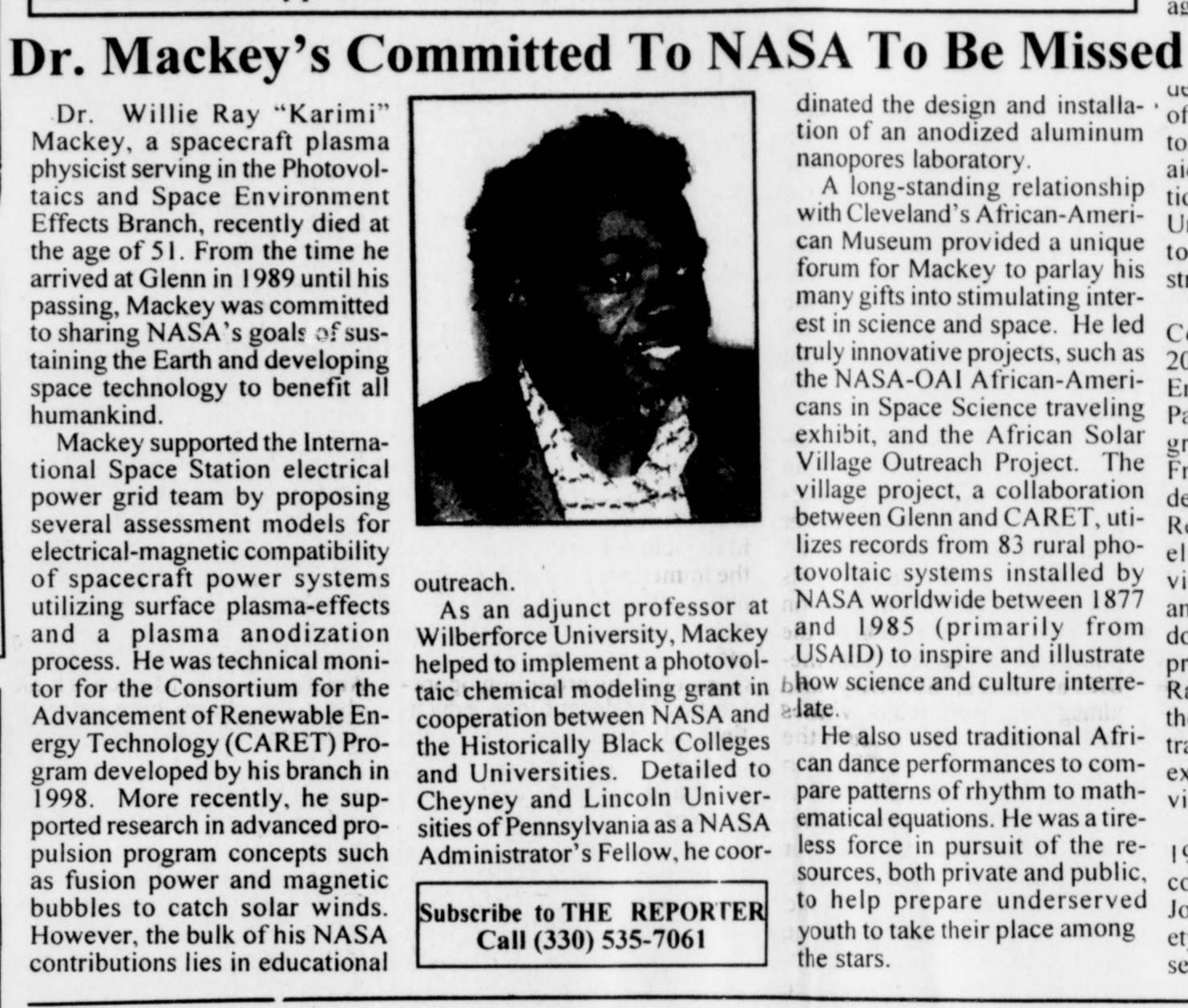 Renowned NASA astrophysicist and African dancer Willie Ray 'Karimi' Mackey (Osagyefo Karimi Salmone Faye) PhD '81 was the second African American to earn a PhD in Astrophysics from MIT. Dr. Mackey worked at NASA from 1989 until his death in 2004. Called the "dancing physicist" by friends, he also completed a seven-year apprenticeship in African dance and drum under Raymond Sylla, an African cultural icon from Senegal.
Born in Memphis, TN and raised in St. Louis, MO, Dr. Mackey also earned a BA in Physics and Mathematics, with a concentration in African American Cultural Arts, from Oberlin College. "At Oberlin, [Mackey] was seeking to find himself," wrote Oberlin faculty member Kofi Lomotey. "As a result, [he] came before the academic standards committee for review of his academic progress. A few of us on the committee 'saw something in him' and urged the committee to 'give him another chance.' And look what happened--the first Oberlin physics major of African descent in modern times at Oberlin and subsequently an MIT physicist."
Dr. Mackey performed extensively throughout New England with the Art of Black Dance and Music. He served on the Ohio Arts Council Dance Panel and as Assistant Professor of Mathematics and Physics at Wilberforce University. Dr. Mackey founded the Cooper Community Science Center in Roxbury, MA; Institute of Rational Analysis, Boston, MA; Amiraka Afrique, Dayton, OH; Po Tolo Studio Complex, Cincinnati, OH; the McNair-Diop Astrophysical Institute; and AfricaHouse International (the Art House), Cleveland, OH.
At the time of his death in 2004 at age 51, "Sirius was making its annual daytime appearance in the sky," according to obituary writer Alana Baranick (more below). "His "African name, Karimi, means 'one whose spirit travels with the stars.'" Dr. Mackey had been working as a Spacecraft Plasma Physicist at the NASA John H. Glenn Research Center at Lewis Field in Cleveland, OH, while serving as Director of Modern Africa Tama Tama. A celebration honoring his life was held at the African American Museum of Cleveland.
[Mackey] felt a kinship with the primitive Dogon people of West Africa, who have been mapping the stars for more than 800 years...[He] was fascinated that the Dogon, who revere Sirius - known as the Dog Star - knew of its tiny companion star, Sirius B, centuries before modern astronomers identified it...

As a scientist, Mackey conducted far-ranging "fundamental research that doesn't reveal itself until years downstream but is critical to development," said Julian Earls, director of the NASA Glenn Research Center.

But he didn't look like a rocket scientist.

"He had his own style," said NASA colleague Eric Overton. "In appearance, he was so down to earth, you would be shocked to know he even had a job. Then you find out he worked at NASA, had a Ph.D." [...]

"We worked together to provide NASA exposure and computer technology for students who lived in a homeless shelter in Philadelphia," said J. Otis Smith, a Cheyney [University] professor...[Mackey] also did his best to get his twin daughters, Nyonu and Naima, excited about science.

"If you looked in the sky on a clear night, he could tell you the names of the stars," Naima said.

Alana Baranick, The Plain Dealer, 30 August 2004