Nthato Motlana at MIT, 1985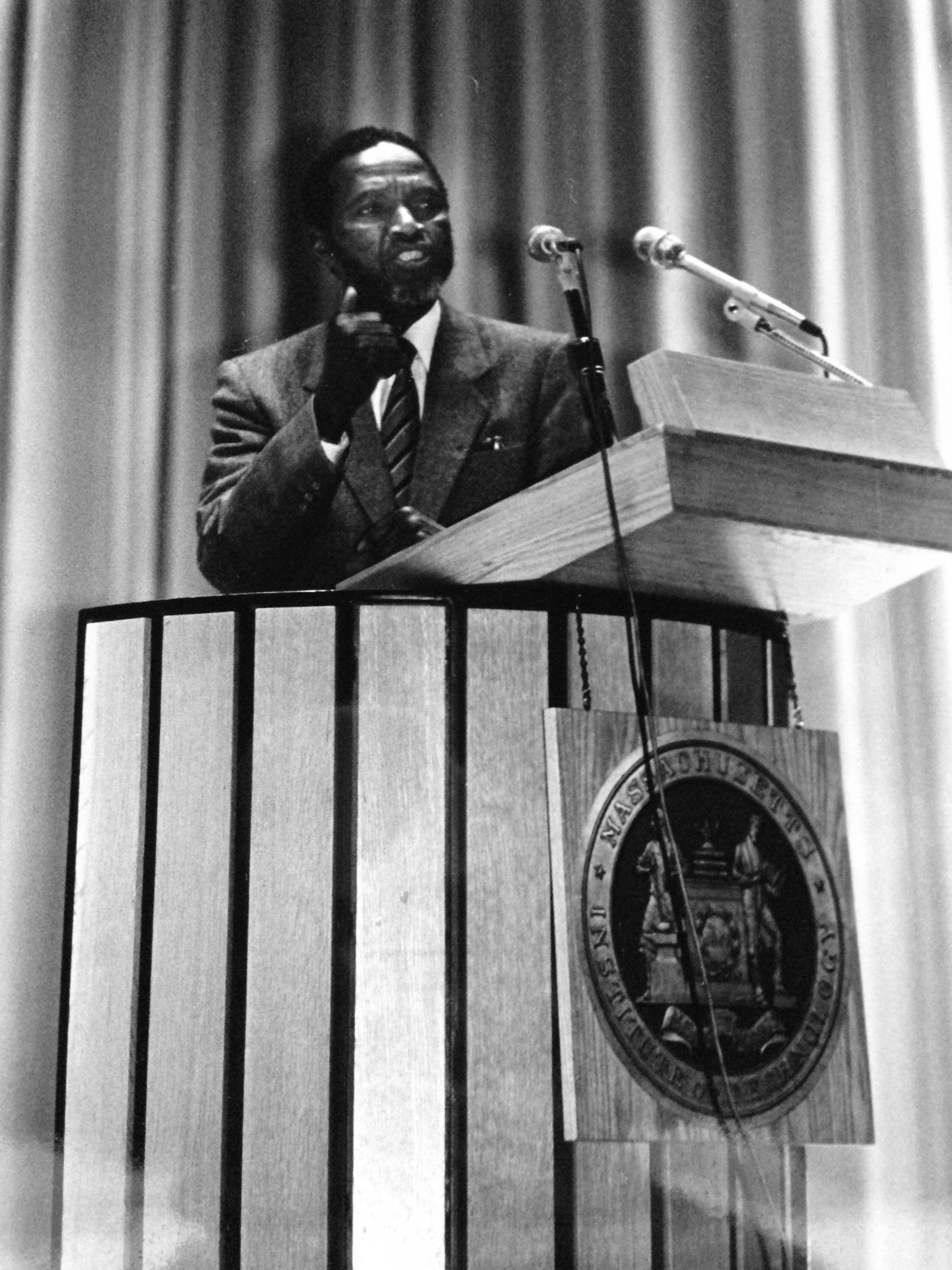 MIT inaugurated its 1985 Institute Colloquium on Apartheid series, sponsored by the Institute Colloquium Committee, by exploring the issue of apartheid in South Africa through campus-wide lectures and discussions in living groups. Nthato Motlana, chairman of the Soweto Committee of Ten, described the role of South African youth in his keynote address. The event "What Can and Should Americans Do About Apartheid?" drew 500 students to Kresge Auditorium.
A panel of six speakers debated whether US involvement in South Africa is an appropriate means of changing that country's apartheid system before a belligerent crowd...The panelists included Shirley Chisholm, former member of Congress; William Jacobsen of the US State Department's working group on South Africa; Willard Johnson, MIT professor of political science; Nthato Motlana, chairman of the Soweto Committee of Ten; John Reed '61, chairman of Citicorp; and Gretchen Ritter G.

Johnny Makatini, US representative of the African National Congress (ANC), was unable to participate as scheduled. Robert I. Rotberg, MIT professor of political science and history, moderated the discussion.

Dispute centered on the question of whether American trade and commercial presence in South Africa only perpetuates the current state of affairs, or whether it can be used to influence the government to moderate apartheid. Many in the audience supported the former view, cheering speakers who advocated divestment.

Chisholm said that American business and government could not accomplish change in South Africa, and Johnson saw any US involvement as abhorrent. He criticized the US policy of "constructive engagement" as "more than an engagement ... a marriage."

Motlana saw the only remedy for apartheid as "a political solution at the highest level." Jacobsen and Reed, on the other hand, emphasized the possibility of using US presence to influence conditions in South Africa. In a question-and-answer period after the discussion, most questioners attacked Jacobsen and Reed's position.

"Panel argues US role in South Africa," The Tech, 8 November 1985
In 1985, according to Arnold Contreras of The Student newspaper, MIT's investment in companies with holdings in South Africa were estimated at $100 to $150 million based on an MIT Treasurer's Report.