MIT Minority Graduate Student Directory, 1979-80
/sites/default/files/media/document/Minority%20Graduate%20Student%20Directory_1979-80.pdf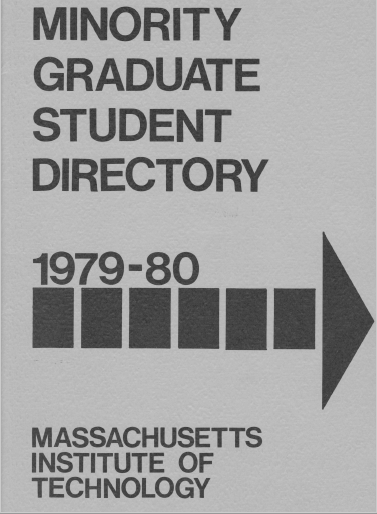 Past Documenting Efforts
Various individuals have at some point or another undertaken projects to document the history of the black experience at the Institute:
1972
Lawrence Dean '73 compiles a roster of black students.
1972
Cleve Killingsworth '73 carries out an Undergraduate Research Opportunities Programs (UROP) project under humanities professor Floyd Barbour "to obtain information about former black students at M.I.T." The project results in a preliminary Directory of Black Alumni at MIT published by the Placement Office with the assistance of Mary Hope, former assistant dean of student affairs.
1976
John Turner and Clarence G. Williams recruit Kimberly-Ann Francis '78 to compile a historical list of black students from the registrar's records and other sources.