Kortney Adams as Lady in Purple, 1999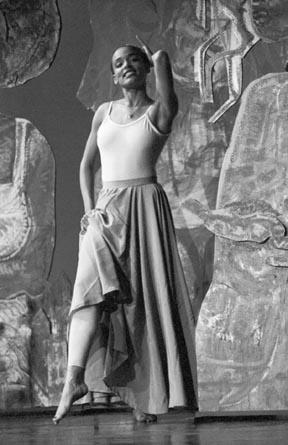 About the Play
for colored girls who have considered suicide/when the rainbow is enuf by Ntozake Shange is an Obie Award-winning series of poetic monologues accompanied by dance movements and music. These "choreopoems" tell the stories of seven women and explore what it is to be of color and female in the twentieth century. First published in 1975, it was praised by The New Yorker for "encompassing...every feeling and experience a woman has ever had".

Put down the problem set or pizza...Whatever your plans for the weekend may be, set them aside and witness something too powerful to miss.

Directed by MIT Associate Professor Thomas DeFrantz, the play was presented by MIT Dramashop in 1999 and performed by the Black Theater Guild (with Kortney A. Adams SM '00, Jovonne Bickerstaff '02, Maru Colbert G, April Griffin '99, Ticora Jones '00, Erica Shelton '99, Eboney Smith '01, Huanne Thomas '02, and Shanice Williams '00). The set was designed by Eto Otitgbe '99; costume design by Tamara Kearney '99 and Stephanie Epsy '01.
for colored girls had been previously performed at MIT in 1992 by the Roxbury Outreach Shakespeare Experience and directed by artist-in-residence Decima Francis.