Joseph Applegate with Linguatrainer, 1959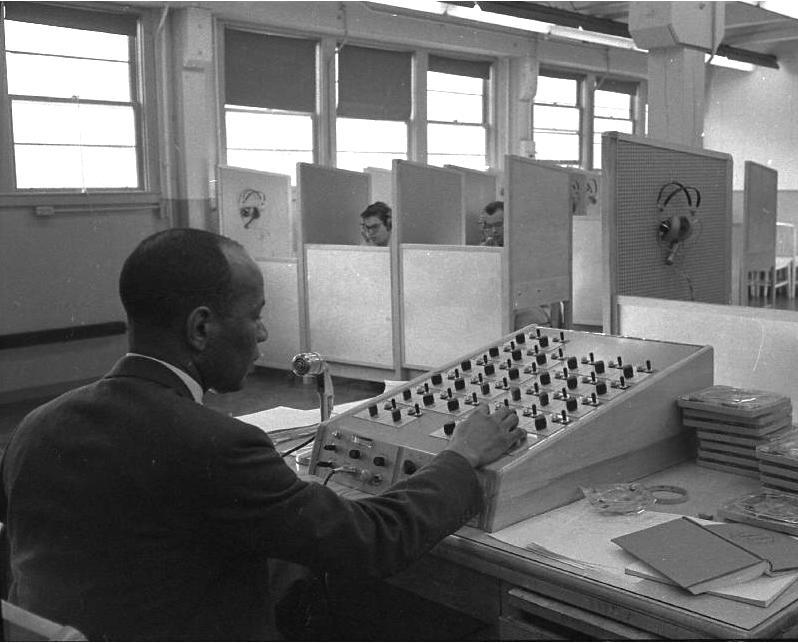 As far as can be determined, linguist Joseph Roye Applegate was the first appointed black faculty member at MIT. He was considered an expert in the Berber language of southwestern Morocco.
In 1955, Applegate joined the MIT Research Laboratory of Electronics (RLE) as faculty to work on machine translation and mathematical studies of grammar. Other linguists at the RLE at the time included Noam Chomsky--both Chomsky and Applegate earned doctorates from University of Pennsylvania in 1955.
Tape recording equipment is used to its best advantage in teaching students how to pronounce foreign languages in the Modern Languages Department's new Linguatrainer.

MIT Dept. of Foreign Languages and Literatures, 1959
From 1956 to 1960, Applegate served as Assistant Professor of Modern Languages at MIT, teaching courses that included German and intermediate and advanced subjects in "English for Foreign Students". In 1959, he became Director of MIT's new language laboratory. By 1960, however, the mechanical translation project had not progressed, and Applegate left MIT. His subsequent career took him to UCLA and Howard University, where he directed the African Studies and Research Program.
Everyone was working on something significant, so there was no reason to hold back...as a member of the [MIT] faculty, I don't think there was any hesitation about acceptance. Certainly in the research laboratory of electronics.

Joseph Applegate in Technology and the Dream, 1996