Javit Drake and Nigerian MIT-ETT fellows, 2022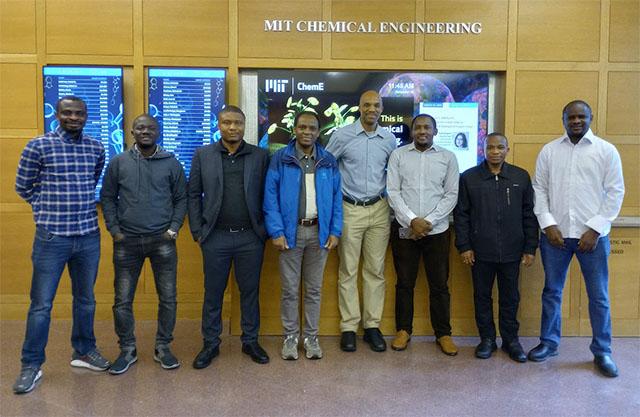 On December 6, 2022, Dr. Javit Drake '94 [2022-23 MIT MLK Visiting Scholar in the Department of Chemical Engineering] delivered a well-received seminar to Nigerian visiting engineering and science faculty who are the Fall 2022 cohorts in the MIT Empowering the Teachers (MIT-ETT) program.
Titled "Batteries and Fuel Cells: Approaches for Broader Viability Against Climate Change," the seminar drew interest in electrochemical energy among the professors, who plan to continue to exchange with Dr. Drake. His talk began with strong motivation for reduction in emissions that contribute to climate change through broad adoption of carbon-neutral technologies, such as batteries and fuel cells, for electric vehicles and stationary energy storage. Dr. Drake's collaborative research aims to address two major challenges to broader adoption: how rapidly and how long batteries can operate (e.g., fast charging and driving range). Inside batteries, key bottlenecks are overheating and there is sluggish movement of ions. Dr. Drake relayed these key scientific concepts in highly relatable examples and analogies that also exemplify his teaching philosophy. The seminar closed with Dr. Drake offering appreciation to the visiting professors for their time and engagement at MIT during Fall 2022, followed by reconvening on December 16 for farewells and photographs.
About MIT-ETT
The MIT Empowering the Teachers (MIT-ETT)program provides an intense, semester long teaching-focused engagement for selected cohorts of faculty members (ETT Fellows)​ from African universities. By introducing the ETT Fellows to cutting edge student-focused teaching methodologies the ETT strives to foster innovation in science and engineering education in tertiary academic institutions in Africa. Our vision for the students of our Fellows is to graduate ready for the demands of today's job market, equipped with hands-on problem solving and critical thinking capabilities. NNPC & TotalEnergies EP Nigeria are the corporate partners and sponsors of the program.

MIT-ETT