Illustration: Human Torch at MIT, 2016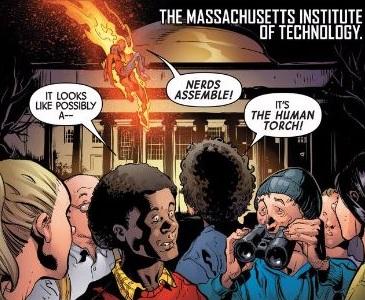 When the Avengers Unity Division faced off against a villain calling himself "The Shredded Man" in the streets of Boston, Massachusetts, Johnny Storm hightailed it over to M.I.T. to find people to help curtail the plant creatures the Shredded Man was spawning. However, they only had questions about Reed Richards' work.

Shortly after that, 15-year-old student Riri Williamscaused a commotion when she stole campus equipment to build her own prototype Iron Man Armor based on a reverse-engineered version of Tony Stark's own designs. When campus security caught notice of her suspicious activities, Riri was prompted to don the suit of armor and fly away.