Hugh Robinson, 1954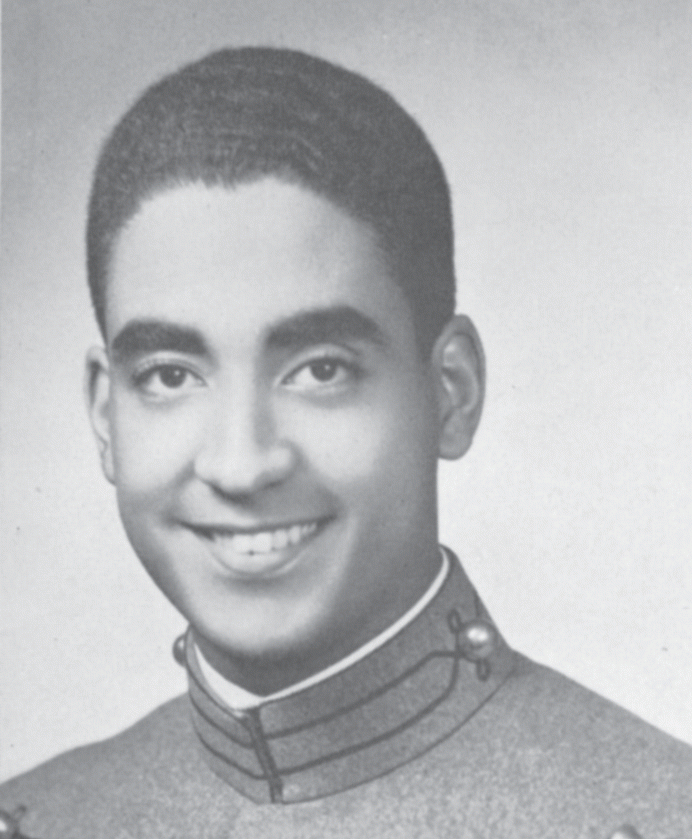 Adapted from Presidential Aides Council and from the United States Military Academy*:
Hugh Granville Robinson [MIT, '59] graduated from Dunbar High School in Washington, DC and was a 1954 graduate of the United States Military Academy at West Point, where he achieved the distinction of the first black regimental commander. His military career spanned from 1954 to 1982. [Hugh was commissioned in the Corps of Engineers and was chosen to pursue a degree in civil engineering at MIT, which he earned in 1959. He then completed the Harvard Business School Management Program for Executives and was awarded an honorary Doctor of Laws degree from Williams College in Massachusetts.]*

He served in Korea with the Corps of Engineers and, after his tour in Korea, held several Army staff positions in the United States and France. He returned from France and worked for the Deputy Chief of Staff for Operations at the Pentagon. In 1965, he was appointed the Army Military Aide to President Lyndon B. Johnson and was the first African American to serve in that position. He held the appointment throughout the remainder of Johnson"s presidency. Robinson left the White House and went to Vietnam, where he served as a deputy group commander and commander of the 39th Engineer Battalion, and received an Air Medal, a Bronze Star, the Legion of Merit and an Army Commendation Medal. His next big assignment was as commander of the Los Angeles District.

In 1978, Hugh was promoted to Brigadier General, becoming the Corps of Engineers" first African American general officer. He served as deputy director of Civil Works and in 1980 assumed command of the Southwestern Division, overseeing a myriad of engineering projects in one of the largest areas of responsibility for the Corps in the United States, a position he held until his retirement in 1983 as a major general. After military retirement, he joined The Southland Corporation as a corporate Vice President. He was then made President of Southland's City Place Development Corporation and oversaw construction of the corporation"s huge new office complex in Dallas. From 1989 through 2002, Maj. Gen. Robinson served as Chairman and Chief Executive Officer of the Tetra Group Inc. and served seven years as vice chairman and then chairman of the Federal Reserve Bank of Dallas. He had served as chairman and chief executive officer of a Dallas construction management company with divisions in minority business development and affordable housing. Additionally, he served on the board of directors of the North Texas Public Broadcasting Co., Inc., the LBJ Foundation, Inc., and the Better Business Bureau, as well as been a member of the Dallas Citizens' Council, the National Society of Professional Engineers, the Greater Dallas Chamber, and the Dallas Black Chamber.