Henry A. Hill, ca. 1977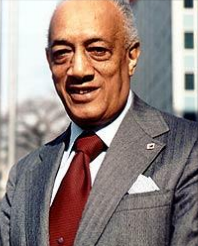 Henry Aaron Hill PhD '42 became the first black president of the American Chemical Society in 1977. He received his Bachelor of Science degree from Johnson C. Smith University in 1936 and began his graduate studies at the University of Chicago, before transferring to MIT in 1937. At the Institute, he developed a strong working relationship with Professor James Flack Norris, the first Director of MIT's Research Laboratory of Organic Chemistry and President of the American Chemical Society from 1925 to 1926. Hill earned his PhD in Organic Chemistry from MIT in 1942.
Hill is highly regarded for establishing standards for employer-employee relationships in the chemical profession. Early in his career, racial prejudices made it difficult for Hill to land a job. Eventually he would rise to vice president of the North Atlantic Research Corporation in Newtonville, Massachusetts, where he performed research on water-based paints, firefighting foam, and synthetic rubber. In 1962, Hill founded the National Polychemicals, Inc, to supply chemical intermediates for the polymer industry. Ten years later he founded the Riverside Research Laboratories, which offered research, development, and consulting services in polymer production.