Helen G. Edmonds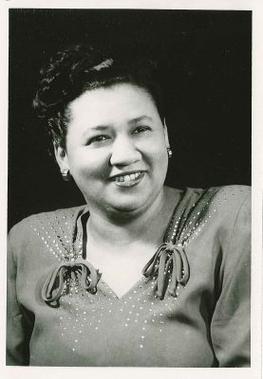 American historian, university professor and civic leader Helen Grey Edmonds was the keynote speaker at the 10th Annual MIT Dr. Martin Luther King Jr. Celebration in 1984. As a Visiting Scholar with the MIT Writing Program in 1985, she worked on completing a book on black women in politics.
Edmonds is known as the first African-American woman to earn a doctorate from Ohio State University. She is especially noted for her 1947 dissertation, which uncovered a more accurate narrative of the 1898 white supremacist political coup in Wilmington, North Carolina (published in 1951 as her first book, The Negro and Fusion Politics in North Carolina, 1894-1901). Edmonds was also the first African-American woman to become a graduate-school dean, serving at North Carolina Central University (NCCU), where she had a 36-year career. During her tenure there, she also taught U.S. and European diplomatic history, served as chair of the department of history, and University Distinguished Professor. After retiring in 1977, she became a member of the NCCU Board of Trustees.
Edmonds is also noted for being the first African-American woman to second the nomination of a United States presidential candidate--President Dwight D. Eisenhower at the Republican National Convention in San Francisco in 1956.
Edmonds also contributed at the local, national and international level to many social and civic causes. She was active in national Republican Party efforts. And she was a member of the U.S. Armed Forces Defense Advisory Council on Women. Edmonds chaired the U.S. Delegation to the UN in 1970, and she served on the Peace Corps' National Advisory Council. She was an active member of several African American women's organizations, as well as the NAACP. In 1986, Edmonds was named a Distinguished Woman of North Carolina. Three years later, the NCCU social science and history building was renamed in her honor.