Frank Dale Morgan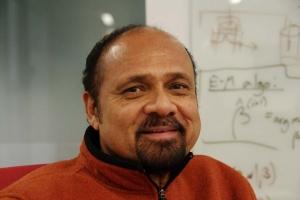 Frank Dale Morgan PhD '80 completed his doctorate in Geophysics at MIT under an OAS/Trinidad and Tobago Fellowship and a Fulbright Fellowship. At MIT, he won the Christopher Goetze Memorial Prize for the best thesis in Solid Earth Sciences, titled "Electronics of sulfide minerals: implications for induced polarization". Morgan was born in Guyana and holds a B.Sc. (1970) in Mathematics and Physics and an M.Sc. (1972) in Theoretical Solid State Physics, both from the University of the West Indies (UWI), Trinidad.
Prior to graduate studies at MIT, Morgan was a lecturer in Physics at UWI Trinidad from 1970 to 1975, then returned and joined the Seismic Research Unit. He later taught at Stanford University (1983-85) and at Texas A&M University (1985-93), before joining the faculty of the MIT Department of Earth, Atmospheric, and Planetary Sciences in 1993.
Morgan is currently Professor of Geophysics and Associate Director of the Earth Resources Laboratory (ERL) at MIT. His research interests are in geoelectromagnetics, rock physics, applied seismology, inverse theory, environmental and engineering geophysics, energy, natural cave systems, electronic instrumentation and electrochemistry.
In 2005, Morgan was named the co-director of the Kuwait-MIT Center for Natural Resources and the Environment (CNRE), which "brings together faculty, students, and scientists to improve scientific and technical understanding of issues of natural resources, the environment, and related challenges." Every other January during Independent Activities Period (IAP), Morgan leads a delegation of MIT students to an island in the Caribbean, where they learn cutting-edge geophysics techniques while finding drinking water for those in need (read more).