Flyer: Learning from the Central Park 5, 2016
/sites/default/files/media/document/BGSA-central-park-5_%20flyer_2016.pdf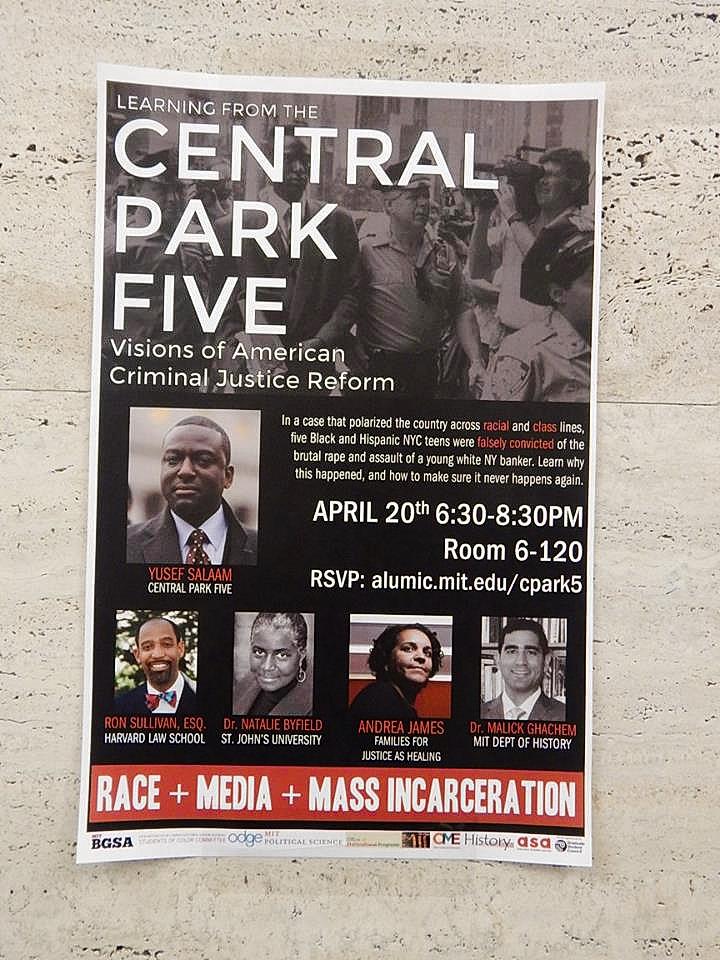 About the Event
"Learning from the Central Park Five: Visions for Criminal Justice Reform" was a panel discussion hosted by the MIT Black Graduate Students' Association on April 20, 2016.
Panelists: Yusef Salaam (one of the five men wrongfully convicted of raping a woman in Central Park in 1989); Natalie Byfield (St. John's University); Andrea James (Families for Justice as Healing); Ronald Sullivan (Harvard Law School); and Malik Ghachem (MIT Dept. of History).
In the early 1990s, the Central Park 5 case divided the nation across racial and class lines. Five young men, four Black and one Latino, were held up as symbols of the inherent brutality and criminality of black and brown skin. Although they were guilty of no crime, they were tried and convicted in the court of law and public opinion of the brutal rape of a white investment banker. Their exoneration received little press coverage. Twenty-five years later, in an era shaped by the tension between an entrenched system of mass incarceration of black and brown bodies and the rise of the Black Lives Matter reform movement, this event will use the Central Park 5 case as a vehicle to reflect on the evolution of the US criminal justice system, with particular focus on the patterns of interaction between black and brown communities and the current criminal justice system, the role of media sensationalism in distorting criminal justice system outcomes, and emerging visions for a better system.