Evelynn M. Hammonds, 1980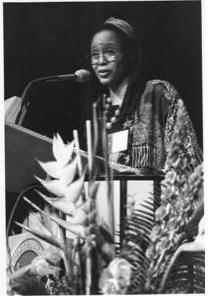 Evelynn Maxine Hammonds SM '80 earned a Masters in Physics (Course VIII) in 1980. Hammonds also holds a B.E.E. in electrical engineering from the Georgia Institute of Technology, a BS in physics from Spelman College, and a Ph.D. from the Department of History of Science at Harvard University.
In 1992, she joined the faculty of MIT's program in Science, Technology and Society. While at MIT she was the founding director of the MIT Center for the Study of Diversity in Science, Technology, and medicine. Hammonds, along with fellow MIT faculty member Robin W. Kilson, also planned and organized "Black Women in the Academy: Defending Our Name, 1894-1994," a national conference convened at MIT in 1994 to address historical and contemporary issues faced by African-American women in academia.
Hammonds is currently the Barbara Gutmann Rosenkrantz Professor of the History of Science, Professor of African and African American Studies, and Chair of the Department of the History of Science at Harvard University. Her areas of research are African & African-American Studies, History of Medicine, Science & Race, Science & Technology Studies, and Women & Gender Studies.