Eleanor Roosevelt and Charles Anderson, 1941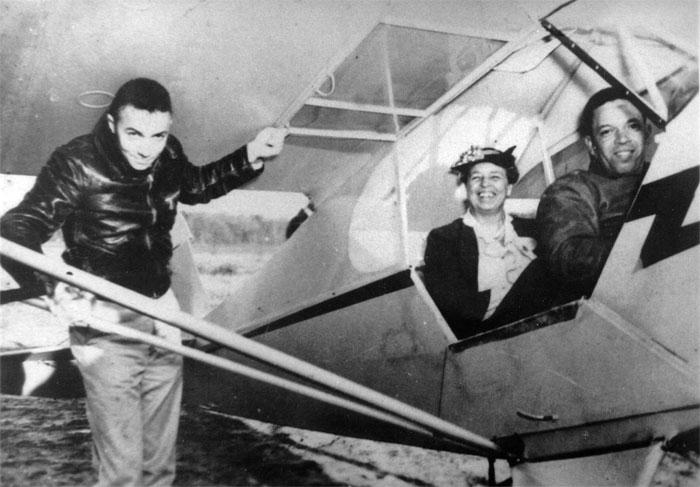 Under the direction of Charles Alfred "Chief" Anderson [MIT PhD '60], the pioneering airmen practiced at Moton Field, a tiny airstrip surrounded by marshes and stands of pine near [Tuskegee Institute].

During their flight training, the airmen were denied rifles because the airstrip was in Alabama, a deeply segregated state where some folks didn't like the idea of blacks shooting at whites --- even if they were the enemy.

The drills became bittersweet to the airmen, whose hopes of flying dimmed as they waited and waited for a call-up from the government. After months of waiting, their spirits were restored by a visitor to the airstrip.

"I've always heard colored people can't fly, but I see them flying around here," Eleanor Roosevelt reportedly said during her visit [to the Tuskegee Army Air Field in 1941]. Against the objections of her security men, the open-minded, free-spirited first lady asked to fly with Anderson.

Using her political connections, Roosevelt convinced her husband to use his influence to give the airmen a chance to fight --- especially since the military was facing a critical shortage of pilots.

The Tuskegee Airmen not only broke the color line, they shattered stereotypes about black pilots.