Catalog card: Boston Boys' Club members and East Campus students, 1962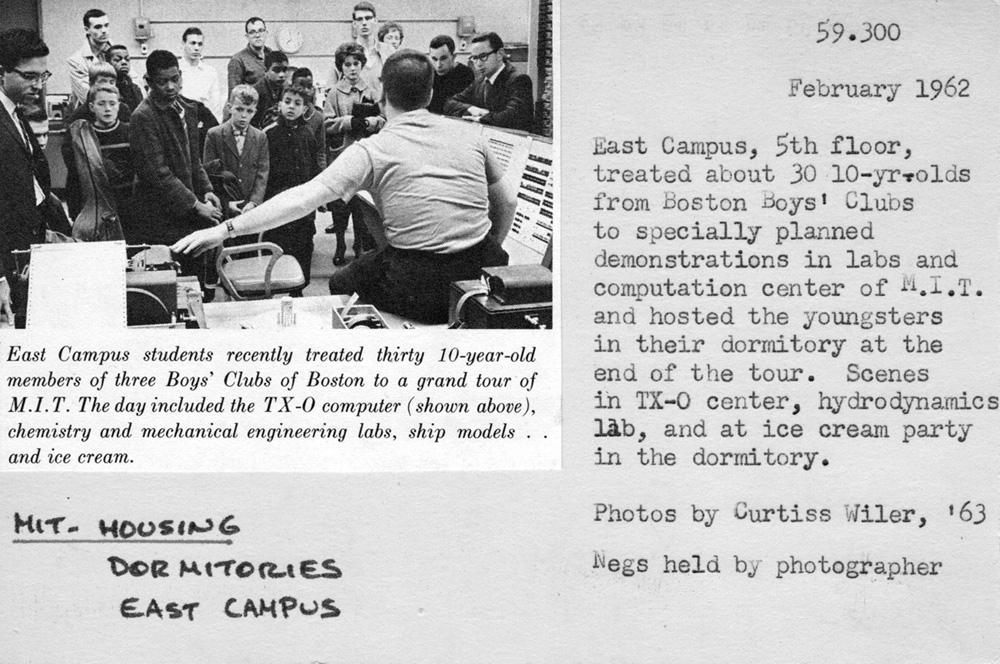 MIT News Office
East Campus, 5th floor, treated about 30 10-year-olds from Boys' Clubs in Boston to a grand tour of M.I.T. The day included the TX-0 computer (shown above), chemistry, [hydrodynamics,] and mechanical engineering labs, ship models...and ice cream [at the East Campus student dorms].
About the Boys & Girls Clubs of Boston
For nearly 125 years, [the Boys & Girls Clubs of Boston (BGCB) has] been dedicated to continually developing new and better ways to make a positive impact on the children of Boston.

BGCB's first Club was founded...in 1893...to help young people, especially those who need us most, build strong character and realize their full potential as responsible citizens and leaders...by providing: a safe haven filled with hope and opportunity, ongoing relationships with caring adults, and life-enhancing programs....The Club began admitting girls as members in 1973, and within five years, 30 percent of the children served by the Boston Clubs were female. In 1981, the Club formally changed its name to Boys & Girls Clubs of Boston and the national organization followed in 1990.

Today, BGCB operates Clubs in Dorchester, Charlestown, Chelsea, Roxbury, Mattapan, Roslindale, Jamaica Plain and South Boston. We also operate YouthConnect in partnership with the Boston Police Department. In total, we serve nearly 16,000 children and teens, addressing crucial youth development needs in the areas of education, the arts, life skills, leadership and character development, technology, and sports, fitness and recreation.