C. Alfred "Chief" Anderson U.S. Postal Stamp, 2014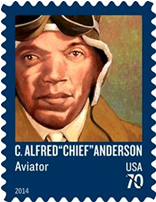 Press Release
United States Postal Service, 13 March 2014
Referred to as the Father of Black Aviation, Chief Flight Instructor of the prestigious Tuskegee Airmen C. Alfred "Chief" Anderson, was immortalized on a stamp today. The dedication ceremony took place in his hometown just northwest of Philadelphia.

Anderson also has been referred to as the Charles Lindbergh of Black Aviation for his record-breaking flights that inspired other African-Americans to become pilots...

"The Postal Service is proud to honor Charles Alfred "Chief" Anderson [MIT PhD '60], a Black aviation pioneer who inspired, motivated and educated thousands of young people in aviation careers, including the famed Tuskegee Airmen of World War II," said U.S. Postal Service Judicial Officer William Campbell in dedicating the stamp whose father was a decorated Tuskegee Airman who served in World War II, Korea and Vietnam...

Joining Campbell in dedicating the stamp was Tuskegee Flight Instructor "Coach" Roscoe Draper who was mentored by Anderson and together taught the Airmen. Other Tuskegee Airmen attending included Val Archer of Stockbridge, GA; Roscoe Brown of Riverdale, NY; Leo Gray of Ft. Lauderdale, FL; Anderson Jefferson of Detroit; Hiram Little of Atlanta; and Theodore Lumpkin, Jr., of Los Angeles. Anderson's son Charles Alfred Anderson, Jr., of Greensboro, NC; and granddaughter Christina Anderson Augusta, GA, also participated.

"What makes the stamp so meaningful is that it brings my father's legacy to life," said Anderson's youngest son Charles Alfred Anderson, Jr. "It is truly an honor to have him portrayed as the face of the Tuskegee Airmen."

Illustrator Sterling Hundley of Richmond, VA, used a combination of acrylic paint, watercolor, and oil to create the stamp art. His portrait of Anderson is based on a photograph from a 1942 yearbook of the Tuskegee Institute's flight training school in Tuskegee, AL. Hundley added headgear used by pilots in World War II. Art director Phil Jordan of Falls Church, VA, designed the stamp.