BCAP: Hands Connecting Mind and Heart Livestream Celebration (2020)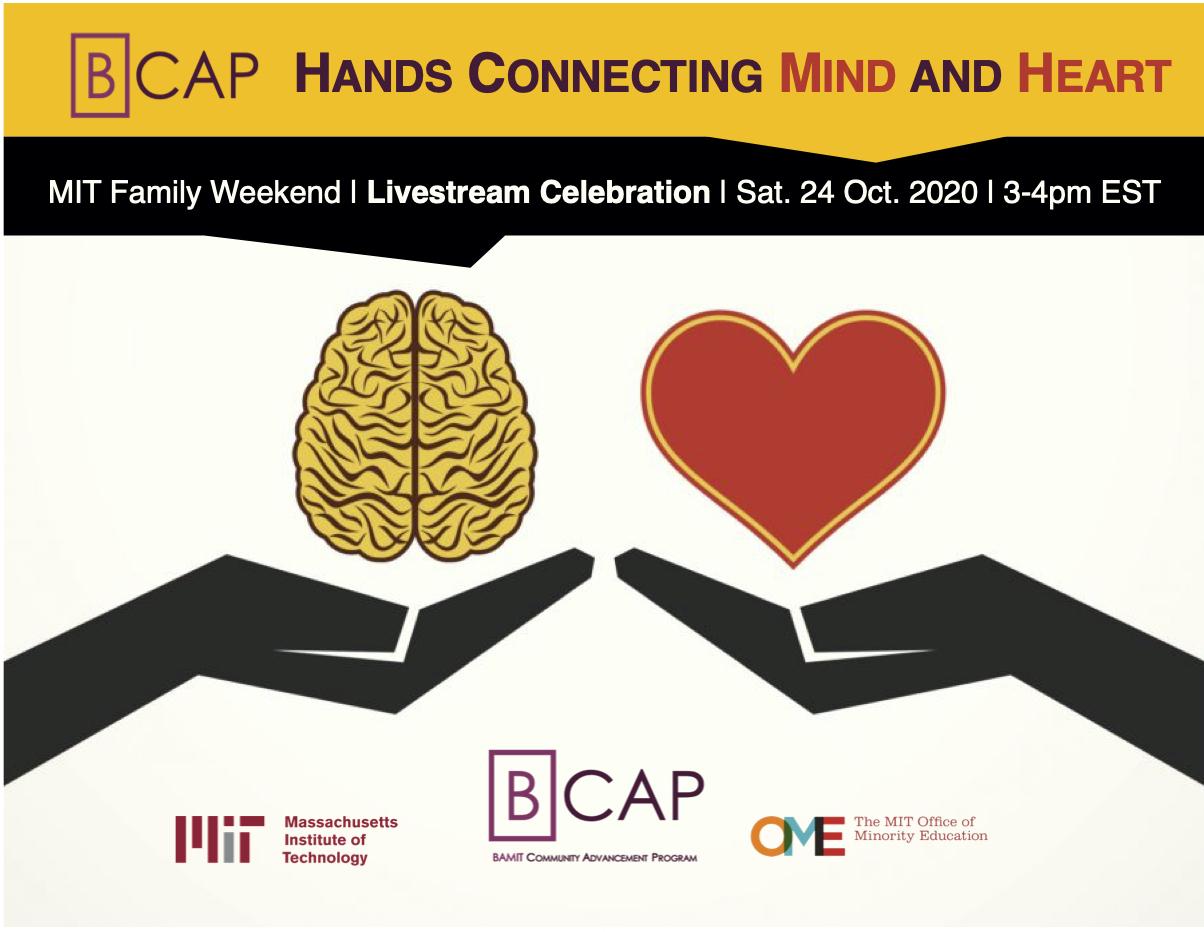 The BCAP (BAMIT Community Advancement Program and Fund) was initiated by Black alumni during the 2018 Capstone Weekend in honor of the 50th Anniversary of the MIT Black Student Union (BSU). The BCAP supports student proposals for public-service projects in underserved communities of color. The program and MIT fund are administered by the Office of Minority Education (OME).
On October 24, 2020, during MIT Family Weekend, the OME and BCAP Project Team livestreamed a celebration entitled BCAP: Hands Connecting Mind and Heart. Featuring project presentations by the BCAP Fellows, the event marked the program's inaugural year.
EVENT PROGRAM
WELCOME
Marie Harton '10, BCAP Team Fundraising Chair
REMARKS
L. Rafael Reif, President, MIT
DiOnetta Jones Crayton, BCAP Administrator; Associate Dean and Director, OME, MIT
Al Tervalon '65, BCAP Team Chair
BCAP PROJECT PRESENTATIONS
R. Erich Caulfield SM '01, PhD '06, Moderator
Talented 10 and STEM Queens YouTube Channel: Danielle Geathers '22 (President, Undergraduate Association); Mofeyifoluwa Oluwalana '22; Stephanie Espy '01 (Advisor)
Greater Boston Youth Mutual Aid Program: Gina Lee 'G-MCP; Jasmine Martin 'G-MCP; Burunda Prince '83 (Advisor)
A Voice at the Table: Melissa Isidor 'G-MCP; Michael Johnson MCP '97 (Advisor)
ROUNDTABLE DISCUSSION / Q&A
Danielle Geathers; Mofeyi Oluwalana; Stephanie Espy; Gina Lee; Jasmine Martin; Burunda Prince; Michael Johnson
ACKNOWLEDGMENTS
Michelle Harton SM '83 and Elaine Harris '78, BCAP Team Marketing Co-chairs
CLOSING REMARKS
Dean DiOnetta Jones Crayton, Office of Minority Education (OME)