Aprille Ericsson '86 at MITES, 1980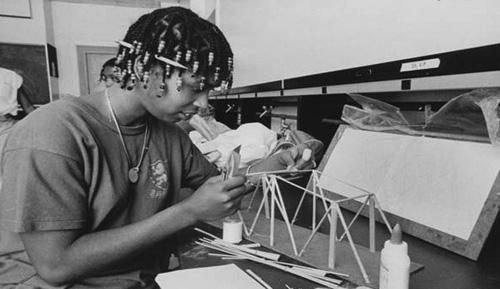 Aprille Joy Ericsson '86 grew up in the projects of Bedford Stuyvesant in Brooklyn, New York. In the summer of 1980 she attended MIT's Minority Introduction to Engineering and Science (MITES).
Established in 1974, the Minority Introduction to Engineering and Science (MITES) is a rigorous six-week residential academic enrichment program for rising high school seniors who have a strong academic record and are interested in studying science and engineering.
Ericsson credits the program with helping her find her true calling. She had plans to pursue a law degree, but being strapped into the flight simulator at Hanscom Air Force Base in Bedford, MA changed her mind. Her flight score of –103, just three points from perfect, marking what she recalls as her first real interest in aeronautics and astronautics.
MITES taught Ericsson how to handle crises and to develop the critical skills needed to thrive under strict time constraints and stressful situations. One was an injured finger she sustained while trying to finish a project for the MITES bridge-building competition.
I learned to work under duress, in short periods of time. I learned to accomplish things and put my mind to it.
Inspired by her experience at MITES, Ericsson attended MIT after high school. She graduated from MIT with a Bachelor's in Aeronautics/Astronautics Engineering in 1986. In 1995, Ericsson made history as both the first woman at Howard to earn a PhD in mechanical engineering and the first African-American woman to earn a PhD in engineering at the NASA Goddard Space Flight Center (GSFC). She went on to a lifelong career at NASA.